On August 30th I wrote an article on Digital Ally Inc. (NASDAQ:DGLY) titled
"Why Digital Ally Inc. Could Double When Compared To Taser International Inc.".
The stock opened at $10.31 that day, hit a high of $14.50 and now has pulled back to $12.68. I think this represents a buying opportunity.
Taser International Inc. (TASR) is getting all of the attention so far in the wearable police camera market. However unlike their taser gun, they have not claimed that their body camera is patented. I contend that they have a significant and capable competitor in DGLY.
One thing that is certain, it looks like wearable police cameras will eventually become standard equipment for police officers as TASR CEO Rick Smith predicted. All one needs to do is perform a search for news on the subject. Recent headlines include:
Risks to DGLY would be competition, however it appears that they are making progress per the following:
DGLY is listed as one of two required vendors in recently passed Senate Bill 2125 for North Dakota (note that TASR is NOT the other vendor) :
All - See Appendix F Fiscal Note to Senate Bill 2125: Uniform Electronic Recording of Custodial Interrogations Act: Required Gear a. Lapel Audio and Video Devices

DGLY listed as one of two required vendors for the 1804 police officers in the state of North Dakota for its FirstVu Individual Video Camera

DGLY listed on one two required vendors for its DVM 400 in-car video camera.

The two opportunities cited above would more than double its last quarter's revenue.

Value Reserved for the Individual FirstVU HD Camera is $1,528,835 ($847.48 times 1804)
Value Reserved for the In-car video system is $4,882,827

DGLY has integrated the FirstVu wearable camera with their In-car video system and was the only vendor that was listed as required in both categories. The integration of these systems makes them unique.
DGLY has other products that continue to gain traction as well:
As mentioned in my previous article, the U.S. Patent and Trademark Office Allows Two Patent Applications for Digital Ally's Core Product Line. The second patent relates to remote transmitters worn by law enforcement personnel in the field. This patent application covers, among other features, on-board storage of recorded data to insure that no evidence is lost when law enforcement officers are away from their vehicles.
At a market cap of just over $27mm, I contend that DGLY is very undervalued when compared to historical prices and the market opportunity before them. DGLY was at a split adjusted high of $91.28 in 2008 during the Great Recession.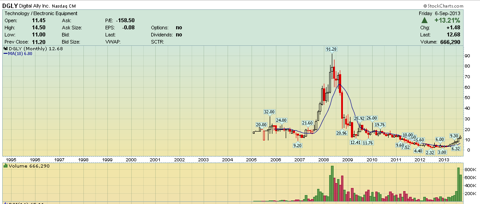 In 2008, DGLY reported EPS of just $0.22 per share. In 2013, DGLY has reported $0.33 in adjusted EPS for the first half of 2013 and said the second half looks promising. In 2008 when DGLY had approximately 15.8mm shares outstanding, analysts had target ranges of $15-$17.50 for the stock. The $17.50 target was based on forecast 2009 EPS of $0.83 and again currently DGLY has done $0.33 adjusted EPS in the first half of 2013 alone. That $15-$17.50 target range with the 15.7mm shares outstanding at the time would have given DGLY a market cap of $237mm-$277mm. Currently with 2.1mm shares outstanding that would mean a current stock price of $113-$132.
The DGLY opportunity reminds me of TASR right before its historic stock price appreciation in 2004 because of their taser gun.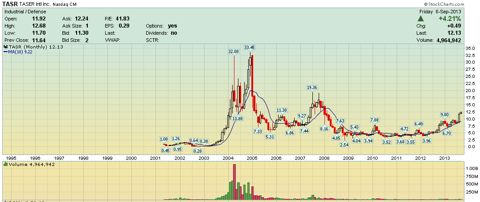 At the time TASR had a small amount of outstanding shares and a great growth opportunity before it just as I believe DGLY has now.
In conclusion, to use a sports analogy, I believe DGLY has made it to the Super Bowl yet nobody realizes they are in it. They have a big market opportunity and have been selling to global police forces for years. I believe once Wall Street recognizes the prospects for this company, DGLY could become a story stock in 2013 with great share price appreciation, much like TASR in 2004.
Disclosure: I am long DGLY. I wrote this article myself, and it expresses my own opinions. I am not receiving compensation for it. I have no business relationship with any company whose stock is mentioned in this article.