It's been a very exciting month for Medical Marijuana, Inc. (OTCPK:MJNA), with two super-spikes in the price precipitated by industry-wide news but both followed by steep and quick retreats. Traders, at least those on the right side of the wild action, love the volatility, and investors must be cheering the improving technicals and indications of promise ahead as the company hopefully capitalizes on growth in the medical marijuana sector. I recently shared my view of MJNA as a "Hold", suggesting a fair-value range of $0.10-.15. Today, I want to highlight some new offerings but also discuss a potential schism with its partner, Dixie Elixirs, which jointly owns Red Dice Holdings.
New Products
MJNA has beefed up its go-to-market efforts by establishing HempMedsPX, which is responsible not only for sales of its products to individuals but also into wellness centers. The company officially announced the change just 45 days ago, but the strategy was conceived earlier this year and included bringing in internet marketing veteran Charles Vest, Director of Communications, who has been increasing the outreach and awareness for the company's CBD-based products while also improving its sales capabilities as well as its communication. MJNA just relocated into larger headquarters to accommodate its increased sales staff. The jury is still out, but, in my opinion, this is a big step in the right direction.
HempMedsPX recently secured non-exclusive distribution rights for all of the products of CannaVest (CANV.OB) through 2016, with exclusive online distribution rights as well. CANV was spun out of MJNA earlier this year and is a manufacturer of CBD-based products under license from MJNA, and MJNA has a substantial investment in CANV. The economics to MJNA aren't clear, as the compensation to HempMedsPX hasn't been disclosed.
In a press release detailing its participation at the Natural Products Expo East in Baltimore later this month, where it is a Gold Sponsor, HempMedsPX disclosed several new product offerings from CannaVest's U.S. Hemp Oil, including Cibaderm (personal care line that includes shampoo and several other products), which, according to the HempMedsPX website, could be available this week, and Cibdex. Cibdex will include CBD-based drops sold in a 100mg and 500mg concentration (peppermint and regular flavors), a salve and a 25mg supplement. While these products are not yet for sale, I was able to find photos: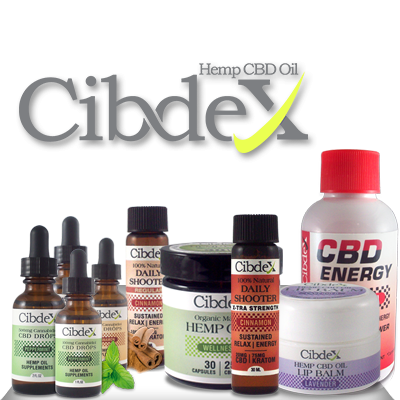 Not yet disclosed but apparently on the market is yet another new product, HempVAP 540, which is available globally from Michigan Herbal Remedies. This formulation, which is on sale for $200 ($0.37 per mg of CBD, which is a slight premium to some other formulations), accommodates those who want to use a vaporizer delivery mechanism.
MJNA now markets CBD gum (CanChew), where it owns 50% of the JV, as well as CannaVest's highly-concentrated Real Scientific Hemp Oil. MJNA recently announced a distribution deal in Russia valued at a minimum of $2mm at wholesale prices over the next year, and it also announced a marketing deal with a European cosmetic/nutraceutical company to sell its 20+ products through HempMedsPX. What investors may be missing here is that it is likely that MJNA will look to make this brand premium by replacing generic hemp oil with high-CBD formulations. It's too early to tell how successful these ventures might be, but HempMedsPX is ramping up rapidly, and the timing seems great given the increased awareness regarding the potential benefits of CBD.
A Split from Dixie Elixirs Ahead?
Dixie Elixirs & Edibles is a leading Colorado manufacturer of THC-infused beverages and foods. In 2012, in order to access capital to expand to other states, it entered into a JV with MJNA. MJNA kicked in some equity while Dixie contributed intellectual property and its brand to create Red Dice Holdings, 60% owned by MJNA with the balance by Dixie. The exact agreement isn't in the public domain, so we don't know, for instance, if MJNA will ever get any sort of license fee or royalty for Colorado THC-based sales, but it hasn't so far. Presumably, it will ultimately benefit from THC-based product sales in other states. For now, the JV is responsible for the manufacturing and sale of CBD-based products known as Dixie Botanicals (originally Dixie X but rebranded in late 2012).
The last report was just horrible for Red Dice, as I previously described. MJNA recognized sales from RDH of just $156K for the quarter while incurring costs of $74K. RDH borrowings increased by over $700K during the quarter too, jumping to $1.734mm. Most disturbing was the language in the disclosure, which suggests some sort of potential dispute: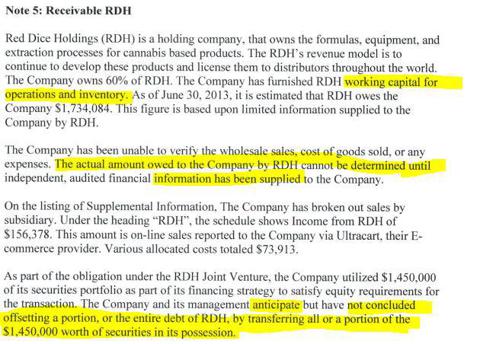 Beyond the financial turmoil, there are other reasons to suspect a split. The CannaVest (U.S. Hemp Oil) products I described above that will be marketed by MJNA's HempMedsPX, are exactly the same as those offered by Dixie Botanicals: A salve, 25mg pills and the exact same two formulations of tinctures (Dixie Dew Drops). Additionally, Dixie Botanicals is now selling through other resellers but not through the MJNA marketing entity, HempMedsPX. Recall also that Tripp Keber quit the Board in early March, a change that wasn't disclosed by MJNA until the end of April.
TRIPP KEBER NO LONGER ON BOARD OF DIRECTORS:

While it is true that Tripp Keber no longer holds a seat on the MJNA Board of Directors as of March 6, 2013, this is by no means a negative impact on the company. For any of you who have met Mr. Keber or seen his numerous interviews, you know that he and the entire Dixie team is an invaluable asset to Red Dice Holding by being on the ground floor using his talents to become more involved in political forum of Colorado for our industry, promoting our growing brands, facilitating new partnerships, educating the public and finding products that will continue to make our company a leader in this industry and being the President of Red Dice Holding. Mr. Keber works tirelessly getting our Dixie Botanical products out to the public and we have had great success with these efforts and will continue to do so.

In the meantime, we are actively searching for other qualified individual(s) to fill the vacant board seat(s). Specifically, we are looking for the right individuals who will bring valued experience and guidance in the growth of our Company. We will announce director the appointments at the proper time.
No good explanation has ever been offered, and there have been no directors added. Keber pleaded guilty for marijuana possession this summer in Alabama, which may also be contributing to a chilling of the relationship between him and MJNA. He was an outspoken advocate of the company in late 2012, conducting many interviews, but he hasn't been mentioned by name in a single press release from MJNA since April, nor do I believe that he has publicly discussed MJNA since then either.
I may be off in my prediction, as this could just be some posturing by MJNA in their new competitive product launch that has no impact on any potential THC business ahead. A rift like this might have been detrimental months ago, but MJNA has too many other opportunities right now in my view. The Dixie Botanicals line has been a dud, to say the least. I believe that it has been a low priority of Dixie Elixirs, which runs Red Dice Holdings but has a minority ownership position. With that said, boy did Christie Lunsford do a fantastic interview on the Dixie Botanicals products last month.
Finally, MJNA has a THC play in its CanChew Gum, but it may very well be able to enter the THC market through other partners. At the time, Dixie seemed like a great potential brand, but it's not clear that this will be the case. It's very early in the game, and MJNA has time to find another partner if it goes that route. One example might be Canna Elixirs, which is run by the founder of Dixie Elixirs, Eric Underwood. The way the federal laws are shaping up now, THC will need to be sourced state-by-state until marijuana is legalized (this isn't an issue for hemp-based CBD).
The bottom-line, then, is that if I am right and Dixie and MJNA go their separate ways, this could create some downward pressure on the stock that I believe would be unwarranted. The amount of money invested is trivial (about $3.5mm), and the recent new CBD products will likely enjoy more success under the direction of HempMedsPX as part of a larger offering. It's not clear that MJNA was going to benefit from THC with Dixie through Red Dice, certainly not anytime soon, and there is plenty of time to reassess the strategy and align with potential partners if it even makes sense at this point.
Other Near-Term Risks
While a potential split from Dixie Elixirs is not negative in my view, there are several issues that concern me. I covered these in my review of Q2 last month, which includes my continuing fear of a potential take-under by CannaVest, though I won't cover that again today. Top of the list in my view is the pending trial of Michael Llamas, which was postponed in July until September 24th. Llamas is the brains behind MJNA, but he is caught up in an alleged mortgage fraud (U.S. vs. Lee Loomis et al). Here is the FBI's take. Llamas stepped down late in 2012 as President, and the company has been run by Michelle Sides, who worked with him at North American Mortgage, since then. It appears that exoneration could lead to his swift return, which I think would be a big positive. His conviction, though, could leave a leadership void (his CannaBANK is the controlling shareholder) as well as possible liquidation of his ownership.
After the Q2 disclosure was filed, I think that many investors were pleased that the Authorized Share Count remained at 950mm, as some observers, including myself, feared a potential increase. There was speculation that due to the rescissions to the articles of incorporation that the limit might just revert to 5 billion shares. The company used a very interesting tactic to keep the limit at 950mm, invoking management's self-imposed limitation. Based on pretty big dilution since 2011's reverse merger, this voluntary cap is a bit like the fox guarding the hen-house. Another point regarding potential supply is that the Q2 disclosure revealed none of the 47mm shares issued to CanChew earlier this year to fund R&D had been sold yet. Given that the company has promised clinical trials in Europe (and now the U.S. too for a CBD/THC gum), its somewhat disturbing that the funds aren't being deployed. Also, this creates an overhang on the stock.
Finally, the SEC inquiry remains open and is something that potential investors should contemplate. As a reminder, the company began an internal review in January, right as its interim CEO split and just before Tripp Keber jumped off the Board. My hunch is that the SEC questions are related to issues that pre-date the 2011 reverse merger by CannaBANK, but, until there is some clarity, this remains a risk.
Improving Chart
As I mentioned earlier, MJNA has enjoyed two super-spikes: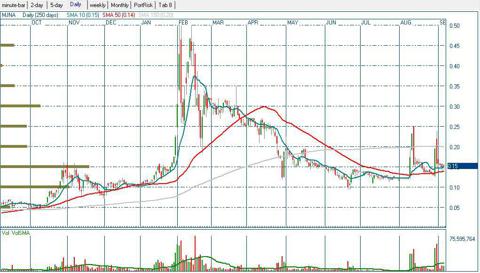 After the bubble in February, the stock had been in decline for six months, but the action is more two-way. I think that it's premature to say that the chart is good, but it's no longer a falling knife. There was considerable action between $0.10 and $0.15 around the election and then afterwards, and we have done a lot of work there this summer. With the recent news-induced jumps, the stock has shown more two-way action. The 50dma is now rising. Unfortunately, the rapid, high-volume spikes stranded a bunch of folks, but most likely there is good balance among the current longs between those underwater and those with paper gains.
Conclusion
If ever there was a time for MJNA to shine, it's now. I remain in the neutral camp, which is an awkward place. Many of my readers think I am too optimistic and should remain negative, while MJNA bulls keep wondering when I am going to get aboard the "Green Rush". The recent industry news, including CNN's Sanjay Gupta's embracing medical marijuana and the DOJ's announcing a non-enforcement of federal law in Washington and Colorado, where recreational marijuana has been passed by voters, is a harbinger of opportunity ahead. I see some near-term obstacles ahead, but, if MJNA can get past especially the Llamas trial, I think that investors may be able to justify a more bullish stance. In the meantime, I will disclose here now that I am working to take my "CFA" title to a whole new level as the first "Cannabis Financial Analyst". Stay tuned, as details are pending regarding my venture, but my goal is to be captain of the crusade to capitalize on the Cannabis Revolution.
Disclosure: I have no positions in any stocks mentioned, and no plans to initiate any positions within the next 72 hours. I wrote this article myself, and it expresses my own opinions. I am not receiving compensation for it (other than from Seeking Alpha). I have no business relationship with any company whose stock is mentioned in this article.