Arlington Asset Investment Corp. (NYSE:AI) is an investment company that acquires and holds mortgage related and other assets. These include both Agency and Non-Agency MBS. AI is taxed as a C corporation, so its dividends are regular dividends (you do not need to file a Form K-1). This is great for investors who want to own AI in any vehicle that is not tax sheltered. Owning AI in a tax-sheltered account is a good idea too. AI is internally managed, and the managers are doing such a great job that AI lost only $0.34/share in book value in the quarter from hell that was Q2 2013.
How good was this performance? Just look at the table below to see how a few of its competitors in the mortgage REIT space did by comparison (technically AI is an investment management corporation).
| | | | | |
| --- | --- | --- | --- | --- |
| Stock | Stock Price at the close on September 6, 2013 | Book Value Loss in Q2 2013 | Book Value % Loss in Q2 2013 | Book Value as of Q2 End 2013 |
| AI | $23.39 | -$0.34 | -1.0% | |
| Annaly capital Management Inc. (NYSE:NLY) | $11.78 | -$2.16 | -14.2% | |
| American Capital Agency Corp. (NASDAQ:AGNC) | $22.74 | -$3.42 | -11.8% | |
| Armour Residential REIT (NYSE:ARR) | $4.19 | -$1.26 | -18.8% | |
| Hatteras Financial Corp. (NYSE:HTS) | $18.21 | -$6.00 | -21.3% | |
AI outperformed virtually all of its peers by 10%-20% in book value retained. This is astounding out performance; and astute investors will realize it is a tribute to the foresight of AI's management. AI bested others' performance both through its hedging and through its portfolio selection.
If the above wasn't enough, AI's shareholders also benefit by approximately +35% due to the lower amount of tax that will be due on its "regular" dividends compared to the dividends of REITs. Since AI has a C corporation structure, it pays regular dividends that do not require a K-1. AI's dividends do not get taxed as regular income, but rather at the lower dividend income rate. AI's $0.875/share Q2 2013 dividend annualized is $3.50/share or about 15.0% at the September 6, 2013 closing stock price. Taking into account a possible +35% tax advantage, AI's dividend may be equivalent to about a 20% yield from a typical mortgage REIT stock. If you own this kind of investment in an account that is not tax sheltered, this is a big reason to strongly consider AI versus some of its competitors.
How did AI manage this out performance? First it hedged well. It has interest rate hedges with a notional value of $1.528B for an approximately $1.5B in MBS portfolio. Its Eurodollar swaps seem to be performing well. Further its private-label MBS (non-Agency MBS) represented 60% of its available capital. As of June 30, 2013, the private-label MBS portfolio had a fair value of 64.2% of face value (a total fair market value of $329 million). Other Comprehensive Income related to this was $57 million as of June 30, 2013. The company expects book value gains in this area to continue over the next several years. The private-label MBS portfolio contains prime jumbo and Alt-A loans. It contains no subprime or option ARMs.
On top of the solid investment thesis, AI is also benefiting currently from its past mistakes. It had some big losses due to the Great Recession crash in real estate. However, management believes they have learned from this; and they are unlikely to repeat that performance. Besides real estate prices are not likely to crash again as dramatically as they did in the Great Recession crash. This means that current shareholders will get the benefits of the accrued tax losses for many years to come without having to have had the losses. AI has:
$230 million of net operating loss carry-forwards. These are applicable toward any form of taxable income. They expire in 2027-2028. There is no annual limitation. Currently AI is paying the 2% alternative minimum cash tax rate.
$285 million of capital loss carry-forwards. These expire in 2013-2014; and they are applicable toward realized gains.
$153 million of deferred tax assets as of June 30, 2013. These equal $9.19 per share if realized.
Naturally investors will be very interested in AI's portfolio in case it is too risky. The table below provides a high-level summary.

The tables below describe the economics of both the Agency and the Private-Label portfolios.

Of particular note for the Private-Label portfolio is that the ROE statistic excludes the appreciation of the portfolio's assets, which is expected to be considerable. The assets were generally bought at a large discount to face value. The statistics are in the table below.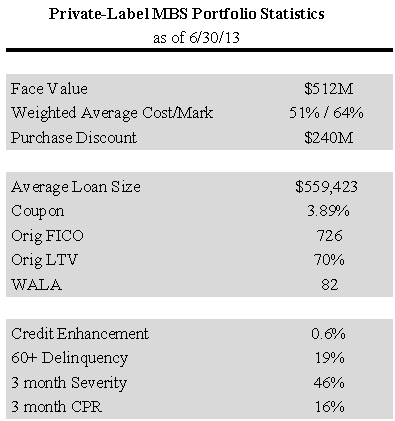 The above portfolio is further safeguarded by the markets the loans are from. AI has a large part of its assets from some of the top performing real estate markets. These tend to be much more robust markets than the norm in times of trouble. These include:
Los Angeles-long Beach-Santa Ana, CA (19.3%)
SF-Oakland-Fremont, CA (10.4%)
NYC-Northern New Jersey-Long Island, NY/NJ/PA (7.5%)
Washington-Arlington-Alexandria, DC/VA/MD/WV (6.1%)
San Diego-Carlsbad-San Marcos, CA (5.5%)
That is a total of 48.8% as of June 30, 2013 from the above top markets (robust markets). In these markets Jumbo loans are the norm; and the homeowners are usually more than capable of making the payments, especially if the loans are Prime or Alt-A. Plus the homeowners are often able to get family support if they need it.
The Agency portfolio consists of 69% HARP loans, high LTV (loan to value) loans, and low balance loans. These have very low CPRs (constant prepayment rates). They tend to be very stable.
The Case-Shiller 20-city Index reported a 12.1% year over year house price rise for June 2013. This is if anything a too healthy number. Demand also seems to be good. The risk is that a continued sharp rise in interest rates could slow home sales. Then prices and demand could fall again as homes became more expensive to own. For the moment the US has a long way to go to get down to that point. Plus the Fed has been deliberately stimulating the residential real estate market in hopes of stimulating a faster recovery. The Fed will not want to let go of the residential real estate recovery easily. Investors can likely feel relatively safe in an AI investment until mid to late 2015. That is when the Fed is currently considering raising rates. That is also when the bigger danger of interest rate rises will come.
If the Case-Shiller 20-city Index starts to journey below 0% on a consistent or semi-consistent basis, it will be time to worry. In fact Case-Shiller will sound an alarm far before then. Investors should be able to collect AI's great 15% dividend in the mean time with only a modicum of worry. AI has proven it can survive well in the rising interest rate market. It has tax advantages; and its dividend is a regular dividend (worth more to tax payers). Plus AI is trading at about a 28% discount to its book value. Few companies can make this claim.
AI has gotten knocked down with the mortgage REIT sector, but it is highly questionable whether it deserved to be. It effectively managed to have another good quarter in Q2 2013, while virtually every other company in its business lost a lot of book value. It had Core Operating earnings of $1.12 per share. These make the Q2 2013 dividend of $0.875 per share sustainable. When you consider that the net interest spread will likely increase for the Agency portfolio in 2H 2013, AI is an even better buy.
The two-year chart of AI provides some technical direction for this trade.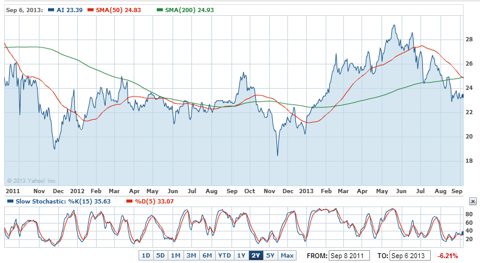 The slow stochastic sub chart shows that AI is near oversold levels. The main chart shows that AI may be bottoming again after its recent run down. Given its recent fiscal out performance, logic supports a rebound scenario. AI can gain 28%; and it will just be reaching its book value. Plus it pays a great 15% dividend. All things considered, it will probably be hard to do much better than AI in today's market. Yes it could get hurt if the real estate market starts to crash again; but investors can sell it if that happens. For now it is good enough that its book value is resistant to rising interest rates.
AI has had +7% institutional ownership growth from the prior quarter to this one. It has had little change in insider ownership. It has beaten on earnings for each of the last four quarters. It gives every appearance of being well managed. Its management is already wary of the problems that caused the crash of the Great Recession. They are not likely to perform as poorly in a subsequent crash, if there is one. Plus AI gets to enjoy the benefits of the tax breaks due to its problems of the past (the Great Recession losses). I always like to benefit from others people's problems, when I am investing. It seems like free money. AI is a buy in the current circumstances. It has an average analysts' recommendation of 2.0 (a buy); and it has a CAPS rating of four stars (a buy).
NOTE: Some of the fundamental financial information above is from Yahoo Finance.
Good Luck Trading.
Disclosure: I have no positions in any stocks mentioned, but may initiate a long position in AI over the next 72 hours. I wrote this article myself, and it expresses my own opinions. I am not receiving compensation for it (other than from Seeking Alpha). I have no business relationship with any company whose stock is mentioned in this article.