Readers will notice the 'Chart of the Day' is China's Shanghai Composite, which today broke above the 2,150 level and closed above 2,200 for the first time since late June of this year. The news out of China has been getting better and better over the months and although the country has had a few hiccups with their shadow banking and certain regulations it appears that they are once again gaining steam over there as it pertains to their economic growth.
Chart of the Day: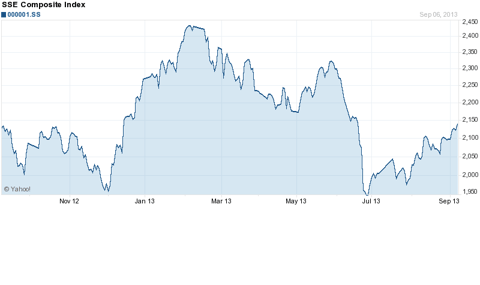 Source: Yahoo Finance
We have economic news today and it is as follows:
Consumer Credit (3:00 p.m. ET): Est: $13.0 Billion
Asian markets finished sharply higher today:
All Ordinaries -- up 0.69%
Shanghai Composite -- up 3.39%
Nikkei 225 -- down 2.48%
NZSE 50 -- down 0.37%
Seoul Composite -- up 0.99%
In Europe, markets are mostly lower this morning:
CAC 40 -- down 0.26%
DAX -- down 0.56%
FTSE 100 -- down 0.63%
OSE -- up 0.36%
Pharmaceuticals
Over the years, it has been Pfizer (NYSE:PFE) which has been the major player in the industry when it came to divesting assets which were no longer considered to be core or fit within the company's growth profile. They have either spun-off or sold numerous segments and it seems to have created a trend in the industry.
Today the divestiture news centers around GlaxoSmithKline (NYSE:GSK) which reached an agreement to sell its two soft drink brands to Suntory Beverage & Food of Japan for $2.1 billion. According to Glaxo, the deal is part of the company's effort to divest non-core assets and their renewed focus on the traditional pharmaceutical business. The deal works out quite well for the two parties as it gets Glaxo out of the soft drink business and allows Suntory to continue to put the funds they raised in their initial public offering to work. All-in-all, we like the deal and see it as a positive for GlaxoSmithKline shares but think that gains might be muted as the news had already trickled out last week, much like the situation at Johnson & Johnson.
Shares have traded in a tight range, mostly due to the issues in China, but it seems to us that the name is ready to have a move one way or another after this sideways movement that has been slanted towards downward action. This is a name to watch for our readers looking for long-term investing opportunities.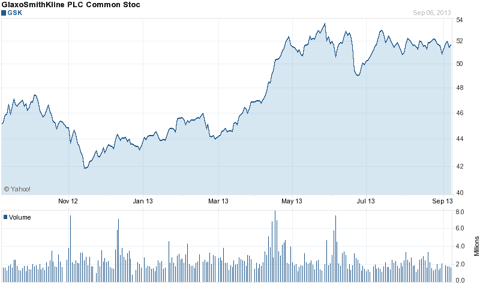 Source: Yahoo Finance
This past week saw Johnson & Johnson (NYSE:JNJ) have rumors come out that they may have a $5 billion deal to announce soon as they shop around their clinical diagnostics unit. The potential buyers range from healthcare companies to private equity names, and although we do not know who might be a buyer right now, we do know that it is estimated that the unit had EBITDA of $500 million, which is where the $5 billion figure comes from (using a multiple of 10 for valuation purposes). This one will play out over the next few weeks and months as JP Morgan, who is heading the sale process, shops the unit.
Airlines
A pre-market mover today is Delta Airlines (NYSE:DAL), whose shares are up about 5% on the news that the company's shares will join the S&P 500 index this week. The company will be replacing BMC Software in the index as it is being bought by Bain Capital. The move will be effective at the close of trading on September 10th but as many readers know the accumulation in anticipation begins as soon as the announcement is made. For those new to the market, please do not chase this stock on the news as that is a common rookie mistake. Generally the shares will pull back after the initial buying rush by the index funds is over.
Biotechnology
Will this latest move higher lead to the next step higher? It is quite possible, especially as the entire sector is moving higher at the same time. Bullishness is to be bought here, it has been the case for the entire year.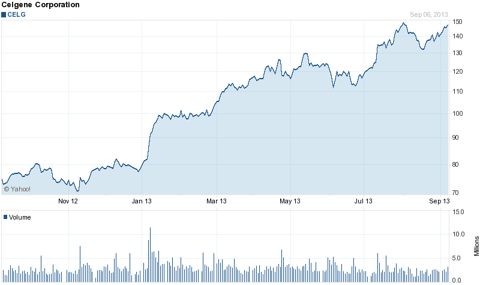 Source: Yahoo Finance
The bull market in biotechnology continues as the entire group trends higher on what seems to be a daily basis. Last week was a strong week for many of the names and we must admit that we were quite impressed with the price action in one of our favorite names in the space, Celgene (NASDAQ:CELG). The shares came very close to taking out their 52-week high set back on August 1st and if Syria can remain out of the news, or if it becomes apparent that an attack is not imminent, then we should see the shares take out that high. We remain bullish of the sector, even after the recent move.
Disclosure: I have no positions in any stocks mentioned, and no plans to initiate any positions within the next 72 hours. I wrote this article myself, and it expresses my own opinions. I am not receiving compensation for it (other than from Seeking Alpha). I have no business relationship with any company whose stock is mentioned in this article.