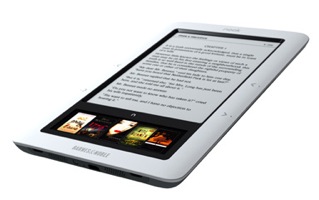 This morning I awoke to the blogosphere overrun with chants of "Kindle Killer." Have these people heard the phrase, "That's why we play the hand"?
I agree Barnes & Noble's (NYSE: BKS) new eBook the Nook is gorgeous (in pictures). I also agree it will find a market within B&N's customer base. Back in our April Premium Newsletter I also warned Amazon (Nasdaq: AMZN) shareholders to closely watch for a real threat to the Kindle. However, here are a few key reasons not to prematurely release too much excitement:
All "iPod Killers" never made it past the front lines: I won't waste time listing them here — there are a graveyard's worth. Microsoft's (Nasdaq: MSFT) Zune is the best example. It's beautiful and highly functional, yet Apple's (Nasdaq: AAPL) iPod continues to dominate the space. Just as iTunes is a critical reason for the continued success of iPod/iPhone, I would argue Amazon's wicked product reach will create a preference for continuing to get books from Amazon rather than migrate to B&N for only books. Convenience matters.
Amazon has one of the strongest brands in the world: Ask most people whether they'd rather have a Zune or an iPod. That is branding power. In this case, Amazon's brand is still cooler and more powerful than B&N.
ESPN had a groundbreaking football video game in 2003, and Madden regained the crown the following year: In 2003, I bought Take-Two Interactive's (Nasdaq: TTWO) ESPN football video game for my Xbox. The game had groundbreaking graphics and features such as a first-person view mode (i.e., when controlling your player, you were looking through that player's helmet as opposed to a third-person overhead view of all the players). That year every major video game magazine warned Electronic Arts' (Nasdaq: ERTS) John Madden Football franchise had finally met its match. The following year, everyone switched back to Madden. The team at EA worked overtime to regain their crown. I am sure Jeff Bezos and crew are doing the same as you read this.
I am not a gadget guru, so this is not an exhaustive analysis of the Nook and Kindle. However, I know hype — and at the moment that's all Nook has …