ConocoPhillips (NYSE:COP) continues to be one of the most vibrant and actively managed oil companies around. Good news seems to be coming in droves and it is sometimes hard to keep up. This article will summarize and elaborate on recent news events, why they are bullish for COP in both the short and long term, and why investors should consider the stock despite the fact that it is trading near all time highs.
Kashagan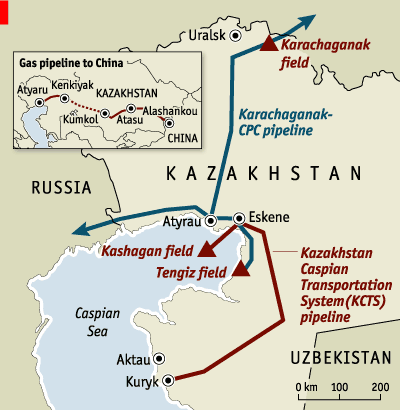 Back in April your humble correspondent wrote the article ConocoPhillips: Who Will Buy Its $5 Billion Stake In Kashagan: India or China? At the time, COP was in a deal to sell its 8.4% stake in the Kashagan field to the Oil and Natural Gas Corporation Limited of India for $5 billion. Geographically the deal made no sense to me due to the obvious symbiotic potential for a Kazak-China pipeline. I predicted China would end up owning COP's stake. Sure enough, this weekend it was announced that Chinese President Xi Jinping reached a deal with Kazakhstan to acquire what had basically been COP's stake in the field. After watching COP's 8.4% stake pass through the hands of the Kazak government before ending up in China's hands, India was left standing at the altar. Of course this makes little difference to COP - it still gets the $5 billion. The question is what does China owe me for a finder's fee?
Venezuela
In my last update on COP, I suggested investors had overlooked a potential settlement on Venezuela's expropriation of Conoco's assets. That was a quite timely prediction: last week it was announced an international arbitration tribunal ruled that Venezuela had indeed unlawfully expropriated ConocoPhillips' significant oil investments in the Petrozuata and Hamaca heavy crude oil projects and the offshore Corocoro development project. COP is seeking $30 billion in compensation, but realistic estimates are for an award of anywhere between $5-7 billion. As I reported earlier, a $5 billion award would work out to about $4 a share. For those skeptical that Venezuela would pay, I would point out that past verdicts have been paid and that the United States holds a strong hand considering it imported 26,598,000 barrels of oil from Venezuela in June of this year. Venezuela is not going to jeopardize a long-term $2-3 billion/month US export market over a $5-7 billion verdict in favor of COP.
The Wolfcamp And Bone Spring Plays
A recent Wood MacKenzie report raised some eyebrows when suggesting the Bone Spring and Wolfcamp plays could push Permian production up to 1 million boe/day by 2018. According to Benjamin Shattuck, an analyst specializing in the Permian Basin:
We estimate that production from the Bone Spring alone will more than double to exceed 600,000 boe/d by 2018 and that this will be 70 percent liquids.
More detailed information on the Wolfcamp and Bone Spring formations can be found in this excellent article by Michael Filloon.
At the Howard Weil Energy Conference in March, a COP presentation gave an overview of the company's assets in the Permian Basin: ~1 million net acres held by production including 105,000 acres in the Bone Spring, Wolfcamp and Avalon plays within the Permian's Delaware Basin and another 89,000 net acres in the Wolfcamp formation of the Midland Basin: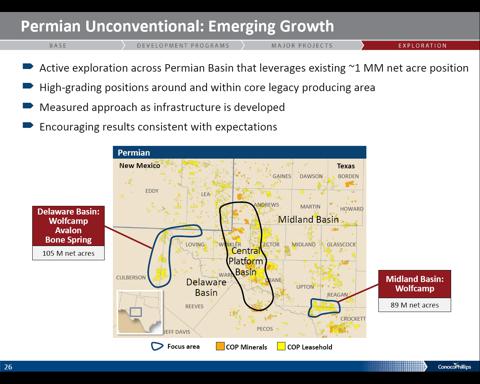 According to the Wood MacKenzie report:
Of Wood Mackenzie's five Wolfcamp sub-plays, the Ozona Arch area in the southern Midland basin is the most attractive, with an average per well breakeven of US$66/bbl. Operators with acreage in this area will outperform the competition, due to repeatable liquids production from the B-bench and the upside potential of the A- and C-benches.
The Ozona Arch straddles Crockett, Reagan and Upton Counties. It is shown on the lower right of the COP slide above (89,000 acres) and depicted in the map below. Just like the Eagle Ford, it once again looks like ConocoPhillips has a significant position in the sweet spot of the play.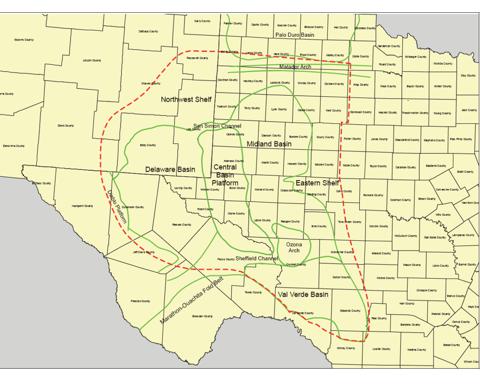 Gulf Of Mexico Auction
Flying somewhat under the radar, COP was reported to be the highest bid winner on a single tract as well as the highest total sum bidder during a recent western Gulf of Mexico auction. Conoco paid $30.58 million for the Alaminos Canyon Block 475 tract 60 miles northeast of Royal Dutch Shell's (NYSE:RDS.A) ultradeep Perdido platform. Exxon Mobil (NYSE:XOM) and Chevron (NYSE:CVX) also bid on the block. Speculation was the interest was due to seismic data released last year by Schlumberger (NYSE:SLB). Conoco certainly liked what they saw to pay up for the tract. COP was also the highest overall bid winner in the auction with sales of $50.3 million, followed by Chevron at $32.8 million.
Drones
The FAA approved ConocoPhillips' use of drones to survey ice floes and migrating whales in Arctic oil exploration regions off the Alaska coast this summer. It was the first restricted approval for two commercial drone operations in the Arctic. Investors interested in drones should check out my article on defense stocks and AeroVironment (NASDAQ:AVAV).
Summary And Conclusions
ConocoPhillips is one of the most vibrant and actively managed oil companies around. Those skeptical of COP's multi-year strategic plan should be convinced by now: with the $5 billion sale of its Kashagan stake, COP has executed flawlessly on its non-core asset sales in spite of an overall weak worldwide economy. With the recent arbitration ruling, COP could well see another $5-7 billion (~$4/share) from its $30 billion lawsuit against Venezuela for that country's expropriation of company assets. Looking forward, just like the Eagle Ford it would appear COP owns significant acreage in the sweet spot (Ozona Arch) of the Wolfcamp play as well as ~1 million total net acres in the Permian. The company continues to build its impressive portfolio in the Gulf of Mexico by aggressively bidding for a tract not far from the huge Perdido field. Meanwhile the company has shown its ability to adopt new technology in the field to reduce costs. While COP has great assets, a hefty dividend (4%), and a growing organic production profile, perhaps the best reason to buy ConocoPhillips is rarely discussed and overlooked: the company's management. This management team has delivered on every shareholder commitment it has made during the execution of its strategic makeover: selling assets, the Phillips 66 (NYSE:PSX) spin-off, Eagle Ford exploitation, maintaining and growing a compelling dividend, and now the company is on track to deliver the organic production and margin growth goals it has promised would come. In most cases, the company has exceeded its goals and surprised to the upside.
Despite the run in the company's stock this year (up 20% YTD), COP is still reasonably valued (P/E=11.3) compared to its 12 month outlook. As fellow SA contributor Alberto Alfonso pointed out, COP will benefit from the recent rise in oil prices - expect a Q3 beat when the company announces earnings in October. Don't wait until then. ConocoPhillips is a buy now.
Disclosure: I am long COP, CVX, PSX, XOM. I wrote this article myself, and it expresses my own opinions. I am not receiving compensation for it (other than from Seeking Alpha). I have no business relationship with any company whose stock is mentioned in this article.
Additional disclosure: I am an engineer, not a CFA. The information and data presented in this article was obtained from company documents and/or sources believed to be reliable, but has not been independently verified. Therefore, the author cannot guarantee its accuracy. Please do your own research and contact a qualified investment advisor. I am not responsible for investment decisions you make. Thanks for reading and good luck!