According to the latest China Apparel Industry Report (2013-2016 period), China's apparel market will reach RMB 1.1 trillion in the next three years. Menswear has garnered 47% of the overall apparel market, and is the fastest growing component of the sector. This is up from 36.6% in 2003. The country's apparel market is estimated to grow at a compound annual rate of around 23% until 2015 according to RNCOS Industry Research Solutions.
The Company
Zuoan Fashion Limited (ZA) engages in the design, manufacture, and distribution of fashion casual menswear. It offers apparel products, including blazers, jackets, sweaters, shirts, T-shirts, leather jackets, down jackets, pants, and jeans; and accessories, which include shoes, bags, ties, belts, socks, and scarves for urban males between the ages of 20 and 40. The company offers its products under the Zuoan brand name. It sells its products directly through its stores, as well as through retail stores operated by its distributors and their sub-distributors in 31 provinces and centrally administered municipalities of China. As of March 31, 2013, it had 1,362 stores. Zuoan also offers their clothing for sale through the wildly popular Tmall service here. The company is headquartered in Shanghai, China.
| | |
| --- | --- |
| IPO Price | $7.00 |
| Cash/Share | $6.54 |
| Shares Outstanding | 27.825M |
| Public Float | 7.27M |
Industry Recognition
Zuoan has experienced steady growth, has favorable (and believable) margins, and has garnered numerous industry awards as illustrated here that haven't been issued press releases on the US newswires.
Zuoan has even landed a #1 ranking two years in a row from the magazine "Apparel," beating out 50 other firms like Nike, Urban Outfitters, lululemon (NASDAQ:LULU), Ralph Lauren (NYSE:RL), and True Religion (NASDAQ:TRLG). This is no fly by night company; they are quickly building an international reputation for excellence and innovation. See what Apparel Magazine had to say in the image below.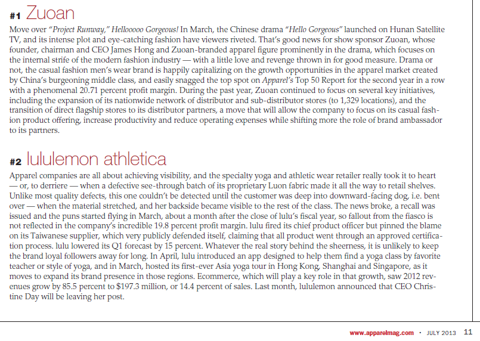 Trading History and Valuation
Zuoan ADS, or American Depository Shares, are valued at a 4 to 1 ratio, when compared to ordinary shares. With admittedly terrible timing, following the meltdown of China Media Express, the Company initially IPO'd on the NYSE in early 2011 at $7.00 per ADS. Shares are currently trading near all-times lows. Capitulation selling, in my opinion, briefly sent the pps to under $2.00 a few weeks ago (likely Columbia Pacific Advisors liquidating the remainder of their position). The fact the company listed on a US exchange via a Cowen led IPO as opposed to a reverse merger is a positive.
As of March 31, 2013, the company had cash/equivalents of $182M USD or $6.54 per ADS. Zuoan has a ridiculous market cap of $61M at the pps of $2.20. The stock is trading at less than 1/3 cash value at this point.
The company has historically met or beat guidance, and the second quarter is expected to bring in 34-36c EPS after the Q1 posted 43c EPS. The trailing P/E is 1.19 at a pps of $2.05, as the company posted $1.72 EPS for fiscal year 2012.
Auditor
Zuoan's auditor is GHP Horwath, which has shown it is serious about its auditing process and weeding out fraud, as referenced in this article discussing Deloitte Touche Tohmatsu's failure to identify fraud at Longtop Financial in 2011. GHP is known for taking a nit-picky stance on cash verification in China.
"Often in the United States an auditor can mail a confirmation in and have some assurance the bank will fill it out correctly," said Michael Filkoski head of audit services at GHP Horwath, a member of Crowe Horwath International.

"What we generally do in China is hand deliver the confirmation and stand there while the bank officer fills it out," he said. GHP Horwath has been auditing Chinese companies for over 15 years."
Another US-listed Chinese fashion stock (NYSE:XNY), also a GHP Horwath client, recently satisfied an SEC inquiry into the company as discussed in this filing. Further insight from XNY's latest webcast presentation shows how GHP's cash verification process works. Notes from the webcast are referenced in this article, which point out:
Confirmation of the cash balance was completed in person at the banks in China. GHP observed the bank employees printing or otherwise preparing or completing the confirmation request.

GHP obtained bank reconciliations prepared by Xiniya. The bank reconciliations listed cash balances per each bank's records as of the specified date, reconciling items (such as deposits in transit, outstanding disbursements, etc.) and the resulting cash balance as per Xiniya's general ledger.

GHP did not note any differences or discrepancies between the confirmation amounts and Xiniya's records. In addition GHP reviewed Xiniya's monthly bank statements.
Similar to XNY, short interest is basically non-existent, so today's basement bottom share prices are most likely due to capitulation and sector broad stroke weakness rather than suspected fraud.
Institutional and Insider Ownership:
The CEO of Zuoan, owns 15.294M ADS under Fame Brilliant Group Ltd. , which represents 55% of the O/S. A Director of the company, under "Splendid Pearl International Ltd.," owns another 1.596M ADS, which is 5.7% of the O/S. Lake Union Capitol Management still holds all their shares purchased in late 2011 and has added shares since then to bring their total position to 1.985M ADS (7.14% of the O/S). Phillip Ventures is part of a prominent international, Singapore based merchant bank with $22B USD under management worldwide. They have retained their 1.68M ADS (6.0%) position since early 2012. This totals to 73.84% of the O/S, which leaves the public float at a mere 7.27M shares, disregarding Columbia Pacific's last reported position of 163k shares. The fund has been reducing their position and are likely the cause for recent capitulation in the pps.
Reduced Fraud Risk:
As posted in the Q1 2012 financial results press release:
In March, Zuoan commissioned an independent third-party research company, Frost & Sullivan to conduct a comprehensive census count of Zuoan retail stores in order to confirm the accuracy of Zuoan's advertised store count data as of December 31, 2011.

In the study, Frost & Sullivan confirmed the existence and operational activity of selected stores in the majority of Chinese provinces in which Zuoan stores operate. One hundred and twenty cities in 23 provinces were randomly chosen for this survey. Frost & Sullivan used the Stratified Random Sampling method, and then conducted phone interviews / on-site checks to confirm Zuoan's store locations in each of the sampled cities. In each city, the number of stores checked was proportional to the distribution of Zuoan's stores nationwide in China. With such methodology, the actual audited store counts could be projected to reflect the total number of Zuoan stores within a +/- 5.5% sampling error at 95% confidence level. Frost & Sullivan began its fieldwork in March 2012, and completed the assignment in April 2012.

Mr. Hong, commented: "Improving our transparency remains a priority for Zuoan which is why we proactively engaged Frost & Sullivan to independently verify our retail store locations. We are pleased with their store verification results which helps confirm the accuracy of our retail store counts and instills greater trust in our business operations. We hold our public company listing status in very high regard to ensure our investors have the utmost confidence and understanding of our business."
In my opinion, the company can further project legitimacy by either buying back shares or issuing a cash dividend.
Conclusions:
I believe this is a legitimate company that has been thrown in the dumpster with other US listed Chinese stocks. Having verified assets, and an auditor that has recently shown a keen interest in going above and beyond proving legitimacy adds to my thesis that buying Zuoan here in the low $2.00 range is a solid trade that will likely pay off handsomely in the time leading up to and following their next earnings report. If you can hold your nose and get over the initial Chinese stink, the company's cash position and earnings will be hard to shield forever. I have made some of my largest gains ever from buying into stocks that have capitulated for one reason or another and I feel this is another one of those opportunities.
With such a small public float, this stock will move quickly once re-discovered. This might be a deterrence for institutional investment, but retail speculators can capture large gains on volatility. The company has announced it will release its Q2 FY2013 financial results premarket, on September 12th 2013, and will host a conference call the same day at 8:30am EST.
(Click image to view video)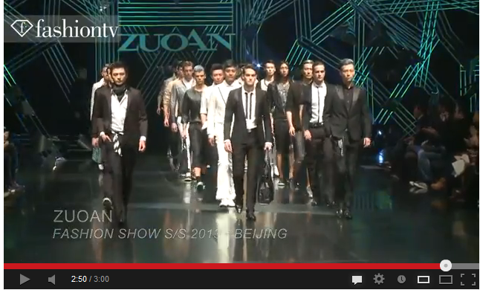 Spring Summer 2013 Mercedes Benz China via Fashion TV
Disclosure: I am long ZA. I wrote this article myself, and it expresses my own opinions. I am not receiving compensation for it (other than from Seeking Alpha). I have no business relationship with any company whose stock is mentioned in this article.