"Microsoft (NASDAQ:MSFT) used to sell Windows in a box with a CD in it. Does that make Microsoft a paper box company?" This is what Lei Jun, co-founder of Xiaomi, had to say. He aims to step out of China and make a dent on the global stage.
In a recent interview with Reuters, Lei stated the company's structure -- "Xiaomi looks a bit like Apple but is really more like Amazon with some elements of Google." At first, such a combination might look far-fetched, but a look at Xiaomi's way of doing business will remove any doubts.
The first time many people noticed Xiaomi globally was when news about Hugo Barra being lured in by the Chinese company broke out. Hugo Barra is leaving Google to join Xiaomi. The business model of Xiaomi is almost similar to that of Amazon, and maybe to a certain extent, the Nexus phones -- building a business on services by selling mid- to high-end smartphones at cost.
As per one market research report, the market for the sub-$200 smartphone is estimated to be on the rise and is expected to reach 750 million units from now to 2018.
Most smartphone companies are positioning themselves to benefit from this market. Xiaomi smartphones are quite different from the league as they carry high-end specs but are priced like a mid-range smartphone because the company is aiming at revenue from services rather than devices.
A closer look at Xiaomi
Xiaomi was founded three years ago but it has been growing at a rapid pace. In the first half of 2013, Xiaomi's revenue doubled from 2012 levels. Xiaomi had revenue of $2.16 billion by the end of June and the company is targeting revenue of $4.6 billion for the entire year.
Being a private company, detailed information about Xiaomi's financial metrics is not available, but Lei states that it is profitable. Xiaomi is looking to multiply its revenue to 100 billion yuan from the expected 26 billion yuan this year. This estimated four-fold growth in just two years shows how confident Xiaomi is about growing its business and this is why competitors should beware.
What it means for Nokia (NYSE:NOK)
With its low cost Lumia 520 model and reduction of average selling price by 37 Euros, Lumia sales picked up to reach 7.4 million in the second quarter from 5.6 million in the previous quarter. With the Devices division of Nokia and the Lumia brand already in the process of being acquired by Microsoft, one would need to wait and see what plans Microsoft has for Nokia.
However, in the last reported quarter, Nokia's devices and services sales in the world's largest devices market, China, fell 57% to 232 million Euros while sales in North America dropped 4% to 123 million Euros. One of the biggest headwinds for growth of Microsoft's OS in the mobile computing space has been the lack of Apps and the cost of apps as compared to Android. Microsoft is still not getting the desired "Developer's Love" yet and it looks doubtful whether the Nokia acquisition will help it in this regard.
Xiaomi's high-specifications, low-cost, and cheaper apps from its marketplace are no doubt an advantage. Nokia might continue to struggle in China even after its acquisition by Microsoft is complete as Xiaomi has entrenched itself well into the Chinese market.
What it means for Android
Google's (NASDAQ:GOOG) Android is used by many players such as Samsung, Sony, HTC, and Lenovo besides scores of other Chinese manufacturers making and selling Android phones in China. Google, as we all know, licenses the OS free to all the vendors. Google's Android continued to reign as the top mobile operating system in China, according to Kantar Worldpanel's latest figures.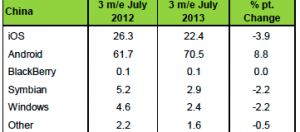 It's clear from above that everyone's loss is Android's gain in China. Xiaomi is selling more than Apple (NASDAQ:AAPL) and is already a profitable company now. The Xiaomi Mi3 has a five-inch 441ppi screen capable of 4k resolution, a 13 megapixel camera, and costs 1,999 yuan, ($327) for the 16GB version and 2,499 yuan ($408) for 32GB -- about half the cost of an iPhone in China and well below the cost of a comparable device in the U.S.
If Hugo Barra justifies his switch from Mountain View to Xiaomi, Samsung, HTC and Sony might face tough competition in the form of Xiaomi.
What it means for Apple
Apple is gaining market share on its home turf and losing it everywhere else. Not very long ago, market share was a term that never mattered to the Cupertino-based company as it worked on the premise of very high profit margins. However, one cannot turn a blind eye toward market trends for long. Apple has realized this and is slated to release what might be the "affordable" iPhone aimed at emerging markets.
China is a very important market for Apple as it is the largest smartphone market in the world. With 77 million smartphones sold in the second quarter of 2013, Apple just managed a paltry 4.6% of those sales and in July, the company reported disheartening results from China.
Apple still does not have a relationship with China Mobile, the country's largest mobile operator despite several rounds of meetings between the CEOs of the two companies. Apple will hold a launch event in Beijing several hours after the end of the launch in the United States.
This looks to be the first time the company has simultaneously introduced a new phone in both the United States and China, if it releases the much rumored iPhone 5C.
Xiaomi sells directly to consumers rather than through retailers to cut costs and after three years, it has a fanatical fan-base. Hence, Apple already faces a formidable challenge in the form of Xiaomi even before it has launched a cheaper iPhone for China and other emerging regions.
Conclusion
After being successful in China, Xiaomi is looking to make its presence felt globally and the presence of an experienced ex-Google executive should help in this regard. The company is already worth more than what Microsoft is paying for Nokia's devices business with an estimated market cap of $10 billion and so, Xiaomi is not a pushover by any means in the smartphone space.
Disclosure: I have no positions in any stocks mentioned, and no plans to initiate any positions within the next 72 hours. I wrote this article myself, and it expresses my own opinions. I am not receiving compensation for it (other than from Seeking Alpha). I have no business relationship with any company whose stock is mentioned in this article.