By David Russell
One big trader is betting on volatility in Microsoft (NASDAQ:MSFT) as the software giant prepares to release its Windows 7 operating system and report quarterly earnings.
optionMONSTER's tracking systems detected the purchase of 30,000 November 28 calls for $0.30 against open interest of 15,200 contracts. It was followed shortly after by heavy selling of the stock, indicating the use of so-called delta-neutral strategy that will profit from increased levels of volatility rather than a move in a specific direction.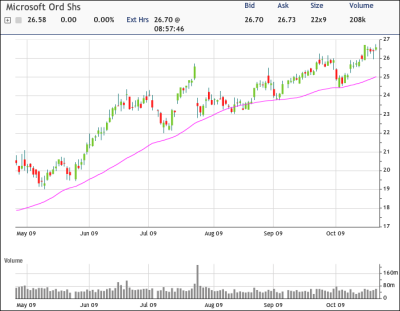 MSFT rose 0.80% to $26.58 Wednesday, pulling back late in the session after hitting a 52-week high of $26.75. The widely anticipated launch of Windows 7 will give the company an opportunity to redeem itself after its Vista predecessor failed to gain traction among users.
MSFT also needs to prove it can compete against Apple (NASDAQ:AAPL), which has started making inroads into its core computer market. The software giant from Redmond, Wash., rallied some 9,551% in the 1990s, outpacing AAPL's 184% gain, but is down 54% since the start of 2000 while its rival from Cupertino, Calif., has surged 691% during the same period.
Wednesday's delta-neutral trade followed an 11-month decline in MSFT's implied volatility to a low of 25% at the beginning of the week. However, it appears to have bottomed around that level and finished yesterday at 27%.
The other big event that could move the shares is the release of MSFT's fiscal first-quarter results before the market opens Friday, a departure from its usual after-market timing. The stock gapped lower after its last report on July 23 after sales and earnings both missed analysts' forecasts.
(Chart courtesy of tradeMONSTER)