Best Buy (NYSE:BBY) has certainly been a battleground stock as of late. Many an investor has taken some heat from Best Buy's performance, which fell off a cliff in 2012, only to rebound to nearly $40 per share recently. We first highlighted Best Buy's significant undervaluation here, but let's now take a look at recent performance.
The firm posted better-than-anticipated second quarter results. Revenue was basically flat year-over-year at $9.3 billion, exceeding consensus estimates. Adjusted earnings-per-share was 23% higher year-over-year at $0.32, well above consensus expectations. Year-to-date, free cash flow was negative at $282 million, but we're not worried considering this figure is much improved compared to the prior-year period.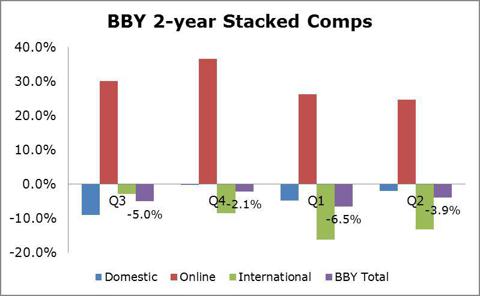 Source: Valuentum, Company Filings
In our view, the most encouraging news in the quarter was the firm's domestic same-store sales, which were down just 0.4% year-over-year. In fact, we can see from the above chart that the two-year trend at the important domestic store base is improving, while online sales continue to grow at a solid rate. As a result of online purchases being taxed in more areas, the price difference between Best Buy and competitor Amazon (NASDAQ:AMZN) has narrowed.
Two areas drove comparable sales improvement in the second quarter: mobility and appliances. Best Buy continues to aggressively advertise its phone options, and it offers a compelling iPhone/smartphone trade-in program that consumers can use to trade up to new phones. Computing and mobile phones posted same-store sales growth rate of 5.8% during the second quarter.
The reasoning behind appliance strength is clearly the housing recovery. Consumers often love customizing their kitchens with new appliances, and Best Buy is an obvious beneficiary. Comparable appliance sales grew 14.2% year-over-year during the second quarter, which anniversaries 9% growth during the same period a year ago. We anticipate appliance strength will continue over the next several quarters.
Online sales are paramount for every retailer, and perhaps our favorite aspect of CEO Hubert Jolly's tenure is that the executive understands and embraces this idea. Online sales were 10.5% higher than the year-ago period in which online sales grew 14.2%. Jolly noted that the online transformation isn't complete, listing off sundry goals on the conference call:
"Our next phase of initiatives as we head into the holiday season includes, number one, the optimization of site navigation, including the rapid narrowing of search results through drop-down editing; number two, the implementation of single-site sign on for Reward Zone customers; number three, the online display of all in-store clearance and open-box inventory; number four, the introduction of new product buying guides; number five, the addition of new marketplace partners to increase our online-only product assortment; and number six, the enhancement of our buy online, pick up in store experience by creating an easier process for customers to add service plans to their final purchase upon arrival in the store."
Initiative number 5 sounds a lot like what rival Amazon does in terms of providing a marketplace for sellers rather than simply selling products on its own. Initiative number 6 is incredibly compelling because Amazon can't compete in that aspect - yet. Consumers can order products online and pick them up hours later at Best Buy stores. While Amazon continues to expand its same-day delivery capabilities, Best Buy might be able to win over customers that do not wish to wait in the interim. More importantly, this program doesn't cost Best Buy the same pretty penny that same-day delivery costs Amazon.
On the cost side of the equation, Best Buy did a good job of keeping fixed costs in-check. In fact, domestic SG&A declined 80 basis points year-over-year as a percentage of revenue to 21.3%, as cost-savings initiatives were able to compensate for any sales deleveraging. Gross margins declined 30 basis points year-over-year to 24% in spite of a favorable mix shift as warranty related costs weighed on profitability. Overall, we were very pleased with cost discipline.
Valuentum's Take
With sales losses moderating and cost-savings working as planned, we consider Jolly's tenure a success thus far. Of course, the electronics market remains highly competitive and cutthroat, but we are confident Jolly will continue to implement necessary changes to keep Best Buy in the game.
Still, we believe the fundamental improvement in Best Buy's business is largely reflected in its share price. Though we have long held the belief that shares of Best Buy were undervalued (see our rating history below), we're sticking with our fair value of $31 per share for the time being. As such, we won't be adding the retailer to the portfolio of our Best Ideas Newsletter at current levels (about $34 per share).

Source: Valuentum's 16-page Report on Best Buy, page 16
Disclosure: I have no positions in any stocks mentioned, and no plans to initiate any positions within the next 72 hours. I wrote this article myself, and it expresses my own opinions. I am not receiving compensation for it (other than from Seeking Alpha). I have no business relationship with any company whose stock is mentioned in this article.