Infamous American department stores JC Penney (NYSE:JCP) and Sears (NASDAQ:SHLD) reported terrible second-quarter results. Let's take a closer look at these failing former industry giants.
JC Penney
JC Penney continues to suffer from Ron Johnson's strategy change and subsequent removal. Total sales declined 11.9% year-over-year to $2.7 billion, while the firm lost $2.16 per share on an adjusted basis. Both metrics fell short of consensus estimates. The firm burned through $1.1 billion in free cash during the quarter and has posted negative free cash flow of $2.1 billion year-to-date.
The situation at JC Penney continues to be incredibly uncertain, particularly after activist shareholder Bill Ackman resigned from the board of directors and hinted that he could unload his position. Ackman wanted a new long-term CEO and became displeased when interim (and former) CEO Mike Ullman began making long-term decisions without his or the board's approval.
Ackman is now thought to be out of the picture, but JC Penney adopted a poison pill provision in order to prevent a takeover from an activist shareholder. Because the firm's valuation has been so depressed, it will be important to monitor changes in the shareholder base in the event that a deep-pocketed investor or private equity firm takes a stake in order to enact change.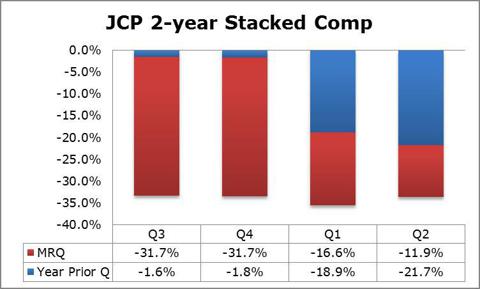 Source: Valuentum, Company Filings
Regardless of events in the executive suite, JC Penney must deal with a crumbling retail business. Same-store sales declined 11.9% during the second quarter, but more importantly, the trend has been deteriorating during the past two years. Stores are achieving 30%+ fewer sales than two years ago!
Due to the steep decline in sales, the firm is also experiencing margin compression. SG&A expenses are 380 basis points higher than a year ago at 38.5% of total sales. Because Johnson brought new products to JC Penney stores that did not appeal to its customer base, the firm has had to heavily discount products, leaving gross margins 360 basis points lower than the year ago period at 29.6%.
Management provided some historical perspective on gross margins and optimism, as CFO Ken Hannah said:
"Well our gross profit over the last 10, 11 years, all except one year has been in the 37% gross profit rate. So those are our historical margin levels. We see no reason why we can't return to historical margins. But what's weighing on the margins today is the disposition of merchandise the customer didn't relate to, and that should subside during the third quarter."
But not only is this statement untrue (we count two of the past five years below 37%), but it fails to account for the downward trend intact prior to Johnson's tenure. Rival Kohl's (NYSE:KSS) has seen its gross margin improve to the high-30% rate, but we think JC Penney remains in a tough position. Growing off-price retailer TJX Companies (NYSE:TJX) keeps overhead exceptionally low and thrives in a high-20% gross margin range. This degree of competitive pressure simply did not exist several years ago.
On the positive side, Goldman Sachs (NYSE:GS) bought JC Penney some time with a $2.25 billion senior secured loan facility so the firm can at least have a chance to work on getting back to profitability.
Let's not forget that JC Penney embarked on a turnaround just a few years ago, and that didn't exactly work out. There is no guarantee that JC Penney can become a profitable entity once again. It is also important to remember that Mike Ullman was fired once before, so by no means should he be considered a turnaround expert. We're staying far away from the company in the portfolio of our Best Ideas Newsletter.
Sears
Sears seems to be taking a different road to irrelevancy. Instead of hiring a new CEO for a 180 degree shift in strategy, Sears appears to be bleeding a slow death. Total sales declined 6.3% year-over-year to $8.9 billion, in-line with consensus estimates, while earnings per share declined to a loss of $1.46, even worse than anticipated.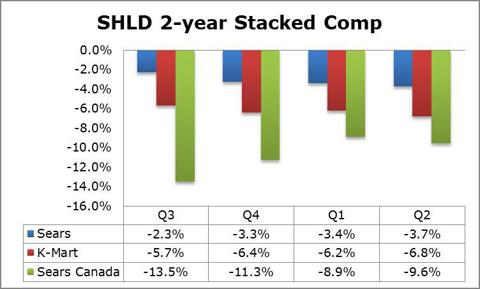 Source: Valuentum, Company Filings
Sears's three major stores-the domestic chain, K-Mart, and Sears Canada-continue to experience same-store sales declines, though losses aren't really accelerating. Sears remains positive on its "Shop Your Way" strategy (membership), and the evidence indicates that it might be helping soften negative trends, as same-store sales at the Sears Domestic fell only 0.8% during the second quarter.
The issue with Sears isn't change, but rather the lack of change the firm has engaged in during the past several years. Stores remain understaffed, often disorganized, and simply unattractive. Though Chairman/CEO Eddie Lampert has often suggested that the underinvestment was strategic, we think it creates a bad perception around the entire Sears brand.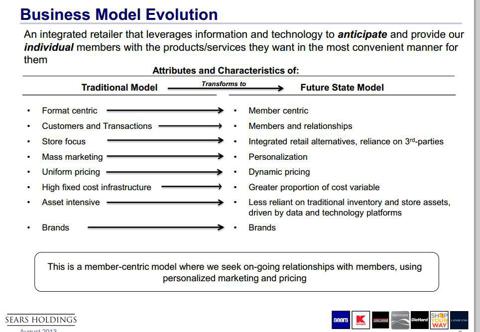 Image Source: SHLD 2Q 2013 Slides
In addition to problems of underinvestment, sources from within the company believe that Lampert's leadership model promotes uncooperative divisions and internal battles that have hurt the overall company. Lampert, known for his passive investing acumen, may not have the right model for building a profitable retailer.
Lampert says all the right things with regards to Sears's transformation (see the above image), but we have yet to see these initiatives translate into improvement in the top or bottom line. This brings up one important reality of investing: often the story told by management and the facts revealed by financial statements do not align.
During the quarter, gross margins declined 210 basis points year-over-year to 24.6%, which management blamed on a bevy of factors, including the success of the Shop Your Way program and the divestment of Sears Hometown and Outlet Stores (SHOS). This margin is even worse than JC Penney's gross margin, but that is due to the inclusion of the lower-margin K-Mart business. The more comparable Sears Domestic saw its gross margins fall 280 basis points year-over-year to 25.9%. Essentially, gross margins continue to fall, giving the firm even less flexibility with respect to fixed costs.
With same-store sales falling, SG&A increased 10 basis points as a percentage of sales to 25.8%. Given the current gross margin profile of Sears, we would need to see SG&A decline materially for the company to reach profitability-an event unlikely to happen anytime soon (if at all), in our view.
Ultimately, Sears remains a net asset value (NAV) play based almost entirely on the firm's real estate being carried at a substantially lower value than its actual value. The operating business itself simply isn't working, and we haven't seen Sears receive the margin tailwind we thought might occur with stronger appliance sales.
Valuentum's Take
Both JC Penney and Sears seem to have insurmountable challenges ahead in turning around failing businesses. Even though it is easy to fall in love with Lampert's track record as an investor and impressive plans for the future, the risks associated with Sears outweigh the reward at this time.
As for JC Penney, we're simply staying away at this time. It would take a considerable change in the qualitative and quantitative outlook for us to become interested in the name. There is a case to be made that, like Sears, JC Penney has considerable real estate value on its books that the market isn't giving it credit for, but even this isn't enough to compel us to take a position.
Disclosure: I have no positions in any stocks mentioned, and no plans to initiate any positions within the next 72 hours. I wrote this article myself, and it expresses my own opinions. I am not receiving compensation for it (other than from Seeking Alpha). I have no business relationship with any company whose stock is mentioned in this article.