The e-commerce industry is continuously evolving with companies focusing more on quick, easy online transactions. The biggest driver of this industry is the growth of smartphones and tablets. According to eMarketer, a research firm, smartphones and tablets contributed 11% of U.S. e-commerce sales in 2012, and the share will reach 25% by 2017. However, the e-commerce industry is already flooded with many companies, since the entry barriers are very low. In order to grow in this thriving competition, companies must have a unique proposition for consumers. Let's have a look at an e-commerce company, which is trying to make its mark.
Last month Groupon (GRPN) announced its second-quarter results for 2013 with revenue increasing by 7% year over year to $608.7 million. It changed its international segment reporting and now reports results in three segments, Europe, the Middle East and Africa, or EMEA, and Rest of World. This will give a clear picture of the sales and earnings of different regions. Though North America's revenue grew by 45%, EMEA and Rest of World declined by 24%, and 26% respectively. The growth in North America was mainly due to the upsurge in mobile users, which contributed half of Groupon's total transactions in the second quarter of 2013. The international revenue was down due to low sales across these segments.
Get going with smart-phone users

Groupon is well positioned for the shift to mobile, with around 50% transactions in North America through mobile in second quarter of 2013 compared to 30% in second quarter last year. Smartphone users in the U.S. are expected to grow at a CAGR of 11.31% from 2012 to 2017, reaching 207.40 million. Additionally, online spending has significantly increased. In the U.S., it will reach $248.7 billion by 2014 from $155.2 billion in 2009. This could be the right opportunity for Groupon, to leverage this trend to connect to more users and businesses. Due to the growing smartphone market, online transactions are going to rise. People are becoming more comfortable purchasing online and are even making high value transactions.
This will provide Groupon a chance to place high dollar value items on its daily deal space, a place where it displays offers and discounts on its websites. Mobile users spend 50% more on average than desktop users, and we believe that the company has the ability to monetize the same with people using mobile apps more than the website to access the deals. North America has recorded 320% growth in mobile transactions in the last two years, which is expected to continue in the coming years.
Moving up with high-end restaurants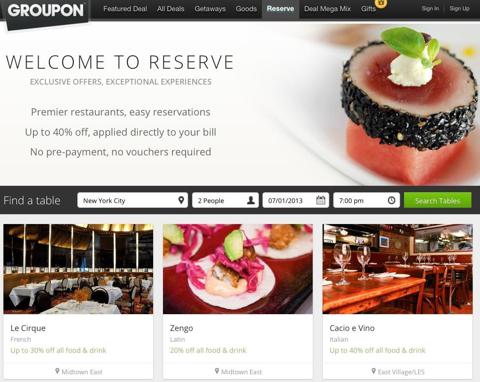 Groupon decided to enter the premium reservation business with the launch of 'Groupon Reserve' on both its website and app in July 2013. It allows diners to book high-end restaurants online instantly, and avail discounts up to 40% at these restaurants. Groupon Reserve will run on the technology of savored.com, which is a restaurant reservation portal that it acquired back in 2012. Groupon has over 600 of the country's top restaurants under this program. This launch is in-line with Groupon's strategy of becoming the leading marketplace for online deals.
According to Groupon CEO Eric Lefkofsk,
As Groupon has evolved, we've seen growing demand from our customers for upscale offers and exclusive experiences. Reserve gives the most prestigious brands a new way to reach our large and desirable audience.
Groupon Reserve's business model is similar to OpenTable, Inc. (OPEN) and will create competition in the high-end restaurant reservation service. OpenTable has been in the business of restaurant reservations since 1998, seating more than 12 million diners per month across 28,000 restaurants in the U.S. However, Groupon Reserve should be a concern for OpenTable since both compete in the same segment for restaurant reservations. Reserve offers diners heavy discounts on meals at high-end restaurants by using restaurants' unused and vacant seating capacity during off-peak hours, while OpenTable offers diners no-frill reservations that allow diners to book seats in restaurants for no extra charge. OpenTable diners will get dine-in points for each dinning and can later use these points for discounts.
Both these online companies have overlapping categories of diners, and Groupon is expected to take some of OpenTable's market share with its heavy discount offers. Looking at OpenTable's 28,000 restaurant base, we can say that Groupon has potential to grow in the coming years.
Cause of concern
In July 2013, Google (GOOG) rolled out changes in its Gmail format; it has categorized e-mails into three tabs, Primary, Social and Promotions. This partition will take users an extra click to access social or promotion e-mails. Through this update, Google will eliminate the flood of spam mail in the user's mailbox. This will make mailboxes much more organized and let users prioritize important mail.
This will also significantly affect promotion, e-commerce, travel and social content sites that rely on e-mail to attract consumers. These changes are limited to desktop and Gmail app users; email apps on iPhone and iPad are currently unaffected.

We believe that for e-commerce companies like Groupon this impact will be potentially more direct. They send their daily deals to all their users through direct mails. In June 2013, Groupon adopted a pull strategy to attract more and more consumers toward its websites and apps, rather than the push concept of sending daily e-mails offering discounts on products and services. Groupon's strategic change from a push model to a pull model has been going in the right direction and will help it to tackle this headwind from Google.
Valuation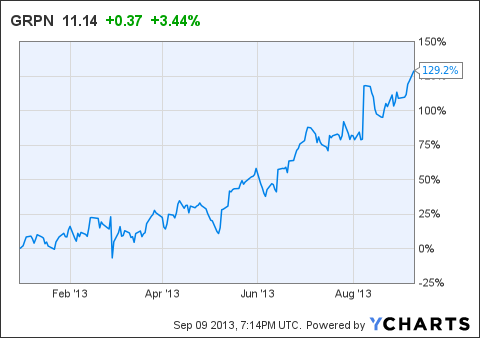 GRPN data by YCharts
Groupon has delivered 109.1% YTD growth in its share price, mainly due to improvement in its recent second-quarter earnings result. Let's have a look at the valuation metrics to get a full picture.
| | | |
| --- | --- | --- |
| Company | EV/EBITDA | PEG Ratio |
| Groupon | 41.94 | 3.17 |
| OpenTable | 29.89 | 2 |
In comparison to its peer, Groupon has a high EV/EBITDA and PEG ratio, signifying it is overvalued at its current price. Groupon's high PEG ratio indicates that it is trading at a higher price than its future earnings potential. On the other hand, a high EV/EBITDA indicates that Groupon has not been generating enough returns for the shareholders in comparison to its enterprise value.
Conclusion

The company's stock price has seen growth since the start of the year, but its valuation shows a completely different picture. However, looking at Groupon's strong fundamentals and the monetizing ability on the growing smartphone user base, upside potential still exists. Also, with the newly launched Groupon Reserve, there exists an opportunity to gain market share. We recommend a buy on this stock.
Disclosure: I have no positions in any stocks mentioned, and no plans to initiate any positions within the next 72 hours. I wrote this article myself, and it expresses my own opinions. I am not receiving compensation for it (other than from Seeking Alpha). I have no business relationship with any company whose stock is mentioned in this article.
Additional disclosure: Fusion Research is a team of equity analysts. This article was written by Rohit Gupta, one of our research analysts. We did not receive compensation for this article (other than from Seeking Alpha), and we have no business relationship with any company whose stock is mentioned in this article.