Apparently all the kiddos heading back to school are not turning to search engines to do their homework. Overall September web search activity remained at seasonal lows with no strong indication of recovery. In September, online users submitted 200MM less queries than they did in August. The majority of this decline came from Yahoo (YHOO) (serving 100 MM less queries in September than August or an 8% decline).

The pain continues at Yahoo!
Yahoo saw a loss of 1ppt search share from last month, bringing its share down 5ppts since the same time last year. Google (NASDAQ:GOOG) served fewer queries this month as well, but because the drop in overall volume across the engines, Google's search share stayed stable at close to 73%.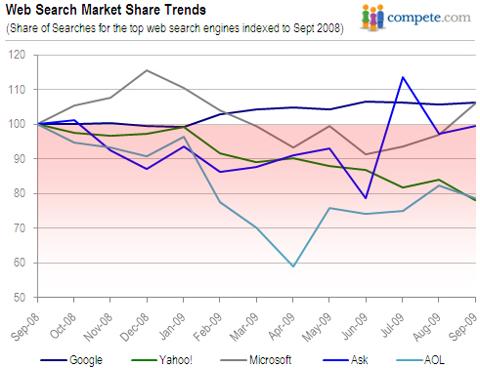 Bing continues to shine
In contrast, Bing's web search served 25 million more queries than last month, continuing the engine's impressive growth since its launch at the beginning of June. Bing saw another month of .3ppt search share growth, which has the Microsoft engine sitting pretty during an otherwise tepid month for search engines. It's interesting to note that search volume is growing for Bing despite the goal of being a decision engine.
Part of the core of Bing's new focus is a promise to get users to answers quickly, in other words, with fewer searches. This actually plays out when we look at the searches per person numbers. In September, Bing users averaged about 5 searches per user per day. Whereas Google users averaged about 5.6 searches per user per day and Yahoo! users were at 7.8 searches per user per day. So the bottom-line is that Bing growth is even more impressive.
Continued search query growth at Bing is having a spillover effect for its paid search business. This month 6.4% of search clicks were on sponsored links. This is an important milestone for the new engine as 6% sponsored referral share is currently the industry standard. Google and Yahoo's share has hovered in the 6% range all year.
Google's steady dominance
Google has held steady at 9BN queries served per month for most of 2009. The default search engine for the masses maintained a dominant search share, while its closest competitor Yahoo, has been on a steady decline. In addition Google continues to capture solid sponsored search clicks , with 6% of all clicks on search results being on a sponsored link. Makes sense considering Google's recent number crushing quarterly report.