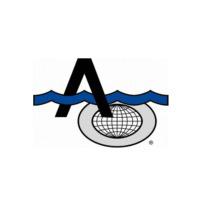 Atwood Oceanics (NYSE:ATW) is an offshore drilling contractor engaged in the drilling and completion of exploratory and developmental oil and gas wells. The company owns a fleet of 16 ships, three of which are currently under construction. Its fleet includes semi-submersible, jack-up, and ultra deepwater drilling rigs. It obtains the contracts either through individual negotiation with the producer customer or by competing with other companies. The company has been in business since 1968 and its market cap is $3.59 billion.
As an offshore drilling contractor, Atwood has weathered the adversity of the last few years very well. Neither the "Great Recession" nor the Macondo disaster has been able to stop Atwood. Earnings have continued growing each year despite the volatility of this space. Last year Atwood was named one of the best small companies in America by Forbes magazine.
Atwood is all about growth right now. Having cleared a recession and the Macondo disaster, the company is taking off: Expanding the fleet, taking advantage of high oil prices and growing both earnings and revenue by over 20% for both the quarter and the foreseeable future. With steady growth, best-in-class profitability and a small but expanding fleet, I believe Atwood is a multi-year secular growth play which the market is undervaluing right now. This article will cover Atwood's business, its prospects, valuations and finally some risk factors for this underwater driller.
Best Of Breed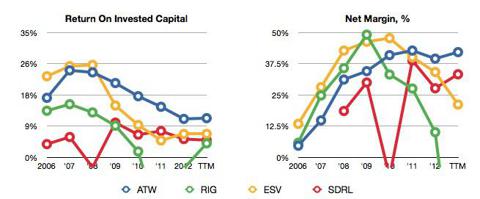 Chart by Author, data by Morningstar.
When looking at its three underwater drilling competitors, Atwood has edged out its peers in Return On Invested Capital (ROIC) for a long time. It has also led its peers in Net Margin for the last couple of years. Regarding margins, Atwood's inexorably upward trend has bucked the downward trend of its underwater driller peers. This can be credited to having a smaller fleet and selectively choosing higher-margin geographies and contracts. Returns on Invested Capital have been declining in this sector since the 2007 peak and Atwood is unfortunately no exception to this trend. However, the company's ROIC has been a step above the industry since 08-09: A testament to management's capital discipline.
Growth And Projection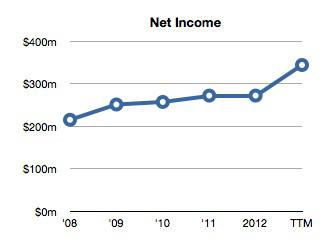 Atwood has managed to grow slowly but steadily through the more difficult times, and it seems now the company is finally "breaking out." Last year earnings per share grew by 29% and it looks as if that trend is continuing into this year. So far this year the contract backlog has grown 73% and construction on two ultra deepwater rigs have been completed with a third one on the way.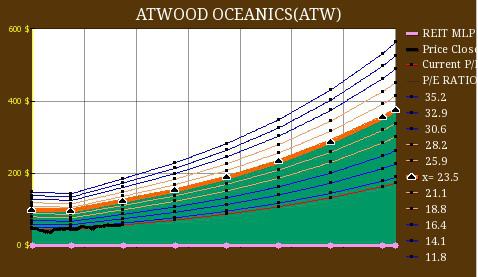 The shaded green area is the company's long-term earnings trajectory. I'm not one to put much credence into upward moving lines stretching far into the future based on today's forecasts, but Atwood here might be an exception. If oil prices can stay relatively high, say, over $90, Atwood should be able to continue 20+% earnings growth for at least a couple of years. Maybe more.
There's one very striking feature about both growth and growth predictions for Atwood. Both of the above curves do not look like that of a cyclical company. Atwood has differentiated itself in this space: Its safety record is great. Its balance sheet is not highly levered like some of its peers. The company has a small but growing fleet taking advantage of steady deepwater drilling growth brought about by high oil prices.
If oil prices stay high, Atwood is indeed a secular growth story. But as we will see, the market is not treating it as one. This is why I believe Atwood is an opportunity.
Valuation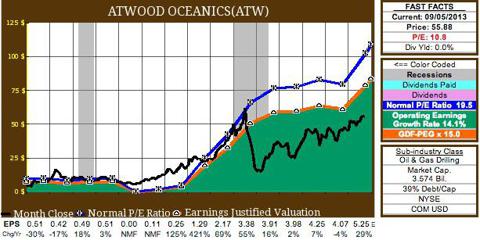 Looking at the stock price (in black) we can see that the market has treated Atwood as a cyclical stock and "just another underwater driller." But it isn't, and right now that makes Atwood an undervalued opportunity.
Earnings, again the green shaded area, are indeed breaking upward. But Atwood is well below its average 15-year P/E ratio (in blue) and its "Fair Value."
Fair Value here is determined by Benjamin Graham's basic formula and also the PEG ratio (price to earnings / growth). Graham's formula is V*= EPS x (8.5+2g), where V equals the stock's fair value and g represents the earnings growth rate and 8.5 being the normal P/E of a no-growth company. The PEG ratio here is given weight because Atwood is a faster growth company.
All that being said, at a mere 10.8 times earnings, fast-growing Atwood is trading well below its "Fair Value" right now. I believe it should be much higher. Fair Value is at $78.80, which is 40% higher than here. If Atwood ever trades at a PEG Ratio of 1, which is incidentally close to its 15 year average PE Ratio, we would see the stock around $100 and gains of over 80% from here.
Atwood is a secular growth story. The market, however, has ignored much of the company's success. The highly cyclical nature of many underwater drillers has caused the market to slap the "cyclical" label onto Atwood. And the Macondo disaster has since attached a stigma to this whole sector. When the market eventually realizes that Atwood's growth is both secular and accelerating and finally puts Macondo into the past, I believe the stock will shoot higher back up toward its normal PEG Ratio and the 80%+ gain will be possible. That may take a couple years.
Risks Associated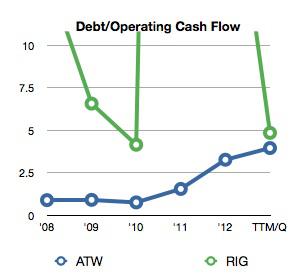 There are a number of caveats to Atwood's growth and associated risks to go along. The first of which have to do with capital markets. Due to construction of several brand new ultra deepwater ships, Atwood's debt load is growing. But while debt is growing, it is still significantly less than competitors such as Transocean (NYSE:RIG).
While all of Atwood's debt is fixed, some of it may have to be refinanced at a later date when rates could be significantly higher. At the moment Atwood only has one outstanding bond with a due date in 2020. If need be, the company might be able to pay it off by then. If that were to happen, however, higher rates would put the brakes on fleet growth and subsequently earnings growth, too. Atwood needs to continue managing its balance sheet and stay creditworthy.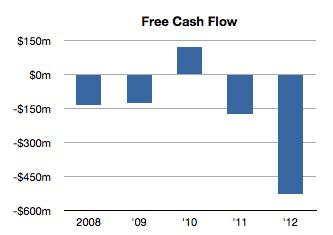 The company has been very much Free Cash Flow negative in 2012. The underwater drilling business is very capital intensive and the lag time between spending and return is substantial. This means Atwood must continue spending on construction of new ships today but will not reap the benefits until at least a few years down the line. Of the company's sixteen ship fleet, three are either under construction or have been recently finished.
Atwood is a hedged bet on high oil prices
Eight of Atwood's sixteen ships are either deepwater or ultra deepwater. Deepwater drilling requires lots more capital and expertise than conventional oil drilling. Therefore, deepwater's profitability relies on high oil prices. With prices high, producers will continue increasing their deepwater activity. Atwood's growth is therefore a function of high oil prices. As a basic rule of thumb, deepwater drilling has been worthwhile with Brent Crude above $90 over the long term. Right now, management does see possible downward pressure on oil as emerging markets are slowing with US production simultaneously growing.
Finally, day rates for drilling rigs must remain high to keep Atwood's high margins stable and support the company's growth. This will depend on the underwater drilling industry's ability to manage supply as a whole. At this time, management expects day rates to stay high for the foreseeable future as demand is very strong and supply limited.
Conclusion
Atwood Oceanics is a great secular growth story that I believe is undervalued and underloved. In this article, I highlighted a possible 40% upside to the stock based on this year's earnings. I believe that upside can be reached within twelve months: The market will soon reprice Atwood based on elevated earnings which will only go higher.
While that upside is attainable within a year, Atwood is, in general, a multi-year play for two reasons. First is its solid, long-term growth estimates. Second, and more importantly, is because the deepwater drilling industry tends to look far into the future. Contracts here are long term and companies that focus on short-term price gyrations are ones that will lose out. Investors should do the same.
Management has its eyes on the long term. The company is poised to take advantage of increased deepwater activity and do so bigger and more profitably than its peers. Therefore, investors in Atwood should also be willing to hold for multiple years to take full advantage of this long-term growth.
There are a few moving targets to this thesis. Atwood first must manage its debt. Oil prices, in general, must remain over $90 per barrel. Finally, the offshore drilling industry as a whole must manage supply to keep day rates around where they are. If all three of these factors can stay in place, there will be no better offshore drilling investment than the undervalued Atwood Oceanics.
Disclosure: I have no positions in any stocks mentioned, and no plans to initiate any positions within the next 72 hours. I wrote this article myself, and it expresses my own opinions. I am not receiving compensation for it (other than from Seeking Alpha). I have no business relationship with any company whose stock is mentioned in this article.