On August 22, I predicted the price of gold (NYSEARCA:GLD) could break out to $1,500 and higher over the next 1-2 months based on a number of factors; I pointed towards strengthening demand from India as their wedding season approaches and a potential non-tapering announcement from the US Federal Reserve.
At the time of writing, gold was around $1350 an ounce, as soon took off to $1420 just a week after. Since that time gold has taken a breather, pulling back to the $1365 - $1380 area.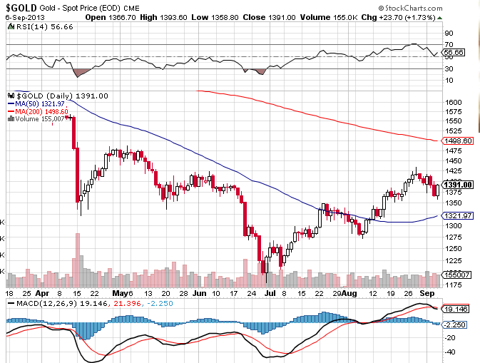 I don't know the exact period of time when gold will breakout and anyone who thinks they can predict the precise moment is kidding themselves. However, I think there is a strong possibility that we could see the next breakout in gold either by the end of September or in October, for a couple of reasons.
Here I will give updates on some recent developments since the original article was published, because a lot has happened in that short term.
Unemployment Rates Drops... Or Does it?
The most recent economic unemployment report for the US was horrendous, in my opinion.
According to the Bureau of Labor Statistics, 169,000 jobs were added to non-farm payrolls in August, with the unemployment rate dropping to 7.3 percent.
Take a look at the numbers just a tiny bit deeper, however, and you'll see the drop was due to a large number of people dropping out of the labor force. These people have given up looking for work altogether. Hardly a good sign for the US economy.
"The labor-force participation rate, the percentage of working-age people either working or looking for work, dropped to 63.2 percent from 63.4 percent in July, the lowest rate since 1978.

Based on the new data, the economy has added just 148,000 jobs per month in the past three months, down from a pace of 207,000 jobs per month in the first three months of the year. At the current rate, job growth is just barely enough to keep up with population growth and keep unemployment from rising." HuffingtonPost.com
Tapering From the Fed - Will it Happen?
The Fed is currently purchasing $85 billion a month in bonds; since May, Bernanke and the Fed have been warning that they could soon start "tapering" or scaling back their monthly asset purchases.
In my opinion, a tapering from the Fed at this point could be disastrous for the economy and threaten the entire "recovery" they have orchestrated.
Based on the most recent unemployment report, I can't see why they would be in favor of tapering at the present time. The economy is clearly nowhere near recovering. If anything, it looks to me like the QE is starting to wear off and a higher amount will be needed.
Even though they haven't actually done anything yet, look at what just the talk of tapering has done to rates over the past few months:
*10-Year Bonds
Since they first hinted at potential tapering in May... rates have taken off.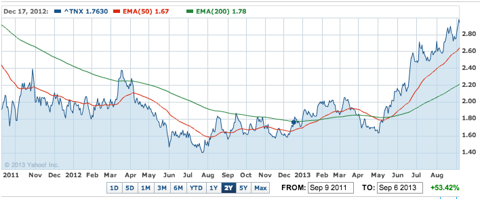 Those who were smart enough to see this coming would have bought shares of the TBT, an inverse ETF that is designed to benefit from higher interest rates and lower bond prices.
* 30-Year Mortgage Rates
Not surprisingly, rates on 30-year mortgages also have shot up, making it much harder for people to refinance or buy new homes. Rates have increased from 3.4 percent to over 4.5 percent in just 3 months!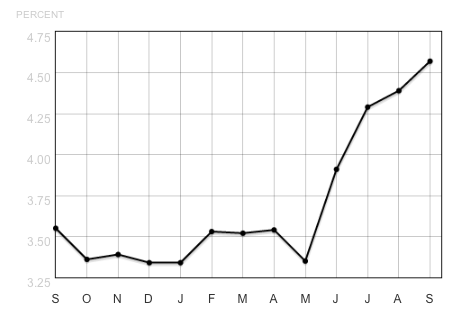 It should be clear to everyone that the housing "recovery," and the entire recovery for that matter, is completely dependent on QE and insanely low rates. This has been proven the past 2 months as home sales have taken a hit because of higher rates: On August 27, the National Association of Realtors said its Pending Homes Sales Index, based on contracts signed last month, decreased 1.3 percent to 109.5.
Inflation Remains Low
Another reason I don't think the Fed will taper is because we haven't seen too much inflation (according to the government's numbers). I actually believe inflation is higher than what is reported by our government, which, if it's true, shouldn't really surprise anyone.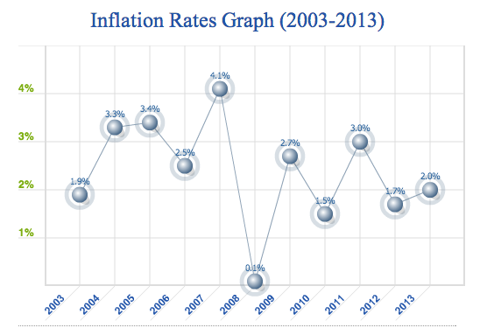 One of the main concerns with increasing amounts of QE is that inflation rise. Since we haven't seen much inflation, I think the Fed should be arguing for increasing QE instead of hinting at tapering QE.
What I fear is that if the Fed actually does taper, we will see rates really start to take off and we could see a crash in the stock markets, the housing market and the entire world economy. I don't see why the Fed would want to risk this. My feeling of QE is that once you are in, you are in and there is no going back. Scaling back QE at this point would be threatening the entire "recovery" the Fed has orchestrated.
The Fed has said it will keep rates at the near-zero level until the unemployment rate drops down to 6.5 percent. How they plan on getting to 6.5 percent, while also tapering QE at the same time is anyone's guess. Maybe they are hoping that half of the labor force will stop looking for work and drop out?
United States Debt Limit to Be Hit in October?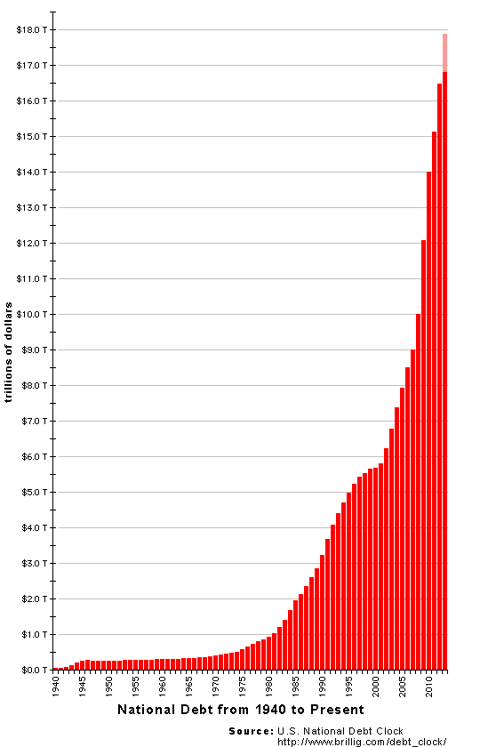 One thing that few people are talking about is the fact that the US is expected to hit debt limit again in mid-October.
Instead of talking about the single biggest problem facing our country - too much debt - we are talking about going to war again!
The outstanding public debt as of September 9 is $16.749 trillion. When you add in total US funded liabilities (Social Security, Medicaid), the total number is really more like $141 trillion. The gross domestic product is under $16 trillion, so the total debt is far larger than the size of the economy.
In addition, the growth of the debt hasn't really slowed down. The National Debt has continued to increase an average of $1.98 billion per day since September 30, 2012, according to Brillig.com.
Will there be a fast and easy resolution come October? I think not. John Boehner wants to tie the federal debt limit to spending cuts. I don't think Obama and republicans will be on the same page... do you? Here's a small clip of what Boehner had to say:
The American people know that Washington has a spending problem, and they won't support another increase in the debt limit without meaningful action to reduce spending and reform government.

The American people know that our deficits and debt are hurting our economy and costing jobs. They want their elected leaders to take meaningful action to reduce spending. Source: TheTownTalk.com
Remember the last time we had a debt ceiling crisis in 2011? The crisis escalated in the summer of 2011. Here's what the price of gold did, going from $1500 to $1900 in a very short period of time.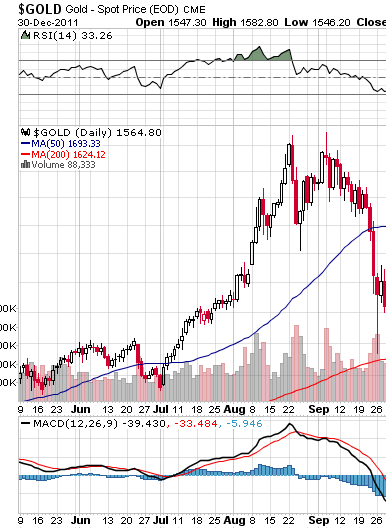 I'm not saying gold will react the same exact way it did back then, but it is definitely possible.
What Does This All Mean for Gold and the US Dollar in the Long-Term?
It means a lot because fiat currency is faith-based money. The US dollar, along with every other currency in the world, has no real intrinsic value and is based on faith - and I am losing more and more faith in this government every single day.
This country has major, major issues, and we are doing little to nothing to solve them. Instead of focusing on these real issues - high unemployment, poverty, trust in the government and huge debt that is increasing more and more each day - we have our minds elsewhere.
One of my main reasons for investing in gold is my belief that the problem of too much debt will be solved by massive currency creation, resulting in big inflation. I still believe this; just because big inflation hasn't happened yet doesn't mean it will not happen. We have too much debt with no easy solutions. There is simply no way around this, except more QE.
My favorite way to invest in this sector is the royalty companies - in particular, I like Silver Wheaton (SLW) and Sandstorm Gold (NYSEMKT:SAND). Both companies get their precious metals at a fixed price; I believe this makes them a great hedge against inflation.
I also like mining companies that produce gold at low costs. Some of my favorite miners are Brigus Gold (BRD), Luna Gold (OTCPK:LGCUF), Alamos Gold (NYSE:AGI) and Allied Nevada (NYSEMKT:ANV).
We may not be able to stop them from going to war or solving the debt crisis, but I think there is a real chance to make some money from our leaders' poor stupidity. I've said gold will go to $1,500 in the near-term (September or October) and I stick by that call. In the long-term, I think even bigger things are in store for gold. Please follow me here on Seeking Alpha if you agree with me and let me know your thoughts in the comments below.
Disclosure: I am long SAND, ANV, BRD, OTCPK:LGCUF, SLW. I wrote this article myself, and it expresses my own opinions. I am not receiving compensation for it (other than from Seeking Alpha). I have no business relationship with any company whose stock is mentioned in this article.