Microsoft's (NASDAQ:MSFT) acquisition of Nokia's (NYSE:NOK) mobile device business confirms its stated ambition of becoming a true Devices and Services business. The transaction presents an opportunity for Microsoft to integrate the breadth of its services with world class designed devices from Nokia. It changes expectations on future devices, future relationships, penetration of Windows phones in the market place, and above all it leaves Microsoft's future in its hands with no excuses of what other hardware manufacturers could not do. Success will be measured in: devices that work better with Windows 8, better market acceptance, better penetration at consumer and enterprise levels. Separately, both companies were not particularly compelling as captive partners and did not demonstrate any synergies from their previous relationship greater than the sum of their contributions. It will not be easy for the new behemoth to change the previous trajectory if things stay the same. I strongly believe that the different pieces better focused on consumers will deliver better results than the behemoth Microsoft is becoming. Below, I highlight some of the reasons why I believe it makes more sense for Microsoft to finally break up into distinct but related business units leveraging the competencies of the different divisions for the whole:
Avoiding "The Apple Trap" - If imitation is flattery Apple (NASDAQ:AAPL) must be very flattered at Microsoft's "Devices and Services" strategy. Apple did not pursue the devices and services path by happenstance and it cannot work the same for Microsoft as it did for Apple. Microsoft retains the right to become a new company but it cannot forget that it was built on partnerships that created a favorable ecosystem for specialized stakeholders. Microsoft is unique by its sheer size, history, culture, partnerships, diversified business lines and consequently divergent needs of its customer base. It has a lot of moving parts and will have to figure out its internal mechanics and then the dynamics of its partners to its recent strategic choices before pretending that its decisions are wholly owned. It cannot try to make every Microsoft produced device a microcosm of everything it does. Apple did because it was set up that way from inception and its set up completes rather than distracts from the customer's experience with its products. In addition to having divergent services Microsoft is also struggling with a core business that is not as trendy and challenged by capable and in some cases free alternatives. Microsoft needs some edginess and needs to provide trendy packages that customers either like or have no choice but to embrace. This requires a level of risk taking that is always more palpable to smaller units than bigger corporations that tend to be risk averse. It requires business units to have an ear close to the consumer and an intuition for shifting with market trends. Size does not allow for all these and my assumption is that smaller and empowered units might be able to do more and quickly for Microsoft that a combined single entity.
Leadership -Stephen Elop, in my opinion, has demonstrated enough decision making and execution capacity in his attempts to turn around Nokia. Nokia has shortened product cycles and made progress in areas where they previously barely competed. Under his purview Nokia made the strategic decision to dump the Symbian OS and adopt Windows. The jury is still out on how successful Elop was at Nokia but it is fair to assume that he must feel a sense of responsibility to make sure the devices portion he brought along to Microsoft succeeds. He is be the only candidate in the pool of potential CEO's for Microsoft with intimate knowledge of both companies even though that only makes him intimately knowledgeable of what we can all agree is a tenuous phase in the history of Microsoft and Nokia. He is neither new nor unbiased and may not bring with him the cache to convince the market, current employees and business partners that he can turn around the giant ship. If he does not become CEO and stays with the devices portion of the business, he immediately becomes too important for the new CEO to effectively manage. In the latter role he will effectively wield too much power and more likely be disinclined to acquiesce to strategic changes that are different from the path he was steering Nokia towards. I am not going to beat this point to death since there is a strong need for whoever becomes the new CEO to start off by eliminating all dissenting voices and make sure that the remaining leaders appreciate the urgency of sticking to a new vision for the company. The need to eliminate egos, align business to customers and all the other shenanigans of the old Microsoft makes it necessary to split Microsoft up so that separate business units are allowed to experiment and to be innovative. The challenge will be to make sure that the business units don't compete against each other in a quest for survival of the fittest.
Innovations for the Customer - Microsoft and Nokia have very valuable technological assets and grew from innovation. They, at certain points in their history, became dominant technology companies by challenging established norms. They both missed critical junctures of change within their respective sectors and their marriage is an attempt to unite their capabilities and catch up. They are a situation where they need to do less in terms of capability and more in identifying customers actually need to gain some traction in the market place. They will have to ensure that they measure R&D efforts in conversion to actual products rather than patents logged and dollars spent. The Windows phones OS and Nokia phones have been generally well reviewed even though not as well received in the market place. They have gained market share, with smartphones, in a space that increasingly looks like it is near saturation. They have to aggressively explore the next frontier in devices which may end up being something very simplistic that only complements the slow but steady transition to cloud based services and connectivity. They need to develop a continuum between the many services - Windows, Xbox, Windows Azure, Office 365, SQL Server etc. - without making each device become everything to everybody. This approach of doing too much is evident in the Xbox 360 which seems to offer too much to everyone as opposed to different tiers that address how different sets of customers chose to use the device. If the Xbox team, for example, was more aligned with Xbox customers than with both customers and the other divisions of Microsoft they might have better understood how to leverage other competencies to extract more revenue from the sale of each device.
The Stock - The crux of the argument to split up Microsoft lies in the performance of its stock which has been outperformed by its peers since 2000. Note that stock appreciation and revenue growth numbers presented below are percentages which are relative rather than absolute and based on the starting number. Also take in context the fact that Microsoft was relatively mature when Ballmer took over as opposed to a Netflix (NASDAQ:NFLX), for example, which is still relatively nascent.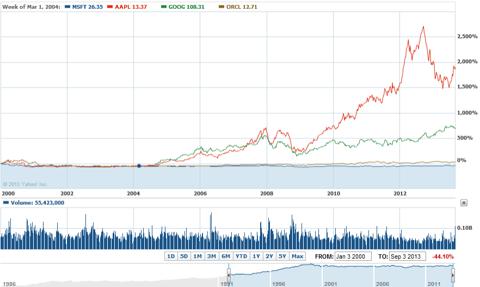 Source: Yahoo
Peter Burrows et al, "Saving Microsoft From Extinction", Bloomberg Businessweek, September 2 -8, 2013, shows revenue growth for the different companies below (select companies from the list):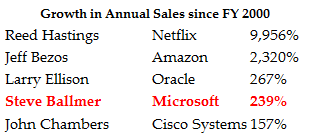 The fundamentals that drive stock appreciation hinge on growth outlooks and sentiment which do not favor Microsoft in its current state. It currently does not have a niche like it did with Windows that it can exploit with relative safety. Even if it continues to grow it cannot grow at the pace of some of its competitors due to its size. These and other factors mean that the type of aggressive growth that may substantially boost the stock price may only come from certain divisions within the company that need to be split off. There could be an enterprise division, Windows Azure/Cloud division, Devices and you name it. There is a counter argument that splitting up the company will take away its ability to provide comprehensive enterprise or consumer solutions. To that I say, that can be part of the strategy of the split.
Microsoft is by no means an unsuccessful company. All businesses are cyclical and Microsoft has matured and is going through a downturn in its cycle. Steve Ballmer did an admirable job in running a very complex company but he has also served the next leader with a hand that he/she must deal with. The hand is not necessarily good but it could be worse. Some decisions will have to be made and they will have to be made quickly especially in the devices part of the business. There is potential but the field against Microsoft is stacked and capable. In the spirit of making hay while the sun shines Microsoft should reorganize for speed to market and attention to consumer habits and trends. They will not get around doing that if the bureaucracy that impeded previous advances at the company continue to be built into its structure.
Disclosure: I am long MSFT. I wrote this article myself, and it expresses my own opinions. I am not receiving compensation for it (other than from Seeking Alpha). I have no business relationship with any company whose stock is mentioned in this article.