In what will be the most sweeping change to Apple's (NASDAQ:AAPL) mobile operating system since its introduction, the pending release of iOS 7 could be big news for mobile advertising as well. The updates to the platform are more than cosmetic - although the look and feel is changing dramatically - meaning the revamped system is poised to change the way several things work in the Apple ecosystem. For Apple investors that have been watching shares dance with the $500 per share level, the enhanced ad ability could be a positive catalyst toward additional revenue growth for the company and is yet another reason to buy shares at current levels.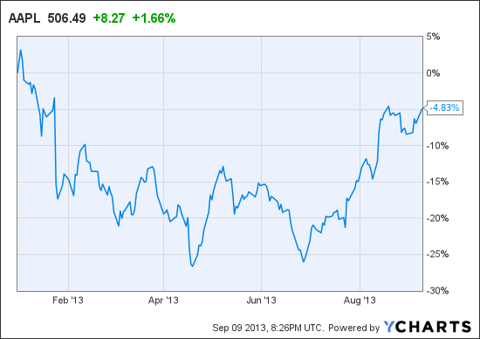 The Upgrades
What follows are some of the most significant upgrades that will impact mobile advertising within iOS 7; the list is not meant to be comprehensive of every change you can expect in the new OS:
iTunes Radio - With the debut of iOS 7 comes the official roll out of iTunes Radio. The service will be available in two basics formats - free with ads and ad-free for iTunes Match subscribers - and operate very similarly to Pandora (NYSE:P). Where Apple is really offering a streamlined experience for customers is in the ease of integration between iTunes Radio and the rest of iTunes; any song you like on iTunes Radio is easily purchased with the push of a button into your regular iTunes library. The advertising component of the service will give advertisers a more direct portal into the iUniverse than ever before. Apple will benefit from enhanced ad revenue or through hard dollar revenue in subscriptions to make the service ad-free. Ultimately, while iTunes Radio has the potential to be disastrous for Pandora (more on than below), it should be a huge win for Cupertino.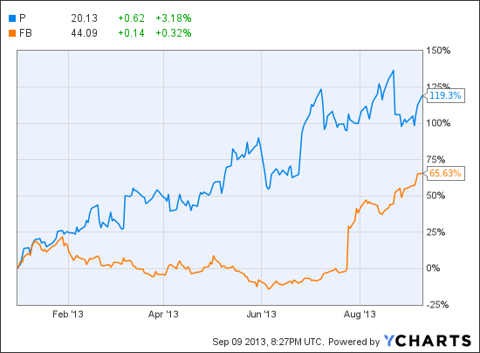 Siri Is Making Friends - In iOS 7, Siri will be able to search Twitter, Wikipedia, and even inside of Microsoft (NASDAQ:MSFT) Bing. The integration of Bing begs the question of where Apple will take search, but the clear message is that the company is turning even further away from Google (NASDAQ:GOOG). In addition to being able to search right in Twitter - begging the question of whether Apple and Facebook (NASDAQ:FB) will ever 'like' each other enough for similar integration - a category called 'Shared Links' in Safari will allow you to see what sites in Twitter your friends have shared. This will raise the bar for company to maintain a carefully crafted presence on Twitter. As Facebook and Google continue to push the envelope of advertising in social media, this synergy could prove significant for Apple and advertisers that look to capitalize on the new trend.
Passbook Upgrade - While Passbook has eked out an uninspired existence within iOS to date, the addition of enhanced sharing features with AirDrop could change this. The new iOS will allow you to not only share pictures and media wirelessly, it will allow you to pass gift cards, coupons, and gift certificates back and forth seamlessly. This may seem minor, but for younger users, this has the potential to make Passbook far more relevant. As such, expect more and more advertisers to look to tap into this tech in order to drum up buzz. The now built-in bar code scanner should make this even easier, and you could see promotional codes infiltrating iOS soon.
iOS in the Car - Perhaps the most significant chance for Apple to help supercharge mobile advertising is with its increasing push to integrate iOS into your car. While Apple Maps made a noisy entrance into existence, leaving most to wish Google Maps could return, iOS in the Car could represent a significant leap forward. The combination of GPS enabled mapping, music delivery, and, yes, ads, has the potential to let advertisers target ads to very specific geographic areas. Imagine mapping the local movie theater into your built in iOS GPS, only to hear an ad for a specific movie on iTunes Radio and receive a coupon for the concession stand than can be ported to your iPhone's Passbook. The possibilities are vast and have the potential to shake things up.
The Opportunity
With the release of the new iPhone 5S and 5C, shares of Apple have been taking a bit of a wait-and-see attitude. The stock still carries a P/E just over 12.6 and a dividend yield of 2.4%. The release of the new devices will likely be some kind of a catalyst for the stock, but the long term implications of iOS 7 and what it means for advertising adds to the argument for buy shares here.
Disclosure: I have no positions in any stocks mentioned, and no plans to initiate any positions within the next 72 hours. I wrote this article myself, and it expresses my own opinions. I am not receiving compensation for it (other than from Seeking Alpha). I have no business relationship with any company whose stock is mentioned in this article.