The passing of the torch from Microsoft's (NASDAQ:MSFT) co-founder Bill Gates to Steve Ballmer in 2000 was a momentous shift. Ballmer embraced the CEO role for an iconic firm from a legendary entrepreneur. Unfortunately for Ballmer, the transition occurred at a time when the technology sector was about to burst, forever changing the plans he could have had for Microsoft.
Ballmer's Performance Review
I've seen many news articles degrading Ballmer because of Microsoft's lousy stock performance over his 12-year tenure. Though some of the critiques just seem to be personal opinions or ramblings, many are unfortunately valid.
For example, CNBC rated him as the 2nd worst CEO in 2012; in the same year, Glassdoor data revealed that Ballmer had an employee approval rating of 35%-52%, compared to Google's (NASDAQ:GOOG) Larry Page's 94% employee approval rating. It's no wonder why Ballmer had a difficult time trying to generate investor excitement around Microsoft, many employees were not even on board with his leadership.
Further, as evidenced by the below chart, Microsoft's and Ballmer's shortcomings were occurring at a time while competitors and the NASDAQ (NASDAQ:NDAQ) were booming.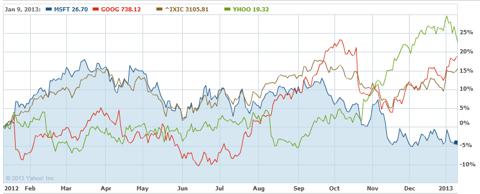 Lost Opportunities
Google dazzled the world and investors when it went public; well, it continues to impress. Since its IPO in 2004, Google built the world's largest and most utilized search engine, re-defined online advertising, established itself as a giant within the smartphone industry, and appreciated over 700%, just to name a few. Remarkably, it continues to dominate these sectors. Unlike making new ground like Google, Microsoft seemed to just chase its competitors during Ballmer's tenure. As a result, its stock price has plummeted 44.1% since his inception in 2000.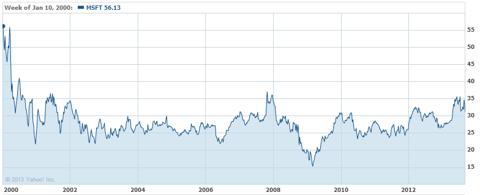 To confirm the negative Ballmer sentiment, analysts need to look no further than Microsoft's stock performance on the day Ballmer unexpectedly announced his retirement. The stock jumped about 7.5%. Investors are clearly excited to see him leave.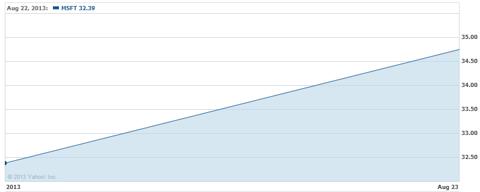 Market Cap Cannot Determine the Whole Story
To be fair, though, Ballmer acquired the software giant when its market cap was at an unprecedented $600 billion. Plus, he took the helm shortly before the S&P 500 and especially the NASDAQ tanked.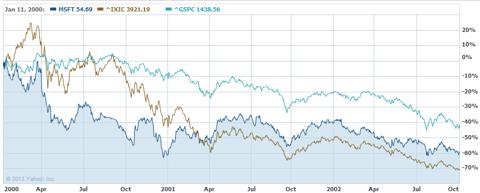 To date, with the exception of Exxon Mobil, Microsoft and the other 9 largest companies by market cap in 2000 have all fallen in price. Some drastically.
The below chart lists in order the 5 largest companies in 2000 by market cap change in percentage terms:

While over an entire decade passed in which these firms could have and did execute particular strategic and operational plans to boost their share price, buy back shares, or take a plethora of other actions to increase their market cap, the bottom line remains the same: compared to its large counterparts in 2000, Microsoft is not in all that bad of shape.
So, we must give Ballmer at least some credit for safely steering Microsoft through the new millennium while ensuring it is still relevant. For example, it can still operate and even grow without the help of outside investors, unlike Dell, which is close to being taken private. And, Ballmer has been able to consistently offer and increase quarterly dividend payments to investors thereby generating some value.

Where to Go From Here
All things considered, Microsoft is not doomed. In fact, there are 3 primary drivers that will help determine Microsoft's future success:
Microsoft's purchase of Nokia's (NYSE:NOK) handset business
One Microsoft's (the restructuring plan) execution
New CEO and management
First, consider the smartphone market. While the Windows Phone is up 78% on a year-over-year scale, it still is nowhere near competing with Google or Apple. Why? Developers or software technicians, for instance, create their content for the most popular or functional operating systems. And, according to Kantar, Google's Android operating platform commands around 65% of sales in the 9 largest national mobile markets while Apple's iOS boasts about 26% of sales. Overall, Windows and Nokia come in at roughly 4.5%. Additionally, Windows only commands about 2.4% of China's mobile market, the fastest growing market in the world. Kantar also estimates that 42% of Windows Phone growth is from first time users, perhaps inferring that since the users are new to the market, they are ignorant of the most supported operating system platforms. Thankfully, Nokia's handset business could help Microsoft edge into the market.
To do this, Microsoft must successfully integrate both the software and hardware in such a way to attract the developers while gaining both mind share and market share among users. So, while Nokia shareholders should be ecstatic about the acquisition, investors should look for Microsoft's ability to monetize the deal.
Second, Microsoft has to quickly streamline its business processes so it can integrate its devices and services. Additionally, if it really wants to accomplish Ballmer's vision to "innovate with greater speed, efficiency, and capability," it must spin off its non-core business units, products, or services. Though profitable, the Xbox and other entertainment devices come to mind. In 2012, for example, Microsoft's entertainment and devices division only received $364 million in operating income off of $9.6 billion in revenue. By comparison, Windows generated $18.4 billion in revenue and earned $11.5 billion in operating income. Microsoft needs to focus.
Last, as reported in the New York Times, both Bill Gates and Ballmer have said that they would support a CEO who could lead Microsoft to new heights. Interestingly, they both said this years prior to Ballmer's retirement. So, whoever takes the helm of the rising devices and services giant has large shoes to fill. However, there is hope for Microsoft investors; after all, its co-founder Bill Gates is still the Chairman of the Board.
Ballmer's Legacy
Steve Ballmer's impact on Microsoft and the technology industry may never be fully captured by analysts or authors. Even though Ballmer may not have been a superstar CEO, investors should still recognize that he began leading Microsoft at a time when a bubble was about to burst. Microsoft fell under Ballmer. And Hard. But given that it was the most valuable firm in the world, it had a long way to drop. Even through the drought, he seemingly led Microsoft passionately, even generating some value for investors along the way.
Disclosure: I have no positions in any stocks mentioned, and no plans to initiate any positions within the next 72 hours. I wrote this article myself, and it expresses my own opinions. I am not receiving compensation for it (other than from Seeking Alpha). I have no business relationship with any company whose stock is mentioned in this article.
Additional disclosure: Article by Brendan Marasco.