The Dow Jones US Homebuilder Index (DJUSHB) spiked up 5.6% Monday in a short-covering inspired rally that was triggered by Hovnanian's (NYSE:HOV) fiscal Q3 earnings report, released right before the market opened. As I have written previously, the fundamentals do not justify the current trading levels in the homebuilders. Furthermore I found some problematic aspects to HOV's earnings report which lead me to conclude that the market reaction was unwarranted and will quickly reverse as investors spend time analyzing HOV's numbers. Because of this, I am recommending that investors use Monday's spike in prices to sell long positions and aggressive traders use it as an opportunity to increase or establish short positions.
HOV's earnings
Hovnanian reported net income of 6 cents per share on revenues of $478 million. Both numbers missed Wall Street's consensus estimates, especially revenues. As far as I can tell, the rally in the builders was triggered by HOV's reported 8% increase in contract backlog vs. the same quarter for 2012. In addition, some analysts attributed part of the reason for the move in the builders to HOV's CEO, Ara Hovnanian, who expressed "confidence" in the market during his earnings conference call.
Of course, as we have seen, the National Association of Homebuilders "confidence" index reached a 6-year high as reported on August 15th, only to be followed a week later by July's new home sales report which showed an 18% decline in new home sales from June to July, using the data that is not seasonally adjusted data (-12.7% seasonally adjusted). Clearly, "confidence" does not necessarily translate into sales. I wrote an article reviewing the new home sales report for July and explained why it was quite bearish.
Circling back to HOV's earnings briefly, the market clearly overlooked two key facts. First, HOV's cash flow from operations was negative $32 million. In other words, despite an increase in revenues from its Q2 to Q3 of $52 million, HOV had to spend $32 million to generate the extra revenues. The reason for this is that HOV's inventories ballooned up by $83 million. I would argue that this is not prudent cash and inventory management going into the seasonally slow period for home sales. Moreover, it would seem that HOV's cash flow from operations should be highly positive during the seasonal peak for home sales, as homebuilders should be "harvesting" cash by selling down inventory ahead of winter.
The second factor which triggered the homebuilder run was HOV's contract backlog increase of 8%. What the market is overlooking here, however, is that it takes an average of 45-60 days to close a new home sale. Sales are reported when the contract is signed. A meaningful portion of the contract backlog reported by HOV for its quarter ended July 31 was thus signed during and right after the big spike up in interest rates. HOV reported an 18% contract cancellation rate for Q3. It is highly likely that the Company will report a significantly higher cancellation rate in its Q4 earnings, as contracts signed in late May and June run into financing problems.
Because of these key factors embedded in HOV's reported numbers, I would argue that Monday's move up in the homebuilders was unjustified and will quickly be reversed as investors "digest" HOV's latest 10-Q. Here's the link if you are interested: HOV Q3 10-Q.
Homebuilder Stock Technicals: The Chart
Here is a 1-yr daily chart for the DJUSHB, which reflects very bearish technicals: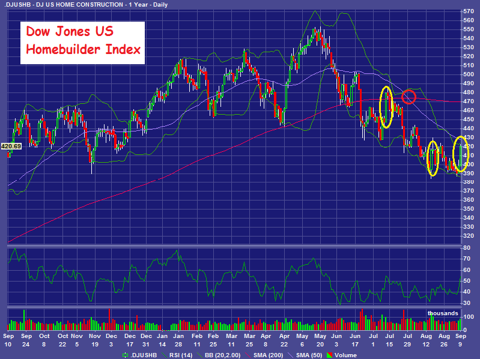 Since the DJUSHB plunged below its 200 day moving average in June (red ma line), there have been 3 days in which the index experienced a huge daily jump in price (yellow circles) including Monday. The first two times the big price jumps were followed by large declines in which the index hit successive new 52-week lows. I have no reason to believe Monday's big jump will not lead to another similarly large decline. In addition, per the red circle, the DJUSHB experienced the very bearish "death cross" when its 50 dma crossed below its 200 dma in July. Please note that the 50 dma continues to be in a downward sloping position, which is also bearish.
Homebuilder Stock Technicals: High Short Interest
There is no doubt in my mind that today's big bounce in the DJUSHB was fueled by short-covering which was triggered when the market decided to take the homebuilders higher on HOV's earnings report. I looked at the short interest statistics for homebuilders I track and several of them have high levels of short interest, both as percentage of their respective share float and their short interest ratios.
The ones that stood out were for DR Horton (NYSE:DHI), 14.1% of float and short interest ratio of 5.4), HOV (22.8% and 7.2), KBH (23.1% and 4), LEN (16% and 4.5), and RYL (11.5% and 7.3). All of these stocks have high short interest metrics which can lead to aggressive short covering by shorter term traders looking to protect their capital. I would argue that is what occurred today. This short-covering action will be short-lived and the DJUSHB will quickly continue lower and will soon hit new 52-week lows.
In summary, I have presented an analysis of why Monday's big jump in the DJUSHB is not justified based on both fundamental and technical factors. As such, the 5.6% move up in the index, with some individual homebuilder stocks up as much as 7.5% (NYSE:PHM), is an ideal opportunity to unload long positions or establish/increase short positions. To express a short interest position, the easiest method is to short either ITB (iShares U.S. Home Construction ETF) or XHB (SPDR Homebuilders ETF). You can also buy puts or sell-short calls on either index as well.
I also like outright short positions in many of the individual homebuilder stocks. I have been short DHI since late January, but I like shorts in any of the homebuilder stocks mentioned above, except HOV because of its already low single-digit stock price. One strategy I have not mentioned in previous articles involves shorting the stock and shorting out of the money put options against your short position. The premium you collect will partially offset the risk that the stock moves higher for a short period after you short it. If the stock closes above the strike price of the put at expiration, you get to keep the premium. Of course, there's always the risk that the stock closes below the put strike price and you get "put" the stock to cover your position, but that's not a bad outcome considering you will be booking a profit on your short plus collecting the put premium.
Disclosure: I am short DHI. I wrote this article myself, and it expresses my own opinions. I am not receiving compensation for it (other than from Seeking Alpha). I have no business relationship with any company whose stock is mentioned in this article.