In the emerging markets space, BRICs - Brazil, Russia, India and China - exchange traded funds are roaring back after fear over Fed tapering fueled a sell-off in risky assets.
Over the past week, the Guggenheim BRIC ETF (NYSEARCA:EEB) gained 6.5%, iShares MSCI BRIC ETF (NYSEARCA:BKF) was 6.2% higher and the SPDR S&P BRIC 40 ETF (NYSEARCA:BIK) gained 6.7%.
Looking at the country-specific ETFs, the iShares MSCI Brazil Capped ETF (NYSEARCA:EWZ) increased 7.1% over the last week, Market Vectors Russia ETF (NYSEARCA:RSX) rose 5.7%, WisdomTree India Earnings ETF (NYSEARCA:EPI) was up 8.4% and iShares China Large-Cap ETF (NYSEARCA:FXI) was 7.0% higher.
"I think, for the small part of the investment community that can afford not to overly worry about monthly or even quarterly performance, investing in the Bric markets in some form today is probably preferable to many developed markets," Jim O'Neill, former chief economist of Goldman Sachs, who also coined the BRICs moniker, said in a Financial News article.
However, over the short-term, the emerging economies are struggling as their domestic currencies depreciated and foreign investors exit in anticipation to an end to easy money.
O'Neill, though, believes emerging markets shouldn't play the blame game. Instead, developing countries should begin to take a more active role in managing their own currencies.
"If they want to have some kind of influence, they need to start doing sensible things together," O'Neill said in a CNNMoney article. "One thing they could do is … actually agree to coordinate their own monetary and exchange rate policies when they need to. I think it's a smart thing to do."
On Thursday, the BRICS countries, including South Africa, announced they will create a $100 billion currency reserves pool to safeguard against "unintended negative spillovers" from unconventional monetary policies in developed economies, reports Scotts Rose for Bloomberg.
"The policy options in response to such typical balance-of-payments difficulties include increasing interest rates or devaluing currencies," Chinese Vice Finance Minister Zhu Guangyao said in the article.
Guggenheim BRIC ETF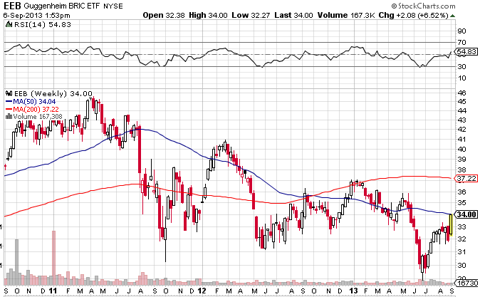 Max Chen contributed to this article.
Disclosure: I have no positions in any stocks mentioned, and no plans to initiate any positions within the next 72 hours. I wrote this article myself, and it expresses my own opinions. I am not receiving compensation for it. I have no business relationship with any company whose stock is mentioned in this article.
Additional disclosure: Mr. Lydon serves as an independent trustee of certain mutual funds and ETFs that are managed by Guggenheim Investments; however, any opinions or forecasts expressed herein are solely those of Mr. Lydon and not those of Guggenheim Funds, Guggenheim Investments, Guggenheim Specialized Products, LLC or any of their affiliates.