I first became aware of Magnum Hunter Resources (MHR) a few years ago, when the company changed its dividend policy on the class C preferred shares from quarterly to monthly. The entire issue was purchased by the underwriters and brought to market over time, so the bid/ask spread was extremely tight for many months. As a result, I was able to purchase shares for a few pennies above par, hold through the ex-date, and sell for a few pennies below par, skimming the difference of the dividend. It worked well, until like all things, it didn't. But it introduced me to this great company that I have successfully traded more often than not over the years.
Introduction
Investors and speculators that follow the oil and gas industry are mostly familiar with the company due to the excellent track record of management. For those who are not, I will provide a very brief overview of operations, and then discuss why, despite the current run up in price, you should absolutely NOT short this stock today.

The Company
Magnum Hunter has current production operations in two separate regions, the Williston Basin and the Marcellus/Utica shale plays. It recently sold properties in the Eagle Ford to reduce debit, but has retained a line of business through its TransTex Hunter subsidiary. Just prior to the sale, the company had replaced its auditor. This resulted in a late filing, which put significant downward pressure on both the common stock and all preferred share classes.
I would encourage investors that are interested in more information on Magnum Hunter's operations to read the Michael Filloon and Hedge Hunter articles here, or, check out further information on its peers:
Williston Basin - Kodiak Oil & Gas (NYSE:KOG), Continental Resources (NYSE:CLR), or EOG Resources (NYSE:EOG)
Marcellus/Utica - Chesapeake Energy Corporation (NYSE:CHK), Penn Virginia Corporation (PVA), or Range Resources Corporation (NYSE:RRC)
In addition to oil and gas production, Magnum Hunter has the Eureka Hunter pipeline located in the wet area of the Marcellus shale. This rounds out a diverse set of assets that is of considerable value to shareholders.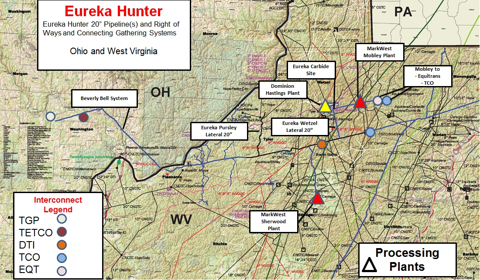 At this time, I am not going to go into a fundamental analysis of the company, because for the purposes of this article (a trade rather than an investment) it is not warranted. However, I believe it is every investor's responsibility to look at the fundamentals of any company they are considering as an investment.
Technical Overview
For this article, I simply want to point out the rapid run up in common stock price over the past few weeks. This climb in price has occurred on good volume, and has exceeded all short-term resistance levels. One can easily see the rapid ballooning of the bollinger bands as the stock broke out above the $4.20 level, and how it has successfully pushed the top of the price envelope ever northward. Price action like this is sure to catch the eye of a swing trader looking for a quick short.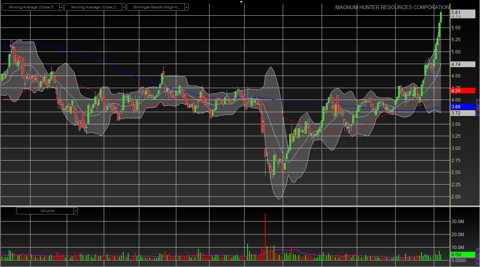 However, be forewarned, this recent run up in price is more about a short squeeze that a sudden realization of fair value. I believe we have seen a sudden closing of short positions, which has caused the price to rapidly increase more than 25%.
The Squeeze
On August 26, 2013, management announced a special warrant dividend for common stock holders. In summary, shareholders of record will receive one warrant for every 10 shares of common stock that they own on the record date. These warrants expire April 15, 2016 and are exercisable at a price of $8.50 per share. But they are not exercisable until September 2014 or whenever management files the registration statement with the SEC, whichever is later. The ex-date is Wednesday, September 11th, 2013.
What this means for short sellers is that if they hold their position through the ex-date, they will be short the warrants as well as the common stock. Therefore, to fully close their short position, the trader will not only have to buy to cover the common shares, but also buy to cover the short warrants as well. Herein lies the problem. The warrants will not be registered under the Securities Act of 1933, so there will be restrictions on trading them. In other words (directly from the press release): "Upon issuance, the warrants will not have an active trading market."
Short Scenario
To illustrate exactly how this works, let's look at a general scenario using nice round numbers (so I don't have to open a spreadsheet). Assume Joe Trader has a margin account and shorts 1000 shares of Magnum Hunter Resources. His broker requires the greater of a 50% maintenance requirement or $5.00 per share of shorted stock. Therefore Joe's maintenance requirement on his short position is currently $5,000.
If he does not buy to cover his shares by the ex-date, on the record date, Joe will also be short 100 warrants. Since these warrants are currently out of the money, the only value they have is time value. Therefore, they surely will be <$5.00 per warrant, with a maintenance requirement of $500. Now, Joe is short 1000 shares of stock, and 100 warrants that he cannot transfer or cover, and is stuck with an additional $500 maintenance requirement for a total maintenance requirement of $5,500. Not a fun situation to be in, especially since Joe will have $500 in equity locked up until the warrants expire.
Now, some traders might scoff at this scenario, or discount it, but for short sellers of Magnum Hunter Resource, this is a once bitten twice-shy situation. What I mean is; this is not the first time management has declared a special dividend of restricted warrants. On August 16, 2011, management declared the exact same type of dividend. Those warrants have an exercise price of $10.50 per share, and do not expire until October 14, 2013. "Fool me once, shame on you. Fool me twice, shame on me."
Conclusion
The current momentum in Magnum Hunter Resources may not continue, but right now is a VERY BAD time to open a short position in the stock. Mr. Gary Evans is not only an excellent business man when it comes to building and running the company, but he is also savvy enough to use measures such as this to protect his long stock holders.
If you must take a short position prior to the ex-date, consider using options rather than selling short.
Disclosure: I have no positions in any stocks mentioned, and no plans to initiate any positions within the next 72 hours. I wrote this article myself, and it expresses my own opinions. I am not receiving compensation for it (other than from Seeking Alpha). I have no business relationship with any company whose stock is mentioned in this article.
Additional disclosure: I am currently long MHR put contracts. I have every intention of taking gains on my puts prior to expiration and I am looking for an opportunity to open a long position using either call contracts or outright purchases of the common stock. It is unlikely, but those purchases may occur in the next 72 hours.