JPMorgan Chase & Co. (NYSE:JPM) announced today, September 9, 2013, that it expects to see a loss from its mortgage origination business in 2H 2013. It said the pretax margin from mortgage production is expected to be slightly negative. It also expects to increase its litigation reserves in Q3 2013 and release reserves of $1.25B from its mortgage operations. Revenues from Q3 2013 are expected to be flat to down 5% year over year. It expects to release its Q3 2013 earnings report on October 11, 2013.
Is this just gamesmanship on JPM's part? Is the company trying to game earnings? Or is there something more serious going on here? If you look at the Composite Index chart below, you can see that it is probably not just gamesmanship.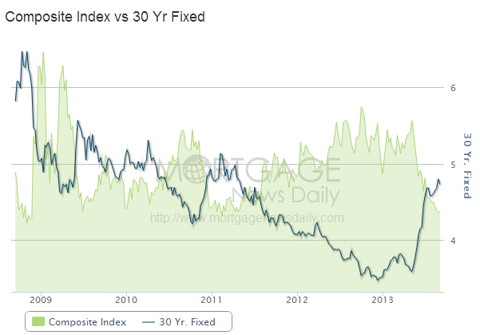 The Composite Index, which combines the Purchase Index data and the Refinance Index data, has fallen dramatically over the last few months. One can easily see that the number of new mortgages being written has fallen in direct correlation with the rise in the 30-year fixed mortgage rates. For those who want the break out of the data, the Composite Index is down-43.4% year over year. The Refinance Index is down -55.9% year over year. The Purchase Index is up +4.8% year over year. However, the Refinance Index has definitely turned downward recently with the abrupt rise in the US Treasury long bond rates and US mortgage rates since mid-May 2013. It is reasonable to expect it to trend sideways or downward for the near future as interest and mortgage rates have generally been trending upward.
The chart of the 30-year US Treasury Yield shows just how dramatic this rise has been.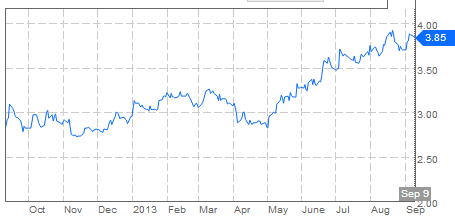 As you can see the 30-year yield has risen from 2.82% on May 2, 2013 to 3.88% at the time of this writing on September 10, 2013. That is over 100 bps; and the rise has understandably had a significant negative impact on refinancing operations. US mortgage rates have risen in virtual lock step with long bond rates. Even with real estate in its prime summer season, the increases in interest rates and mortgage rates have started to have a negative effect on home purchases.
How serious will the negative effect from the mortgage origination business be? In Q2 2013 JPM has net income of $6.5B. It had EPS of $1.60 per share. It had revenue of $26.0B. It had $582 million in Mortgage Production income before income tax expense. It had $133 million in Mortgage Servicing income before income tax expense. It had Real Estate Portfolios income before income tax expense of $1,166 million. What the company has said is that the $582 million in Mortgage Production is likely to turn into a slight loss. This probably means that the Mortgage Servicing income will also take a slight hit as there will be fewer new mortgages to service. I will ballpark estimate this as -10% or -$13.3 million, assuming an otherwise similar result to Q2 2013 in Q3 2013. The total mortgage business loss is then in the ballpark of $600+ million less in income before taxes. This translates into roughly -10% less total income for JPM.
There was also a rise in foreclosure activity in July 2013 (up +2% from June 2013). This is expected to continue in the near term. Home prices have increased, so banks can now get non-performing loans off their books for smaller losses. Experts expect them to increasingly do this as long as the real estate market stays strong. Currently 23.8% of homeowners with a mortgage (about 12.2 million homeowners) owe more than their homes are worth. This is down from 15.3 million one year ago; but it will take years before most of the 12.2 million see any equity. This means more foreclosures and/or defaults. This will likely be an added expense for big home loan originators like JPM. I will not try to estimate the added expense from this; but it will be non-negligible.
In addition to all of the above problems, JPM is being sued by the federal government, many state governments, and many other entities. A few of the lawsuits are:
JPM is expected to settle a lawsuit for manipulating energy prices for $500 million.
The National Credit Union Administration is pursuing civil claims against JPM, along with two companies it bought -- Bear Sterns and Washington Mutual -- that it misrepresented the quality of dozens of securities sold to four credit unions in 2006 and 2007. A court decision September 3, 2013 allows the NCUA to pursue claims over roughly one half of the $14B of allegedly misrepresented mortgage securities (about $7B of the $14B were traceable to JPM).
The FHFA (Federal Housing finance Agency) is demanding JPM pay $6B to settle allegations it mis-sold securities to government-backed mortgage companies in the run-up to the financial crisis. These companies were Fannie Mae (FNM) and Freddie Mac (FRM), which guarantee US home loans and also buy securities for their own investment portfolio. Since 2008 FNM and FRM have received $187.5B in federal aid, so JPM is not likely to be able to garner sympathy from anyone. JPM lost a bid to dismiss the lawsuit last November, when US District Judge Denise Cote in Manhattan, ruled against JPM. In other words, this suit is sure to cost JPM a lot of money.
Fines for the London Whale fiasco are expected to total $500 million to $600 million.
California (and probably other states) are suing JPM for using illegal tactics to flood California's courts with specious lawsuits against consumers over credit card debt. I do not have a figure for a settlement here, but it is likely that this is an issue that will mushroom before it is eventually settled for a significant amount of money.
Hedge funds are suing JPM over misrepresenting the quality of MBS.
Some pension funds are filing similar suits. It is easy to see that this number will probably increase over time.
According to Seeking Profits, "the Justice Department is currently conducting six investigations, the SEC four investigations, and the CFTC 3 investigations. The Federal Reserve, Congress, the OCC, and British regulators are probing JPM for possible offenses."
I could go on, but the point is that there are a huge number of lawsuits in progress and many yet to be filed against JPM.
Yes, JPM is going to move $1.25B from its reserves against losses (from mortgage defaults, etc.). However, it is also planning to increase its litigation reserves in Q3. I am not sure by how much. However, in its last quarterly filing, JPM said its reserves for legal losses may be under-reserved by upwards of $6.8B; and the way things have been going, that may be an underestimate. If this is true, it is entirely possible that JPM might increase its legal loss reserves by $1B to $3B (a guesstimate on my part) in Q3 alone. This would effectively kill any benefit to earnings of the $1.25B released from mortgage loss reserves. Plus JPM would still have the roughly $600 million less in income from its mortgage business.
In sum JPM is still a great bank. It will eventually work through all of these problems. However, for now its legal problems and its mortgage business problems seem likely to keep it from growing. In fact earnings might even shrink. This means that JPM, while still a great bank, is not a good risk for earnings growth for the near term. It is time to take profits. There are other banks, which are in far less trouble.
The five-year chart of JPM provides some technical direction for this trade.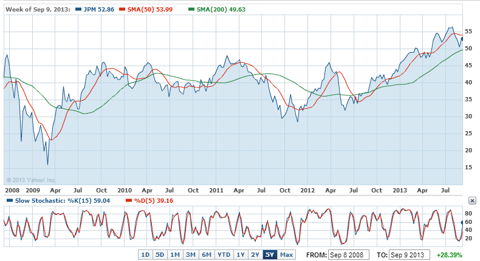 The slow stochastic sub chart shows that JPM is neither overbought nor oversold. The main chart shows that JPM is in a weakening uptrend. In fact JPM could be at the very beginning of a downtrend. A likely decrease to the mortgage loss reserves of $1.25B (a plus) and the litigation loss reserve addition of up to $6.8B (probably $1B to $3B for Q3 2013) can be overlooked as "one time" expenses. However, that still leaves JPM with approximately $600 million less in income before taxes due to its mortgage business. This can in no way be viewed as a "one time" expense. It means JPM will have trouble earning as much as it did in previous quarters for some time into the future.
When you look realistically at the likely huge litigation losses (even if they are one time losses), you get an uglier picture. They probably mean that JPM will take a hit to its Tier 1 Capital ratios, etc. This will look bad to analysts, even if the expenses are deemed "one time" expenses. It is unlikely that JPM will be able to make this up in its other business areas. Therefore investors would be wise to take profits in JPM. Its earnings are going nowhere or down for the next year or more.
I would not short JPM. Too many believe it is the best bank in the US. However, I do believe I can find other opportunities, which offer a much better chance of growing my investment money. Even the average analyst sees only 6.03% EPS growth per annum over the next five years; and that was before the very negative Q3 earnings guidance announcement by JPM on September 9, 2013.
Remember that JPM had EPS growth of 52.14% per year for the prior five years. JPM was already suffering from a serious slowdown with only 6.03% EPS growth estimated per annum for the next five years. Even institutions have been selling JPM (-53,030,000 shares net sold from the prior quarter to this one). Expect this selling to accelerate after this last announcement. Expect the +6.03% EPS growth figure to be revised downward. Take profits, before everyone else gets on the bandwagon. JPM does pay a 2.90% dividend, but that is not enough to make it worth keeping, when the stock price is more likely to fall than to rise.
NOTE: Some of the fundamental financial data above is from Yahoo Finance.
Good Luck Trading.
Disclosure: I have no positions in any stocks mentioned, and no plans to initiate any positions within the next 72 hours. I wrote this article myself, and it expresses my own opinions. I am not receiving compensation for it (other than from Seeking Alpha). I have no business relationship with any company whose stock is mentioned in this article.