Unlike the Homebuilder group, which is attempting to get out of a nasty downtrend, the Nasdaq 100 hit a new bull market high yesterday. The Nasdaq 100 is made up of the largest and most active non-financial stocks in the larger Nasdaq Composite index.
As shown below, the Nasdaq 100 pretty much managed to stay out of trouble throughout August even as other major indices like the S&P 500 and Dow Jones Industrial Average broke below their 50-day moving averages. With this upside breakout to new highs Monday, momentum investors have to be bullish on the QQQs (the ETF that tracks the Nasdaq 100).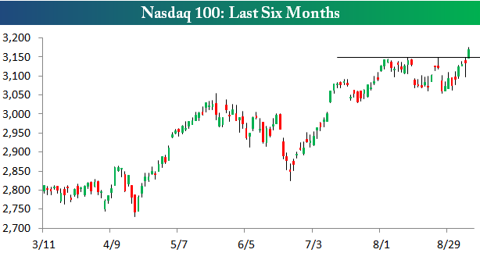 While the average stock in the S&P 500 is still down a couple percentage points since it hit its last all-time closing high on August 2nd, nearly half (47) of the stocks in the Nasdaq 100 are up since then. Below is a list of the Nasdaq 100 stocks that are up more than 1% since August 2nd. As shown, Netflix (NASDAQ:NFLX) is up the most with a gain of 19.54%, followed by Sears Holdings (NASDAQ:SHLD) at 17.19% and Tesla Motors (NASDAQ:TSLA) at 17.03%. Micron (NASDAQ:MU) and Facebook (NASDAQ:FB) round out the top five, and Apple (NASDAQ:AAPL) ranks seventh with a gain of 9.46%. One big name notably absent from the list below is Google (NASDAQ:GOOG), which is down just over 2% since August 2nd.