Universal Corporation (NYSE:UVV), headquartered in Richmond, Virginia, was founded in 1918. The Company is a leading leaf tobacco merchant and processor, based on volumes handled by its subsidiaries and affiliates. Universal conducts business in more than 30 countries and employs more than 28,000 permanent and seasonal workers.

Universal is essentially the middle man between tobacco farmers and manufacturers of tobacco products, sourcing leaf tobacco for customers and processing it to their specifications. Universal operates in a very mature industry, where it is one of only two major global players. The company's worldwide network, longstanding customer relationships and experienced local management teams solidify UVV's position as a global tobacco processing leader, while the large amounts of capital investment that would be required to enter the market on a meaningful scale eliminates any new threats of competition. Although some investors tend to shy away from tobacco and cigarette stocks due to their own personal moral or ethical reasons, or as a result of health concerns that stem from tobacco use, generally speaking, this industry has made for a solid investment for many years, offering capital appreciation in addition to sizeable dividend payments. I believe Universal fits this bill, and will continue to be successful given the global demand for tobacco, as well as the development of new technology such as electronic cigarettes. Not only does UVV offer great potential growth prospects, as a result of a recent sell-off, the company now trades at a considerable discount and is a bargain at these levels.
How We Got Here
Universal Corp sold off nearly 25% in August after the release of their Q1 fiscal 2014 earnings during the first week of the month. UVV dropped from $63 to $48 per share after the August 6th announcement and still hovers around the $48 mark today. Although net income increased $35.2mm to $58.3mm compared to the same quarter in the previous year, and EPS increased $1.24 to $2.05, these increases were largely a result of a non-recurring gain from an excise tax credit related litigation in Brazil which resulted in $53.1mm of net income or $1.98 EPS. Excluding this one-time gain, net income decreased $17.9mm compared to Q1 2013, when net income was $23.1mm or $.81 EPS.
Carryover shipments of tobacco were considerably lower in Q1 of FY 2014, as shipments of the smaller crops from Africa that were grown in fiscal 2013 were mostly completed by the end of March, 2013. Further magnifying the Q1 2014 decrease in shipments, 2013 Q1 results benefited significantly from carryover of large African crops, making Q over Q comparisons even less attractive in Q1 2014. While management remained cautious during the recent earnings release, highlighting that they fully expect 2014 FY shipments to be lower than 2013, they were optimistic that demand currently and will continue to remain strong. Given that management had warned of the limited crop issues, and that the market was aware of the smaller harvests previously available, it was surprising to see UVV drop so significantly, especially since this was a seasonal issue, rather than a company specific structural problem.
Courtesy of Yahoo! Finance
Universal Corporation's Value
I believe Universal Corp is trading at a deep discount of 20%, after experiencing a massive sell-off throughout August once the company released its FY 2014 Q1 earnings which were less than impressive. That being said, heading into earnings, revenues and earnings were expected to be considerably lower than the same quarter from the previous year, yet the market seemed to drastically overreact. Now that UVV is listed for $49 per share, the stock is trading at a P/E multiple of about 8.4, using trailing twelve months earnings. However, removing the one-time gain from the Brazil litigation which was recognized in the most recent quarter puts UVV's P/E at 12.5x.
Universal's only global competitor in the tobacco processing and merchandising space is Alliance One International (NYSE:AOI), which currently trades at a 14.5 P/E multiple ($2.86 per share) despite hovering just above its 52-week low of $2.79 and well off of its high of $4.23. Although AOI is UVV's only real competitor, it is a small cap with a $250mm market cap, so there is little institutional coverage, but the one analyst that does maintain coverage currently has a 12 month price target of $6.
Using trailing twelve month figures, Alliance One carries a lower gross margin (12% vs. 18%), operating margin (6% vs. 8%), and profit margin (1% vs. 6%) than Universal, and although the stock also sold off considerably in August due to similar harvest issues as UVV, many believe that AOI may have some structural/supply chain issues that need to be addressed sooner rather than later. Despite all of these negatives for Alliance One, Universal is still 2x earnings cheaper as a result of the massive and overdone sell-off in August. Prior to AOI's earnings and drop in August, the stock peaked at a P/E of 16.8, while Universal traded at 13.6 times earnings. I believe once UVV's price stabilizes, it will return to trading for its previous multiple and higher, as investors take advantage of the price discrepancy that the sell-off created, and seek the best of breed in the industry and move from AOI to UVV. Once this trend begins to play out which I believe will happen over the next 6 to 12 months, I see Universal's multiple edging back to 15x ongoing earnings of $3.91 (ttm minus the one time litigation revenue) which gives me a price target of $59 per share.
This P/E seems to be more appropriate than UVV's current level given its financial condition, projects underway and stability, especially relative to AOI, the company's only true competitor. A multiple of 15 would also pull Universal more in-line with the large cigarette manufacturers who are obviously closely related, and trade around 15 to 16 times earnings with similar dividend yields.
Key Drivers And Timeline
High quality customer base: Over 75% of UVV's sales volume is derived from customers with major positions in their markets and with customers that have long-standing relationships with Universal. The five largest customers are Philip Morris, Imperial Tobacco, China Tobacco, British American Tobacco and Japan Tobacco and have accounted for over 60% of UVV's revenues for the past 3 years. That group excluding China makes up 74% of the tobacco manufacturer world market.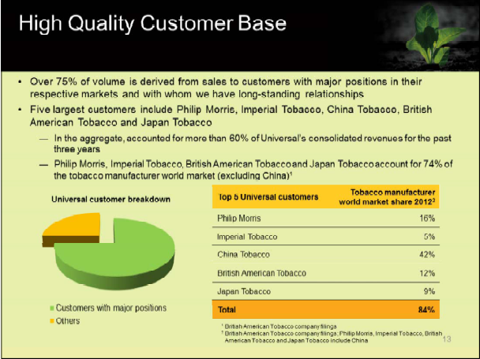 Growing demand in China: China Tobacco is one of Universal's largest clients, and the company accounted for 42% of world market share in 2012. Although international demand (excluding China) for cigarettes is expected to slow by 0 to 1.3% between 2012 and 2015, China's demand is expected to grow by 1.5% to 2.5% during the same time frame. China's numbers put overall global growth at 0 to 1.1% over the next couple of years. Cigarette volumes for the world excluding China are expected to be 3.1 to 3.1 trillion sticks by 2015, whereas volume in China is predicted to be 2.6 to 2.7 trillion, nearly half of the world's volume. For many who think that cigarette usage is on the decline, it appears that there is and will be more than enough demand out of China to not only prop up declining usage in the U.S., but possibly the entire world.
Electronic cigarette joint venture: UVV announced the formation of AmeriNic which is a joint venture with Avoca, Inc. that will produce liquid nicotine for the electronic cigarette industry. The JV will produce USP grade liquid nicotine in the U.S. using traceable and compliant tobacco, with production expected to begin before the end of 2013. Currently the electronic cigarette market is valued around $0.5 billion but is expected to grow to $8.3 billion by 2017.
Strong cash flow and steady dividend: Universal's cash flow is strong, averaging $241 million over the last five years, and increasing to $243 million in FY 2013 from $189 million in 2012. UVV has historically used the lion share of its cash to maintain and grow its dividend which currently represents a 4.1% yield. Universal touts that it has increased its common stock dividend annually for 43 consecutive years. We checked, and it does appear that the dividend decreased a few times over that time frame; in '90, '76 and '73 but either way, a pretty respectable trend nonetheless.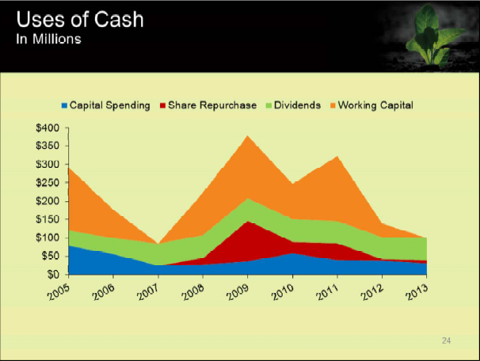 Reduced debt and solid balance sheet: UVV uses Net Debt over Net Capitalization and Net Debt over EBITDA to measure its debt load and balance sheet. The company has reduced DB/NC from 29% to 27% to 20% and finally to 11% from 2010 to 2013. Similarly, ND/EBITDA has been lowered from 1.5x to 1.4x to 1.3x to .6x over the same period. Not only has the reduced debt load made UVV a more stable company, and helped to hold its credit rating steady, interest expense fell almost $1 million during Q1 2014 and overall profit margin has of course improved as a result of the savings.
Steadily declining expenses: Universal has steadily reduced its SG&A expenses from 12.1% of sales in 2009 to 9.6% in 2013.
Conclusion
As previously mentioned, I believe that the recent sell-off of UVV in August which pushed the stock down from $63 to $48 per share was a sizeable overreaction, and that this sell-off created an incredible buying opportunity. The sell-off, which was related to a smaller than usual crop harvest, dropped Universal's price to a multiple that is 2x earnings lower than the company's only real global competitor [AOI], despite the fact that AOI also faced a similar downturn in August. Additionally, UVV now trades for 3x-4x less than earnings than both of the tobacco processors did prior to the fall, again, which was seasonal/crop production related for the current fiscal year.
That being said, I believe there are several key factors that will highlight UVV as a bargain, and help to drive the price higher both in the short term as well as the next 6 to 12 months. Those factors are:
*Tobacco investors' flight to quality, which will pull investors away from troubled and more expensive AOI. Investors may also look to take advantage of UVV's bargain price by moving away from some of the slightly more expensive cigarette manufacturers who have similar yields but less exposure to China's massive market.
*General market investors look for safer stocks and yield due to market uncertainty as a result of issues in the middle east.
*Although admittedly the FY 2014 harvest will be below that of FY 2013, the next 9 to 12 months will offer another tobacco season and the opportunity to recover with better weather and a larger harvest. Seasonal trends is a factor that all crop processors must face from time to time and UVV has become very adept at handling these issues over their nearly 100 years of experience.
*AmeriNic, UVV's new joint venture for the production of liquid nicotine will go online by the end of this year. This will add to Universal's bottom line and offer the company another competitive advantage over AOI, positioning them well to take advantage of the rapidly expanding e-cigarette market.
With this price drop being a temporary seasonal downturn, rather than a structural problem with the company, not to mention Universal's position as a global leader in the tobacco industry, as well as its clearly superior operating metrics relative to its only real competitor, UVV is currently undervalued by 20%, and will return to $59 per share over the next 6 to 12 months. With its strong balance sheet, steady cash flow, dividend yield and reduced costs, Universal offers a below average risk opportunity and minimal downside. UVV has considerable potential in its new liquid nicotine JV, as it looks to tap into the e-cigarette market, and the tobacco industry's expected growth, specifically out of China should help to drive earnings for the company for years to come.
Disclosure: I have no positions in any stocks mentioned, and no plans to initiate any positions within the next 72 hours. I wrote this article myself, and it expresses my own opinions. I am not receiving compensation for it (other than from Seeking Alpha). I have no business relationship with any company whose stock is mentioned in this article.
Additional disclosure: This article expresses the opinion of the author and is not a solicitation to buy or sell any security. Before making any investment decisions you should always consult your personal financial advisor.