As one of the world's largest mining companies, Brazil's Vale S.A. (VALE) stands as a leading producer of iron and nickel ore. In its 70 years of operations, Vale boasts of having produced over 5 billion metric tons of iron ore. The company currently operates an area covering over 3,900 square kilometers. Despite its Brazilian origin, the company now maintains mining and refining operations in more than 30 countries around the world.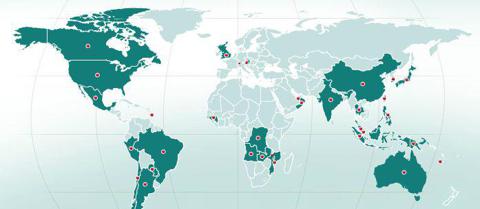 Vale now trades with a market capitalization of $84.15 billion based on its last price of $16.33 as of September 9, 2013. On its books, the company carries shareholder equity of $71.7 billion as of June 2013. The company maintains a low forward price-to-earnings ratio of 8.08 based on analyst estimates of $2.02 for 2014. The company also carries a relatively low price-to-book ratio of 1.05 as prospects have dampened in recent years. Among other commodities, falling iron prices have been largely to blame for this low valuation.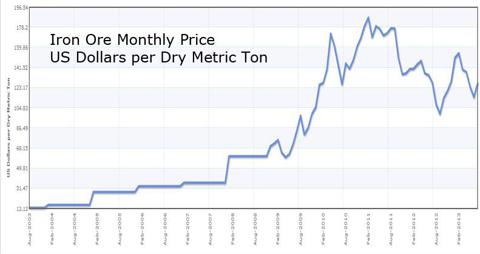 Over the past five years, the company's performance has seen much volatility as witnessed by the large swings in the net income. Despite maintaining a positive income over each of these years, the company's earnings fluctuated from over $22 billion in 2011 to less than $6 billion in 2012. Seen below on a trailing 12-month basis, Vale's fluctuating net income has also dragged on the company's stock price. Over the last two years, the company's stock has fallen over 38%.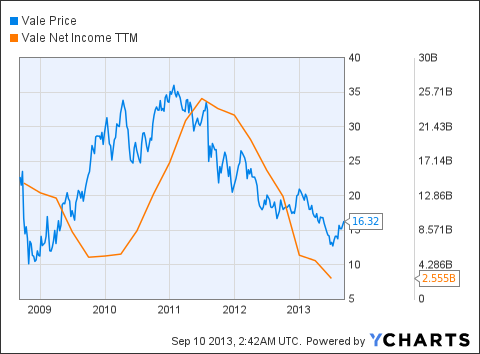 However, there has been one interesting development taking shape over the last half year. In the first half of 2013, Vale noted that it was able to realize $1.6 billion in cost savings. The company also noted that it expects to finish the year at over double this amount. Above all, the costs savings were noted as being sustainable and enduring, rather than one-time instances.
The nature of these cost savings were addressed by the Executive Officer of Finance and Investors Relations, Mr. Luciano Siani. He states the following in the Q2 2013 earnings conference call found here:
"On the nature of the cost savings, there has been a lot to do so far with the simplification of the company. So a more focused company spends less money on distractions so you can have leaner support structures. You have less expenditures in R&D. So net SG&A and R&D, it's a question of focus. When you go to the operations it's the more comprehensive review of contract services, internal benchmarking, productivity improvements. We also have an ongoing cost cutting program in place with several hundred of initiatives as well. So we are tracking. We believe some have already kicked in, some will take longer time."
Specifically, one additional factor that has also been assisting this improvement is the weaker Brazilian real when compared to the US Dollar. Siani also noted that every 10 cents of depreciation of the Brazilian real correlates to an annual savings of around $700 million. In turn, these cost savings have directly affected the company's EBITDA.
My Thoughts
As a diversified metals conglomerate, Vale maintains an excellent portfolio for future growth. Although the company largely revolves around ferrous minerals, it also carries a decent amount of exposure to several other basic materials and services. This can be seen in the chart below.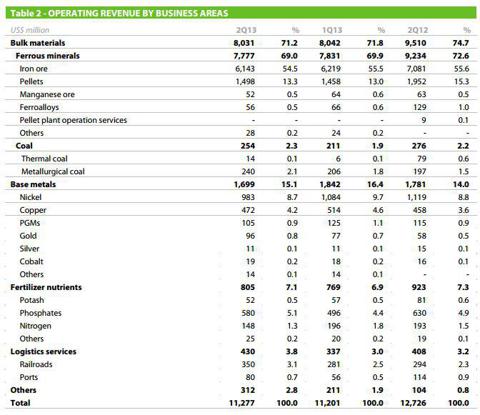 The company does remain subject to commodity prices and ultimately responds to the current environment for global economic growth. However, Vale is a very large player capable of positioning itself in tough times. As of June 30, the company carried current assets of $21.05 billion while supporting only $11.11 billion in current liabilities. This favorable current ratio of 1.9 suggests that Vale is very far from finding itself in a pinch.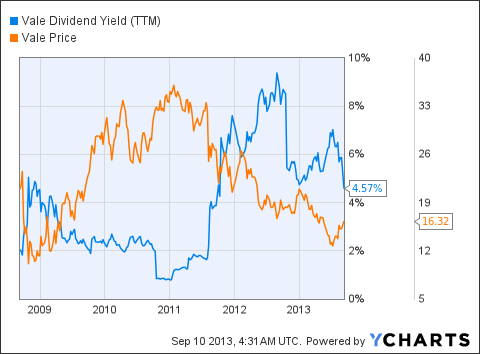 VALE Dividend Yield (TTM) data by YCharts
Last of all, the company offers a very lucrative payout for its shareholders in the form of dividends. In the second quarter alone, Vale distributed $2.25 billion in dividends. As seen in the chart above, the company has historically paid an above average yield averaging around 4% depending on the price of the company's stock. A look at the dividend history also suggests that the company remains committed to increasing the rate when the situation allows.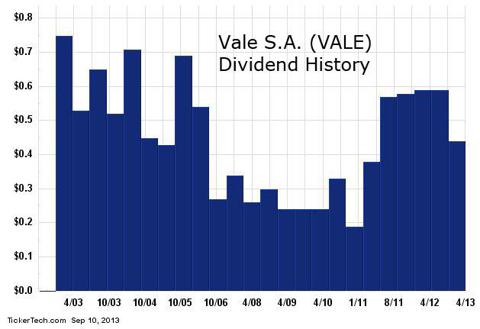 Altogether, these elements suggest that Vale remains a good diversifying investment into the metals sector. The company does remain volatile as indicated by its Beta of 1.46. However, such exposure to base metals is sure to be a boon to any long-term portfolio as global economic growth begins to pick up once again. The relatively low valuation and above average dividend remain two additional reasons to consider the company. The growing cost savings also stand as a testament for a positive outlook.
Disclosure: I am long VALE. I wrote this article myself, and it expresses my own opinions. I am not receiving compensation for it (other than from Seeking Alpha). I have no business relationship with any company whose stock is mentioned in this article.