Cheung Kong Holdings (CHEUY.PK) (0001.HK), headquartered in Hong Kong, is a conglomerate controlled by Asia's richest man, Li Ka Shing. It is a major property developer in Hong Kong and China, and has interests in hotels, infrastructure and investments & finance. Cheung Kong Holdings also owns a 49.9% stake in Hutchison Whampoa (OTCPK:HUWHY) (0013.HK), a global conglomerate in itself, with business interests in ports, telecommunications, property and hotels, retail, energy and infrastructure.
The market value of the 49.9% stake in Hutchison Whampoa represents more than 75% of the market value of Cheung Kong, and with a sum-of-the-parts valuation, we will find that Cheung Kong's non-Hutchison assets are deeply undervalued.
Using a sum-of-the-parts valuation
Given that Cheung Kong (Holdings) has a diversified business mix and a majority of its operating income coming from its listed associates; a sum-of-the-parts (SOTP) valuation would allow us to value each of the different business segments individually using market-based multiples. We can then exclude the market value of its 49.9% stake in Hutchison Whampoa from Cheung Kong's market capitalization; which would enable us to analyze the valuation placed on Cheung Kong's consolidated (i.e. excluding Hutchison Whampoa and other listed associates) business segments.
(click to enlarge)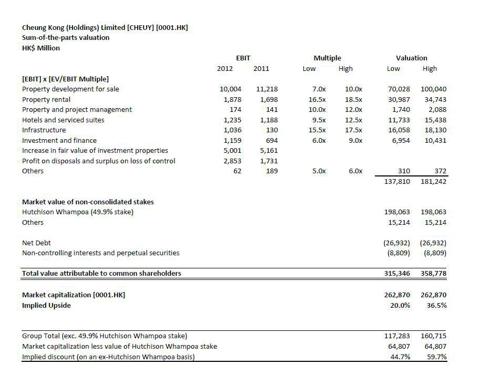 With the SOTP valuation, Cheung Kong has a potential upside of between 20.0% on the low-end, and 36.5% on the high-end. This would imply a value per share of between HK$136.32 and HK$155.06 (or $17.57 and $19.98 per ADR). Book value per share on June 30, 2013, was between these two values, at HK$144.78 (or $18.66 per ADR).
This, however, does not mean that Cheung Kong is limited to such upside; as many factors could affect the SOTP valuation. These include: an improvement in market sentiment, which improves the market-based multiples on EBIT; an improvement in underlying operating profit from Cheung Kong for 2013; and an appreciation in the market value of its listed associates (inc. Hutchison). Thus, the SOTP valuation only estimates what Cheung Kong's total value would be, when all of its different business segments have been valued at similar multiples to their respective peer groups.
Property and hotels
Cheung Kong's main non-Hutchison business is of course, property development and leasing. Property accounted for 77.5% of adjusted operating income for 2012 (Note: adjusted operating income excludes revaluation of fair values of investment properties and profits from disposals, which are non-recurring). The property market in Hong Kong and some Chinese cities are widely believed to be overvalued; and therefore, the market valuations for property developers have fallen significantly over the past year.
Many property developers also have substantial property leasing operations, which would make it difficult to estimate the EV/EBIT ratio for the property development segment on a standalone basis. But, developers such as Sun Hung Kai Properties, Sino Land and Evergrande earn a significant majority of their operating profit from sales on property developments; and they typically trade between 7.5x to 13.5x EBIT. The low multiples on EBIT of between 7.0x and 10.0x for Cheung Kong's property development segment reflect market sentiment and broadly correspond to comparable developers operating in Hong Kong and China.
The property rental business is valued at between 16.5x to 18.5x EBIT. At the low end, the valuation roughly corresponds to the value of the investment properties on the balance sheet. However, as companies mainly engaged in property leasing, including Hongkong Land and Wharf (Holdings), are valued at above 18.0x EV/EBIT, and many Hong Kong REITs trade at above 20 times EBIT, I felt it prudent to assume a multiple on EBIT 18.5x for the high-end valuation.
Cheung Kong also operates hotels and serviced suites in Hong Kong and China; either directly, or through joint ventures. Hotels and serviced suites are valued at between 9.5x to 12.5x EBIT. Peer group rivals, including The Hongkong and Shanghai Hotels, Shangri-La Asia and Regal Hotels International, trade at an EV/EBIT ratio of between 9.5x to 13.5x.
Infrastructure
One of the key benefits of using the SOTP valuation is that we can use different market-based multiples for valuing different business segments. Infrastructure assets are typically valued at significantly higher multiples on EBIT and EBITDA. Cheung Kong has significantly expanded its infrastructure segment over the past two years, through acquired stakes in Northumbrian Water and Wales & West Utilities in the United Kingdom. It also expects to complete its acquisition of a stake in AVR Afvalverwerking, the largest energy-from-waste player in the Netherlands, by September 2013. Utilities, and especially water utilities, command a significantly larger multiple on EBIT and EBITDA than many other industries, because a very significant proportion of free cash flow can be returned to its shareholders through dividends.
The use of the 15.5 to 17.5 multiple on EBIT is based upon many of its utility and regulated infrastructure peers in Europe. In the UK, water utilities, Severn Trent and United Utilities trade at a multiple on EBIT of between 17.5 to 18.5. Regulated infrastructure network, National Grid, trades at a multiple on EBIT of 11.0 times. This industry is non-correlated with the substantially larger property business; and so the addition of these assets would help to reduce volatility in free cash flow.
Investment & finance and others
Cheung Kong also holds investments in debt and equity securities, in Hong Kong and outside, for the purposes of trading. The company does not provide much information on these business segments and there are very few listed peers for which these businesses can be compared to. However, when combined, these businesses represent a small, but significant, proportion of operating income every year. Thus, I have associated lower multiples on EBIT in valuing these businesses, to compensate for the lack of reliable information.
Should we include a "conglomerate discount?"
Investors have tended to incorporate a "conglomerate discount" into the valuation of diversified companies. The diversified business model has long been out of favor in North America and Europe, as investment analysts believed that smaller and focused companies can be nimbler and therefore deliver greater operational efficiency.
However, The Boston Consulting Group has suggested that the diversified model has actually performed well, as the financial advantage of diversified companies allow them to recover more quickly from crises. Since the recent financial crisis, diversified companies could continue to invest for the future, whilst their competitors were financially constrained; and pursue mergers when prices were low. The "conglomerate discount" in North America has shrunk from 10% to 7.2%, between 2005 and 2009. In Europe, the discount has fallen to 6%, and in the Asia-Pacific region, a very small discount has now transformed into a "conglomerate premium."
Cheung Kong derives an overwhelming majority of its operating income from Hong Kong and China. However, its geography is not the only reason for not including a "conglomerate discount" into the SOTP valuation. Hutchison Whampoa, CK Life Sciences (OTC:CKLSF) and other associates are widely traded stocks in Hong Kong; and so these assets can be very easily valued by any investor.
Restructuring is unlikely; but don't despair (too much)
With such a large discount placed on the market's valuation of Cheung Kong's non-Hutchison assets, an 'ordinary' conglomerate in North America or Europe would seriously consider restructuring. Cheung Kong could spin off its Hutchison Whampoa stake by paying out approximately 0.92 Hutchison Whampoa shares for each Cheung Kong share. This would be similar to Philip Morris International's (NYSE:PM) spin-off from Altria (NYSE:MO) in 2008; and what Vodafone (NASDAQ:VOD) intends to do with its Verizon (NYSE:VZ) shares once the sale of its stake in Verizon Wireless is completed. But, this is very unlikely to happen to Cheung Kong, because it would mean that Chairman Li Ka Shing could lose control of Hutchison Whampoa and its subsidiaries, including Cheung Kong Infrastructure, Power Assets Holdings and Hutchison Telecommunications.
But this does not mean that Cheung Kong's valuation dilemma would not be resolved. The stock market, for all its flaws, cannot ignore such a deep valuation gap forever. In fact, the 5-year historical average market discount to Cheung Kong's book value is just 13.6%. If we exclude its listed associates, i.e. Hutchison Whampoa, CK Life Sciences and others, its 'remaining' net assets have historically traded at an average discount of 3.4%. Furthermore, between 2009 and 2011, these 'remaining' net assets have traded at an average premium of 21.9%. At the time of writing, Cheung Kong's net assets excluding listed associates are currently trading at a discount of 56.3%.
It is very difficult to place an expected timeframe on when this valuation gap is likely to close, as many conglomerates have traded at significant discounts for extended periods of time. But, the market had generally not discounted Cheung Kong's conglomerate group structure until mid-2011; and that discount had only substantially widened since February 2013. Together with the "conglomerate premium" visible in Asia, we should be able to fairly assume that the valuation gap should dissipate in the short-to-medium term.
Long Cheung Kong (Holdings), Short Hutchison Whampoa?
'Savvy' investors may choose to minimize risk from volatility in Hutchison Whampoa's market valuation, by simultaneously purchasing Cheung Kong shares, whilst shorting the corresponding value in Hutchison Whampoa. In effect, this would create a 'pure play' on Cheung Kong's non-Hutchison businesses, which are deeply undervalued. On a SOTP basis, Cheung Kong's non-Hutchison assets are trading at a discount of 44.7% on the low-end multiples, and 59.7% on the high-end. This would mean that the potential for gains could exceed the 20 - 36.5% that could be achieved by simply going long Cheung Kong shares.
But, please be aware that the potential loss on short selling is theoretically unlimited. Should the price of these two shares diverge further, then you could make even greater losses than simply buying Cheung Kong shares on its own. It is theoretically possible for Cheung Kong's market capitalization to fall below its stake in Hutchison Whampoa; but this should be unlikely because of Cheung Kong's underlying profitability. You may therefore choose to use derivatives to minimize risk; by perhaps, buying Hutchison Whampoa's put warrants, instead of shorting Hutchison Whampoa's stock. But, please seek all necessary professional advice in the light of your own circumstances before making an investment decision.
You may, however, not want to short Hutchison Whampoa, as the company is enjoying strong earnings momentum. With more than 40% of its revenues derived from Europe, it is particularly well placed to benefit from a recovery in the European economy. It is also showing strong progress with improving profitability at its 3 wireless network in Europe, and has recently acquired Telefonica's (NYSE:TEF) Irish network, which would give the company a market share of 38.9% in Ireland. The completion of the sale of grocery business, ParknShop, at a pricey valuation of up to 20 times EBITDA could serve as a catalyst to Hutchison and Cheung Kong's shares. Hutchison is in itself, fairly valued at a P/B ratio of 0.99; and a forward (2013) P/E of 13.4.
Why is Cheung Kong's valuation so low?
The overheating in the property market is not the only reason why Cheung Kong's valuation is so low. Hong Kong's stock market index, the Hang Seng, has fallen over recent months as part of the broader sell-off in emerging markets. Part of the logic behind the emerging markets sell-off is based upon the expectation of the Fed tightening monetary policy; which would cause depreciation in many emerging market currencies. This would thereby, reduce the dollar equivalents of emerging market assets. However, this should not be the case with the Hong Kong dollar, nor the Chinese yuan.
The Hong Kong dollar has been pegged to the US dollar since 1983; and its domestic monetary policy must generally follow the Fed's policy, in order to maintain the peg. Any strengthening in the US dollar would be met with a corresponding proportional appreciation in the HK dollar. This would also minimize currency risk to US investors in Hong Kong equities. Also, the Chinese yuan has been broadly appreciating or level against the US dollar since 2005. So, unlike many emerging market currencies, including the South African rand and the Brazilian Real, these two currencies have not fallen in value against the US dollar.
Another reason for the sell-off in Cheung Kong has been the weaker property sales reported in the first half of 2013. Revenue from property sales declined by 21% to HK$12.3 billion. This was mainly caused by the timing of completions in developments; but also by new government regulations and measures introduced by the Hong Kong government, which caused a slowdown in sales. Higher profit contribution from sales are expected for the second half of this year, and into 2014, as the property development projects are progressing as scheduled, and sales have remained strong in mainland China. A pickup in sales accounted during the second half of 2013 could serve as a catalyst to narrow the valuation gap of Cheung Kong to that of its competitors.
Other segments, including property rentals have performed strongly, with operating income for the segment rising 8.2%. Hotels, infrastructure and investment & finance all reported gains in operating income. Hutchison Whampoa reported an increase in profit for the first half of 2013 of 23% to $12.4 billion. So, even without a narrowing of the valuation gap, Hutchison's strong earnings momentum could minimize downside risks of investing in Cheung Kong, by keeping the value of Cheung Kong's 49.9% stake buoyant.
Limited downside risks given strong underlying value
The risks to the downside are substantially mitigated by the very low valuation already attached to Cheung Kong's non-Hutchison businesses. They are historically very low, and are influenced by the recent interim results; which should only have a short-term impact. The release of earnings for the second half of 2013 could allay fears over the timing of the completion of property developments; and serve as a catalyst to eliminate the valuation gap.
There are also many other likely catalysts that could improve Cheung Kong's market value; even without closing the valuation gap, or in complement with doing so. These include: an improvement in market sentiment on Hong Kong equities, continued earnings momentum with Hutchison Whampoa, and increasing diversification into infrastructure assets.
Disclosure: I have no positions in any stocks mentioned, but may initiate a long position in CHEUY.PK over the next 72 hours. I wrote this article myself, and it expresses my own opinions. I am not receiving compensation for it (other than from Seeking Alpha). I have no business relationship with any company whose stock is mentioned in this article.