For the week of September 9, 2013 the clearTREND U.S. Economic Health Index shows continued deterioration from this summer's levels, with only 58% of domestic economic sectors expanding (off from its July read of 68% and April's high of 76%) 10% of domestic sectors contracting (unchanged from July's reading) and 32% neutral (a jump from 22% in July and only 18% in April). Despite a recent relief rally in the S&P 500, the U.S. economy is experiencing increasing headwinds which will put our overall reading for September at "GOOD" but deteriorating.
We go into greater detail in our most recent Three Minute Trend TalkTM ("We're Praying Too, Mr. Chairman") which includes additional research on key market-related ETFs, including (NYSEARCA:IWD), (NYSEARCA:SPY), (NASDAQ:QQQ), (NYSEARCA:IWN), (NYSEARCA:IWO), (NYSEARCA:IJH), (NYSEARCA:IYR), (NASDAQ:ACWI), (NYSEARCA:VWO), and (NYSEARCA:TLT).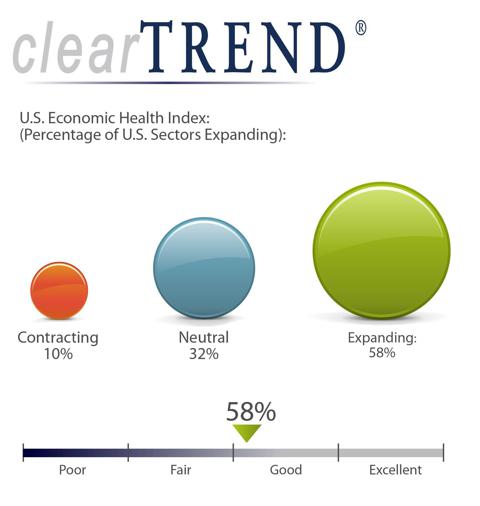 The uncertainty over the timing and scope of the Fed's tapering is certainly having a measured effect on overall economic growth, as are the higher interest rates now in place. As economic activity has been driven largely by the $3 trillion (and counting) Fed stimulus since 2007, the slowing of additional stimulus is certain to have a negative effect on economic growth going forward. The evidence of this effect is clearly being demonstrated by sector internals referenced in our index.
The benefit of tracking economic trends at the sector level is that it offers a really good read on changes in economic activity as it unfolds, either positively or negatively. The clearTREND U.S. Economic Health Index does just that, tracking price trends in 135 distinct Dow Jones U.S. Sector Indexes. Any read of 75% or higher expanding sectors is considered EXCELLENT, 50-74% is GOOD, 25-49% is FAIR and less than 25% is POOR.
Looking at the markets and the economy from a macro trend level is particularly helpful as it aggregates all fundamental research and the work of millions of "boots on the ground" into one single data point: price. It is the ultimate source for an objective read on the economy as it measures the collective activity of millions of market and economic participants in real time.
For a primer on the basics of this index, I'd refer you to a previous SeekingAlpha article published in July.
And for a complete rundown on individual historic sector research, please visit the clearTREND Research Library, which includes all 135 Dow Jones Sector indexes.
Disclosure: I am long IWD, SPY, QQQ, IJH, IWN, IWO, VWO, ACWI. I wrote this article myself, and it expresses my own opinions. I am not receiving compensation for it (other than from Seeking Alpha). I have no business relationship with any company whose stock is mentioned in this article.