This morning Russian potash giant OJSC Uralkali (OTC:URALL) presented first half 2013 financial and operating results and more importantly, much anticipated comments on the strategy of the company and the state of the international potash industry, the latter blind-sided by the leading potash company's split with marketing partner JSC Belaruskali of Belarus.
I never thought Uralkali would get back together with Belaruskali as I expressed in this article written a day after the break-up roiled the fertilizer world, causing 20% plunges in the stocks of major producers such as Potash Corp (POT), Mosaic Company (NYSE:MOS) and Israel Chemicals Ltd (OTCPK:ISCHY).
At the time, other pundits pooh-poohed the falling out and claimed it was a minor domestic spat. Even the CEO of Potash Corp, Mr. Bill Doyle, tried to assuage investor nerves by declaring in mid August that "this sort of thing has happened before" and that "everything would be fine."
But comments by Uralkali's Chairman Alexander Voloshin and senior management (with the acutely felt absence of CEO Vladislav Baumgertner still locked up in a Belarusian jail) confirmed what I forecasted - Uralkali has no intention of patching it up with Belaruskali, and is determined to embark on a bold plan to favor volume in export potash sales over price control, banking on its lowest cost position.
Uralkali is special in that it is a pure potash mining and selling company unlike competitors, who often sell other fertilizers or chemicals. Uralkali's results are instructive, and the numbers released this morning were particularly so. They were ugly. And they could be a glimpse of what kind of potash numbers members of the Canadian potash marketing agency Canpotex could be facing in the future, the members other than Potash Corp being Mosaic and Agrium Inc. (AGU).
In the first half of 2013, Uralkali exported 3.3 million tons of potash, down 20% year over year, and this followed a relatively strong first quarter so the second quarter was terrible. Domestic potash tons were flat at 1 million.
Uralkali's financial results are presented in USD (IFRS standards) and were reported by acting COO and CFO Viktor Belyakov. Export prices were down 17% to $316/ton from $380/ton last year. Total revenues were down 28%. EBITDA dropped 40% from $1.45 billion USD to $876 million. However, EBITDA margin dropped only nine points to 65%, a reflection of Uralkali's low cost structure (wages are very low relative to North American standards) and the low Russian Ruble against the USD.
Overall first half net profit was down 53% to $397.4 million or 13.7 cents per share versus $842.3 million or 28.12 cents per share. The policy of the company is to pay out at least 50% of profits as dividends, which amounted to about 40 Rubles per 5 share GDR last year. An interim dividend for 2013 would be declared in November.
But there was one clear message that came through during the one hour conference call, which featured statements by the chairman and independent director Gordon Sage, reaffirming the new sales strategy of the company: it was only a remote possibility that Uralkali would engage in discussions with Belaruskali to reform the alliance.
What are the repercussions of this for other players in the industry?
In my view, short term (as in the next 12 months) - negative. The question is, how long will it take for the bad news (of price competition) to be followed by better news (of greater demand and a bigger market)? That the potash market has expanded to allow the strong to benefit, leaving the weaker players licking their financial wounds? My view is the rosier view will take at least two to three years to play out.
The Russians are fed up with giving up market share to other major potash producers. Uralkali had 22% of the world market in 1H 2012, but this dropped to 17% in 1H 2013. Alternatively, POT/Canpotex, as it is called, aggressively went after business in Brazil and Southeast Asia, and raised its world share to 32% from 27%.
Other players, such as K+S (OTCQX:KPLUY), Israel Chemicals and APC, Belaruskali and Soquimich (NYSE:SQM) maintained their world shares at Uralkali's expense.
Uralkali's Director of Sales and Marketing, Oleg Petrov, made it clear the Russian company would go after the volume lost trying to maintain both a stable potash price and their hard-to-control minority partner, Belaruskali. As I had correctly deduced, this was not a power play by the Russian government, although the Russians have long had their eye on controlling Belaruskali, either outright with majority equity control or through the joint marketing company, Belarusian Potash Company.
Petrov expects global potash consumption to grow from 55 million tons to the 59-60 million ton range in 2014, half from lower price stimulated consumption by India and China, and the rest from consumers in Brazil, the US and others.
Normally, this would be relatively good news. The lower price would ultimately (and quickly according to Petrov) result in more potash consumption, achieving perhaps peak profits for some producers according to the elasticity curve of supply and demand we all know.
But some analysts expressed skepticism that Uralkali could deliver greater potash demand as long as buyers believe the price will continue to decline. In my view, a dramatic drop in price, to $250, all at once, would open those floodgates. Petrov gave no indication such a dramatic move was in the offing. Perhaps to allay some criticism of Baumgertner's statement that potash would fall to $300 per ton, Petrov suggested the price could only touch $300 but would soon bounce back up.
This makes no sense of course, because in an oversupplied market the price tends to decline to at least below the highest marginal cost producer, and most if not all would still be making money at $300. Another law of microeconomics is you don't shut down your plant until sales are no longer making a cash contribution to your fixed overhead. Overhead could be a lot lower than $300 for many producers.
It is instructive to compare the first half results of Potash Corp's potash segment against Uralkali's dismal performance in 2013, because these positions could easily be reversed when the Russian bear ups its sales to match the "full capacity" production of 13 million tons it says it currently is achieving.
Potash Corp's offshore first half potash sales were 3.14 million tons, up 12% unlike Uralkali. Export potash price declined from $409 to $328, down 20%, similar to Uralkali. So offshore sales revenues were down 10% to $1.03 billion but overall potash revenues including North America were up 2.5% to $1.72 billion.
Potash Corp's all in cost of goods sold for potash was $114/ton, versus Uralkali's declared $58 cash cost per ton.
One can see where this is going. Uralkali expects to sell 2.5 million more tons in 2014 than its guided sales of 10.5 million, the latter some analysts felt was optimistic, given it would require selling 6.2 million tons in the second half of 2013 in a relatively stagnant market.
A 2.5 million ton increase in sales may not be enough to roil the market if demand picks up. There could be enough volume for all to be happy with. However, it is a crap shoot whether low crop prices will stimulate such a big jump in potash demand, unless as I said, a dramatic price chop is executed. The Indian currency crisis continues making purchasing difficult.
My best guess is Belaruskali will try to get the Indian government to take an equity position in return for a firm off-take agreement. China will cannily wait until the last minute to firm up 2014 contracts (Petrov says Q4 2013 but some analysts were skeptical). Brazil remains the only real growth market for producers.
Of course the potash equities have recently rallied and the momentum has been on the long side lately. However, the results of the Uralkali conference call indicate that the future will be difficult for major potash sellers as the Russian bear comes alive.
At approximately 12 times $2.50 2013 EPS estimate, Potash Corp looks reasonably cheap to most people. They should note however, that the company bought back 225,000 shares every day in August, so some of the price support is artificial. The last time international potash prices were this low, let alone probably going lower, was 2009 and the company earned $1.11 per share.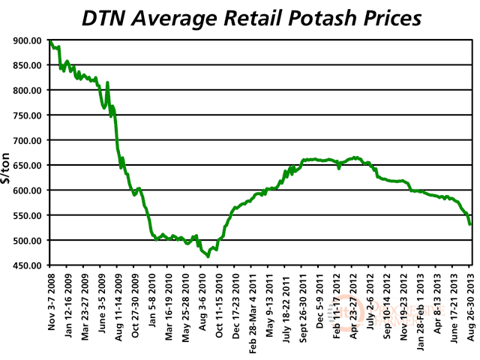 Disclosure: I am long AGU. I wrote this article myself, and it expresses my own opinions. I am not receiving compensation for it (other than from Seeking Alpha). I have no business relationship with any company whose stock is mentioned in this article.