It has been a very rough stretch for many retail names as of late, as the sector has definitely fallen out of favor with many investors. Trends in the space are apparently shifting, and a number of companies are being left in the dust.
While this is best exemplified by recent poor trading in Aeropostale (NYSE:ARO) and Abercrombie and Fitch (NYSE:ANF), another sluggish performer that is probably worth avoiding in the space is Chico's FAS (NYSE:CHS). This company has held up in a much tighter range of late, but much like the others on the list, the bottom could be about to fall out for this retailer.
Chico's in Focus
The main concern for Chico's has to be the declining level of growth for the firm. The past five years saw 17.9% in earnings growth, while the next five years are expected to see 15.3%. While this is admittedly still a strong level, it is very concerning how bearish analysts have been on the company as of late, suggesting that opinion is starting to turn on Chico's. In the past 30 days, 11 estimates have gone down for the current quarter, while just one has gone up. Meanwhile for the current-year period, 12 estimates have gone down in the past 30 days, while the consensus has fallen from $1.15/share to just $1.06/share right now.
You can't really blame analysts for their new-found bearishness either, especially after the most recent quarterly earnings report. Comparable-store sales fell 2.6%, while SG&A expenses rose by 3.7%, leading to a bit of a margin squeeze for Chico's for the most recent quarter. And with the broad trends hitting a number of retail names, the path lower was clearly the one of least resistance for this troubled company.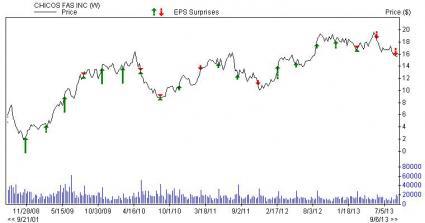 Broader Industry
So while Chico's may have a different focus than ARO and ANF -- as Chico's generally zeroes in on women over 30 for many of its brands -- it is facing the same trends as it is falling out of favor with its key target market. For this reason, analysts are very bearish on the company heading into the key holiday season, suggesting that this might be a company to stay away from until it can turn things around.
For this reason, we currently have a Zacks Rank No. 5 (Strong Sell) on this stock, meaning that we are looking for underperformance for this company in the short to medium term. Furthermore, thanks to some of the broader retail trends highlighted above, the industry also has a low rank (204 out of 260), so the trend is clearly lower in the space.
Other Choices
Yet while the trend might not be great in the sector, there are still a few names in the retail segment that are well-positioned. In fact, there are several companies that have earned themselves a Zacks Rank of 2, meaning that they could be "buys" despite the sluggish overall environment in the space.
Some of the interesting choices in this space include Ann, Inc. (NYSE:ANN), DSW, Inc. (NYSE:DSW), and L Brands (LTD). All three of these have also just surged to a buy rank from a hold within the last week, suggesting that now could be the time to look at these companies instead of the out-of-favor Chico's.
Abercrombie: Free Stock Analysis Report (email registration required)
Ann, Inc.: Free Stock Analysis Report (email registration required)
Aeropostale: Free Stock Analysis Report (email registration required)
Chico's FAS: Free Stock Analysis Report (email registration required)
DSW, Inc.: Free Stock Analysis Report (email registration required)
L Brands: Free Stock Analysis Report (email registration required)