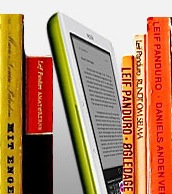 The eBook business is hot. Barnes & Noble (BKS) just announced its $259 Kindle-killer, the GSM-connected Nook with a color touchscreen complimenting its eInk bland and white display, Amazon (AMZN) started shipping the international edition of Kindle, and Sony (SNE) has promised its Reader Daily Edition eBook reader for December. Analysts everywhere (Yankee Group included) are sharpening their pencils and cuing up forecasts of hundreds of thousands of eBook reader sales for this holiday season. And why not; eBook readers take books and make them easy to buy and consume in today's Anywhere Economy.
At the same time this eBook reader war has been capturing media attention, a price war has been brewing over paper books. Walmart (WMT) has cut best-selling hardcover prices to $10 from their normal $24 price tags. Amazon (the same place that sells $9.99 eBooks and the $259 Kindle) has matched Walmart's prices. Target (TGT), not to be outdone, has started pitching selected $9 hardcovers. Add to this the fact that most consumers cherish the flexibility of paper books — the ability to write in them, paste sticky notes in them, lend them to friends, and resell them when they are done with them — and the traditional book market is looking like it could make a comeback with consumers as well.
These two trends are combining into big concerns for both eBook reader makers and book sellers. Cash-strapped consumers may very well bypass eBook readers when paper books sell for the same prices as eBooks. Meanwhile, book publishers and sellers are worried that these price wars will kill off their businesses, ensuring no one makes any money in the book business. Oddly, eBook reader innovations have the potential to kill both the book and eBook reader businesses.
Book sellers and publishers don't have to let this happen. They just need to stop making consumers choose between books and eBooks. Instead, they should just sell a bundle of both the hardcover and eBook editions. For lack of a better name, we can call it a meBook, because it makes the book experience all about the consumer.
These meBook bundles eliminate a lot of consumer objections to eBooks. Specifically they would:
Provide the instant gratification that makes consumers love eBooks. Consumers could still get instant delivery on their Nooks and Kindles over a wireless network for the electronic version. The paper version would be sent to their ordinary shipping address. And since the consumer would already have a version of the book, shipping could be done at low cost book rates; the meBook eliminates the much of the need for express shipping.
Retains the full book experience. Let's face it; eBooks today provide a limited experience that is still far away from that provided by their hardcover counterparts. eReader eInk displays only show black-and-white images, page numbers get removed from eBooks, annotations aren't readily visible, and the list goes on and on. Rather than trying to convince consumers that they should settle for this paler electronic version, a meBook gives the consumer everything that is in the original hardcover edition and more.
Remove the need for consumers to choose between paper and digital versions. With meBooks, consumers get the comfort and convenience of a real, hardcover book for when they are sitting in their easy chair, yet would also have an electronic version to take on their daily commute or on trips.
Prop up book prices. eBook prices have to be cheaper than traditional books because the consumer can do less with them; for example, consumers can resell old books, but they can't resell eBooks they own. But meBook prices could sell at a slight premium to hardcover book prices because they give the consumer more flexibility, a better experience, and more places to read the book.
One final thing: the meBook is a first-mover opportunity for book publishers. Once a book publisher figures out all the business terms and agreements necessary to make meBooks a reality, other publisher will have to follow suit or lose both readers and distribution. The only question is who has the guts to be first. After all, it's got to be better than a price war.