In 2008 and 2009, when Congress was bailing out most of the U.S. auto industry, it would have seemed laughable to imagine that in the not too distant future those same companies would be posting double digit earnings growth and some of their best monthly auto sales on record.
Yet, that's where the auto industry is. Out of all of the sectors crushed in the Great Recession, the auto industry's renaissance is, perhaps, the most impressive. It was left for dead. Its PR was so bad, many argued it would have been better to let them go under.
But that was then and this is now.
How good is it?
August Sales Soar
On Sept. 4, the auto makers revealed August sales which came in at multi-year highs. For some brands and cars, August was the best month ever.
General Motors' (NYSE:GM) sales rose 15% year over year with double digit deliveries at all brands. Cadillac was super hot, with sales rising 38%. It was the best August for Cadillac since all the way back in 1989. The Cadillac XTS had its best month ever.
Full sized pick-up truck sales jumped 15% along with large SUV sales which also rose 29%.
GM's total sales were the best since September 2008.
At Ford (NYSE:F), the story was much the same. Total sales were up 12% as the Fusion had a record August. Ford small car sales rose 30%. The Lincoln MKZ also had its best August ever.
The F-Series has been on fire. Sales were up 22% and topped 70,000 for the second time this year. The last time the F-Series had two months over 70,000 sales was in 2006.
This was Ford's best August since 2006.
The Trickle Down Effect
It's not just the auto industry which is operating on all cylinders. The auto industry is massive, made up of the auto makers, parts makers and the retailers which sell the cars. All three are feeding off of the increase in auto sales.
You can see the success of the auto industry in the Zacks Industry Rank. All three segments are in the top 100.
The auto parts companies are the highest ranked at 38 out of 265 Zacks Rank Industries. The domestic auto industry comes in at 75 out of 265 and the retailers selling the cars are ranked 92 out of 265 industries.
Which Companies Do You Buy?
There is a wealth of riches to choose from in the auto industry because there isn't just 1 or 2 companies that have good fundamentals. Nearly all of the companies have that.
I looked for companies that were Zacks Rank #1 (Strong Buy), #2 (Buy) or #3 (Hold) with earnings growth and an attractive P/E ratio.
These four companies cover the gambit of the industry from the auto makers to the parts producers to the retailers. Why not own all of its moving parts?
The Top 4 Auto Industry Stocks
Ford
General Motors
Lear Corporation (NYSE:LEA)
Penske Automotive Group (NYSE:PAG)
1. Ford Motor Company
Ford is one of the largest auto makers in the world with global operations. Its brands include Ford and Lincoln.
Zacks Rank #3 (Hold)
Forward P/E = 11
Expected 2013 EPS growth = 9.6%
Expected 2014 EPS growth = 14.4%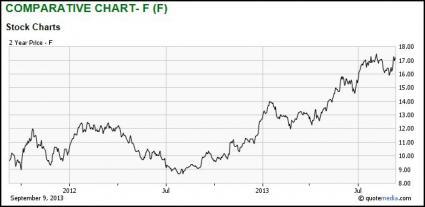 2. General Motors
General Motors produces vehicles, along with partners, in 30 countries. Some of its most prominent brands include Chevrolet, Cadillac, Buick, GMC, Opel, Jiefang and Wuling.
With a low P/E but earnings expected to jump over 33% next year, the company has a PEG ratio of just 0.8. Growth and value is a very powerful combination.
Zacks Rank #3 (Hold)
Forward P/E = 10.7
Expected 2013 EPS growth = 4.2%
Expected 2014 EPS growth = 33.7%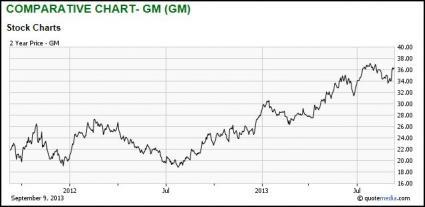 3. Lear Corporation
Founded in 1917 in Michigan, Lear makes seating and electrical power management systems for all of the world's auto companies. It has facilities in 36 countries.
It also has a low P/E and big earnings growth expected in 2014 so it has a PEG ratio under 1.0 at 0.9. A PEG under 1.0 usually signifies value.
Zacks Rank #1 (Strong Buy)
Forward P/E = 12.5
Expected 2013 EPS growth = 3%
Expected 2014 EPS growth = 24.5%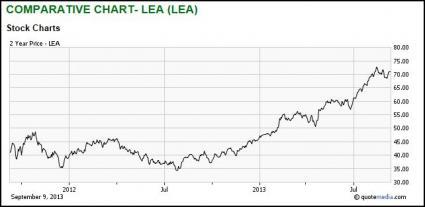 4. Penske Automotive Group, Inc.
Someone has to sell the cars and that deed falls to the retailers. Penske operates 323 retail franchises representing 39 different auto brands. It also operates 30 collision repair centers. It has 171 franchises in 17 states and Puerto Rico as well as 152 international franchises, specifically in the United Kingdom.
On Aug 30, it announced it completed the acquisition of Western Star Trucks Australia, which distributes commercial vehicles across Australia and New Zealand. This will give the company a footprint in Southeast Asia.
Zacks Rank #1 (Strong Buy)
Forward P/E = 15.3
Expected 2013 EPS growth = 15.4%
Expected 2014 EPS growth = 13.4%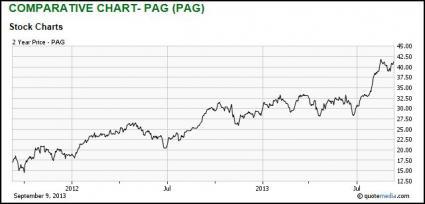 Shares Soar But Valuations Still Attractive
Most of the auto industry stocks have surged over the past year. There's no doubt that if you had bought in 2012 you'd be better off than getting in right now.
But valuations are still solid and strong earnings growth is expected for the second half of 2013 and into 2014.
Global auto sales are expected to rise again next year, especially as Europe recovers. It's not too late to get into the auto story.
FORD MOTOR CO (F): Free Stock Analysis Report
GENERAL MOTORS (
GM
): Free Stock Analysis Report
LEAR CORPORATN (LEA): Free Stock Analysis Report
PENSKE AUTO GRP (PAG): Free Stock Analysis Report
(email registration required)