By Chris McKhann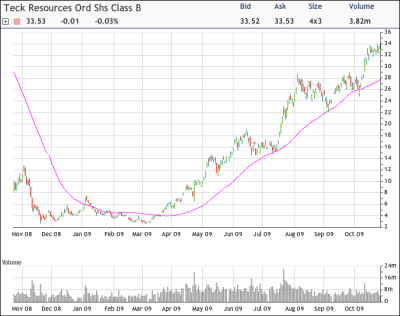 Mining company Teck Resources (TCK) hit a new 52-week high today after running up 1,000 percent in the last seven months, and the option activity remains bullish.

TCK is off a penny this afternoon at $33.53 after earlier hitting its high at $34.07. The institutional-sized option volume is looking for the uptrend to continue.
We show almost 17,000 of the January 40 calls trading, almost all of them bought, with the largest block of 11,670 purchased for $1.20. The open interest at the strike is just 846 contracts, so today's action clearly represents new positions opening.
Shares were last above $40 in August 2008.

(Chart courtesy of tradeMONSTER)