"Nothing can be said to be certain except death and taxes," said Benjamin Franklin. And with death being a certainty, one would expect that the business of death should always make money.
Of course, how much money is dependent on numerous factors, among which the most important would be how many people are dying. In short: demographics.
While the U.S. population grew by about 17 million people during the first six years of this decade, the number of people dying every year remained relatively static at roughly 2.4 million per year. In fact, in 2006, the U.S. death rate hit an all time low of 776 deaths per 100,000 population, according to the U.S. Centers for Disease Control. U.S. government data for that year, which is the most recent available, also showed that the U.S. life expectancy at birth reached a record high of 78.1 years.
Barring any cataclysmic disasters or high mortality pandemic disease outbreaks, the annual number of U.S. deaths will likely remain static for at least the next three years, reflecting the declining number of Silent Generation births between 1925 and 1935. In 2013, the number of Americans turning the key life expectancy age of 78 will start to increase, and then rapidly accelerate beginning in 2018, to reflect the steady increase in Silent Generation births beginning in 1940, that turned into a flood with the Baby Boomers starting in 1945.
Despite strong consolidation efforts in the 1990s, the U.S. funeral industry remains highly fragmented with the top 50 companies holding only about 30% of the market. In fact, the majority of U.S. companies still operate as a single funeral home, earning annual revenues of about $1 million. These smaller operations are able to successfully compete with the larger national companies because business is fiercely local. The primary advantage held by the larger companies is their ability to share resources, such as vehicles, personnel and marketing costs.
Companies in the business sell products, such as caskets, burial vaults, burial garments, memorial guest books, flowers, memorial stones, burial rights, cremation urns and related merchandise. Services can include body preparation, transportation, facility rental, the opening and closing of burial plots and cremation. Caskets are generally the biggest single-item cost of a funeral service.
The largest publicly traded U.S. funeral industry companies include Service Corporation International (NYSE:SCI), Carriage Services Inc. (NYSE:CSV), Stewart Enterprises (NASDAQ:STEI), and StoneMor Partners L.P. (NYSE:STON). The share prices of these companies, excepting StoneMor Partners which was founded in 1999, all showed significant growth in the 1990s (though far beyond the slow yet steady increase in U.S. deaths during that period), but essentially plummeted at the end of the decade and have been struggling ever since.
The sector has recovered strongly since the March lows, when these companies were priced for extinction. Since the March lows StoneMor is up about 78%, Service Corporation about 165%, Stewart Enterprises about 180% and Carriage Services more than 200%. The sector's strong recovery has left many valuations stretched along with highly leveraged balance sheets. Therefore, we would strongly advise taking profits as we believe the sector is not set to return to a consistent growth track until 2013 when the number of deaths should turn upwards dramatically.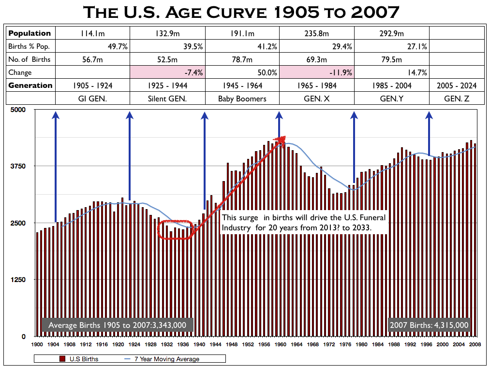 Disclosure: No Positions