On Friday September 6th Seeking Alpha, along with other investment sites like InvestHub and MorningStar, reported the following news:
Dry bulk shippers surge again as shipping rates keep climbing

Drybulk shipping stocks continue recent sharp gains following further strength in shipping rates, as capesize shipping rates rose 10% overnight to $21,793/day, the first time since Jan. 2012 that capesize rates exceed $20K/day.
The cost of renting a capesize drybulk ship is up 107% YTD, largely driven by higher iron ore shipments to China out of Brazil and Australia.
And on Monday September 9th Seeking Alpha reported:
Dry bulkers extend rally as ship rates jump

It's onward and upward for dry bulk names again today, as The Baltic Dry Index posts its largest gain since 2009, rising 9.3% to 1,478.
The driver: An 8.1% expansion in Chinese iron ore imports. "Steel production in China is defying a seasonal slowdown in prices, allowing mills to absorb high iron ore imports," a Morgan Stanley analyst quoted by Bloomberg says.
With increasing capesize shipping rates making headlines daily one company comes to mind - Navios Maritime Holdings (NYSE:NM). A great Seeking Alpha article written recently quickly summarized peer fleets and revealed NM to have the most capesize ships at 16. The stock is up over 100% YTD and 25% for the month but what separates NM from its peers is the strength as a holding company. What you get with NM is a nice mix of public holdings in Navios Maritime Partners LP (NYSE:NMM) and Navios Acquisition Corp (NYSE:NNA) as well as several other private entities ripe for spin-offs. Spin-offs arguably allow smaller, targeted companies more flexibility to dedicate all of their resources towards their core operations, potentially allowing investors to capture the performance of a more efficient and profitable company.
One sub-entity worth looking into is Navios Logistics Company. If NM were to split off into one segment the Logistics Company feels most mature.
Navios Logistics Company
I had previously profiled Navios Logistics as a company that operates exclusively in South America exporting soybean globally and iron ore to China. This subsidiary was the shining star in an otherwise dreary earnings report recently from NM. It was announced that they will be deploying three new convoys for getting iron ore for an existing client.
Navios Logistics maintains 6 oceangoing vessels in addition to almost 300 barges and pushboats, 2 small inland oiltankers and 2 self-propelled barges. Much of the services Navios Logistics is providing is moving commodities between Argentina, Bolivia, Paraguay, Uruguay and Brazil. Navios operates the ports within South American that this iron ore is passing through on its way out of the continent.
Navios Logistics is the top player in Argentina's coastal commodity transportation business, number 2 in the barge business throughout the South American countries it operates in addition to operating the largest dry port in the Hidrovia River and largest wet port in Paraguay.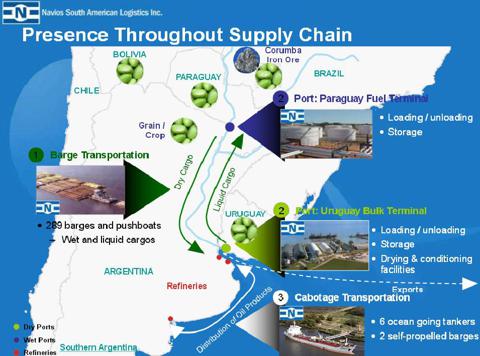 Changes in portfolio dynamics may encourage a spin-off
According to my model the market is currently valuing NMM and NNA at 60% of the NM share price - down from 90% just a few months ago during April/May. Navios Holdings and its reporting subsidiaries do a great job informing investors of the weight of their positions in the Navios portfolio. Each quarterly report clearly breaks down what NM values their public holdings at (in relation to their own share price). With this info we can find the factor being used by the company and then determine the current weight for in between filings. The factor has remained unchanged over the past few quarters. Simply put the Factor X Share Price = Weight. I then add up the weight of the 2 publicly traded components to figure out the market value of the non-publicly traded components. Below you'll find the company given factor and how that plays into the weight of NMM and NNA.
| | Share price on 9/9/13 | Weight on 9/9/13 | WACC | Factor |
| --- | --- | --- | --- | --- |
| NM | $7.53 | $7.53 | | 100.0% |
| NMM | $14.38 | $2.17 | 28.79% | 15.08% |
| NNA | $3.95 | $2.29 | 30.40% | 57.95% |
| Total | | | 59.19% | |
| NMM+NNA | | $4.46 | | |
The announcements this year of Navios Asia, the Japanese joint venture and later Navios Europe are all great news to holders of the Navios Holding Company. NNA continues to do so well that it has surpassed NMM in value for the Navios parent. Might they rebalance? We can't be sure but I have confidence in management to serve its shareholders justice. With spin-off opportunities, a nice dividend of 3.3% and a bit of a competitive edge Navios Maritime Holdings Company seems like the most well positioned amongst its peers going forward.
Disclosure: I am long NM. I wrote this article myself, and it expresses my own opinions. I am not receiving compensation for it (other than from Seeking Alpha). I have no business relationship with any company whose stock is mentioned in this article.