As the battle in the streaming video industry continues to heat up, the latest player to enter the fray is Yahoo! (YHOO), which recently released its app dubbed Yahoo! Screen. The app - which seems targeted heavily toward the mobile market - is only available on Apple's (NASDAQ:AAPL) iOS for devices including the iPad, iPhone and iPod. It may be purely coincidental that a version for Google (NASDAQ:GOOG) Android was not also released, or it may be a sign that Apple has correctly identified the threat that YouTube represents and decided to answer with a powerful new partnership. Either way, the new service is a huge win for Yahoo! and Apple, and should keep both on your radar screen.
Screen from Yahoo!
The newly released Yahoo! Screen provide access to free video content online, but really shines as a mobile app that is available on iTunes. The app was specifically designed to mimic channel flipping, allowing users to scroll through channels with up and down swipes, and scroll through episodes with left and right swipes. Initial reviews of the app have been positive, although more clarity on what channel you are looking at was requested by at least one reviewer - only the channel's logo is displayed, which can be confusing. The overall sense is that the Yahoo! design team did a great job creating an app that is likely to bring a good deal of content to mobile.
Several months ago, Yahoo! announced that it had purchased the entire Saturday Night Live library spanning 38 years from 1975 to 2012. At the launch of Yahoo! Screen, this content was prominently featured as was new content from Comedy Central that is available as a part of a newly announced deal with Viacom (NASDAQ:VIAB). The heavy focus on comedic content may signal a direction that Yahoo! plans to go with the service, but that remains unclear. What is clear is that with a wealth of free content, Yahoo! Screen is hitting the ground running and was clearly built to compete.
The Payoff for Yahoo!
Yahoo! has been strong on the comeback path ever since Marissa Mayer took over as CEO, and Screen is likely to not only create some much needed buzz, but enhance Yahoo!'s advertising position. If the app is well received and begins to get traction, you can expect to see advertisers take note and help drive Yahoo!'s revenue. The mobile focus of the app will help to put Yahoo! squarely on par with top competitors like YouTube, as well as Netflix (NASDAQ:NFLX), Amazon (NASDAQ:AMZN) and Hulu.
The Payoff for Apple
While iTunes offers access to a great deal of content, some of it for free, if Yahoo! Screen remains exclusive to iOS, it could help Apple advance its position in streaming video. YouTube has become as much a household name as Google, and Apple is squarely in catch up mode. With the aggressive channel lineup right from the start, the partnership - even if its exclusivity is short-lived - is great news for Apple. It's no secret that Yahoo! and Apple have been discussing deepening the relationship between the two for some time, and this is a clear evidence that steps have been taken. In the aftermath of the release of the new generation of iPhones, seeing the value and impact that this could have on Apple shares will be easy to overlook. If the typical stock weakness that has followed most recent iPhone releases persists, it could be a strong buying opportunity for Apple shares.
A Word on Content
One of the most significant takeaways from this story is the fact that Yahoo! was able to secure an impressive lineup of content with which to rollout the service. As Netflix has already discovered, the importance of content cannot be overlooked, and can be the catalyst for producing original content in house. The inclusion of the Viacom deal in the rollout demonstrates an understanding of the landscape that investors should appreciate. Taking on Google, Netflix, and Amazon is not a task to be taken lightly, and while it will take time to really know how successful the new venture can be, it is a significant step that is being well managed.
How to Benefit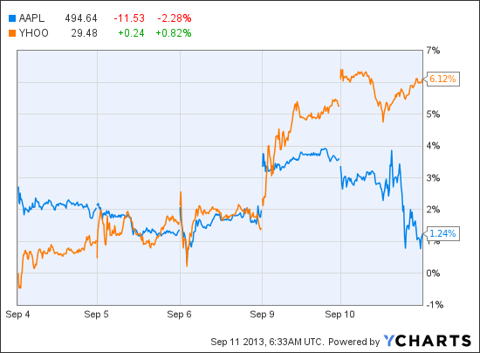 As I mentioned above, Apple shares sold off on the announcement of the next gen iPhones - another case of 'buy the rumor, sell the news.' With many of the other positives happening at Apple, this creates a buying opportunity. For Yahoo!, this is one of the most declarative steps that the company is not planning on quietly slipping away. Many, myself included, had largely written Yahoo! off, but with a P/E under 8.5, the stock has plenty of upside and looks like a solid value buy for your tech portfolio. I like Apple on continued weakness and Yahoo! as an allocation for a continuing recovery.
Disclosure: I have no positions in any stocks mentioned, and no plans to initiate any positions within the next 72 hours. I wrote this article myself, and it expresses my own opinions. I am not receiving compensation for it (other than from Seeking Alpha). I have no business relationship with any company whose stock is mentioned in this article.