3D printing expert Stratasys (NASDAQ:SSYS) is a busy deal maker. In June 2013, the company announced the game changing acquisition of MakerBot, a much smaller, but faster growing developer of desktop 3D printers used by manufacturers to fashion machine parts and components. This is not the first transformative move for the company. Less than a year earlier Minnesota-based Stratasys had merged with Objet, a competing 3D printing company with headquarters in Israel. Management was still working on the integration of the Objet-Stratasys operations and just barely tidied up the paperwork on the MakerBot deal in mid-August as it prepared a follow-on offering to sell 4.0 million shares of common stock and raise $409 million in new capital.
Investors have been salivating over the enhanced competitive position that Stratasys is building for itself by expanding the product line and extending its marketing reach through strategic deals. They also have their work cut out for them to absorb the changes in the Stratasys balance sheet. In its recently filed stock registration statement with the SEC, the company provides all manner of tables and charts demonstrating the pro forma financial results of the combined companies and giving effect to the issuance of new shares.
Management encourages investors to appreciate its growing revenue and earnings potential. Even with management's detailed presentation, there are a few items that bear added scrutiny…before anyone ponies up over a hundred bucks per share to buy new Stratasys shares.
What is Intangible?
After closing its deal with MakerBot, intangible assets represent 80% of Stratasys estimated total assets of $2.2 billion. Stratasys cut its corporate teeth on a small acquisition of SolidScope in May 2011, leading to $19.5 million in intangible assets and $24.6 million in goodwill. It was the merger of Stratasys with Objet that made the big difference in the company's balance by creating goodwill valued at $797.1 million and intangible assets valued at $490.2 million. The more recent acquisition of MakerBot adds to the heap. That deal adds an estimated $368.7 million to goodwill and $169.2 million to intangible assets. The heavy load of goodwill and intangible assets such as these means only 20% of total assets or about $448.7 million are 'tangible' - the sort of assets that can be cashed in at the bank or put on an auction block.
Granted, Stratasys can lay claim to intangible assets that help generate sales, such as patented technology, customer relationships and brand names. However, these assets along with goodwill are vulnerable to being declared 'impaired' if competitive dynamics turn against 3D printing or if economic circumstances put a damper on its principal target market of manufacturers.
While such an 'impairment' event does not involve real cash, the reduction of an asset value is recorded as an expense on the income statement and leads to lower reported earnings. It was a very real event when Stratasys paid cash for SolidScope and when shares of common stock were issued to pay for the Objet and MakerBot deals. It would be a 'real' event if and when a write-down of goodwill or intangible assets is necessary. The value reduction reduces shareholder equity and shifts capital structure.
The three strategic deals have left Stratasys with an 'unbalanced' balance sheet that is vulnerable to value reduction. There is no such thing as a free lunch when it comes to goodwill or intangible assets.
Amortization Amoré
Of course, when it comes to intangible assets, there is no need to wait for a write-down event. Accounting standards require a planned, periodic amortization of intangible assets. Over the next five years amortization expense is expected to run between $52.5 million to $54.2 million per year, the majority of which arises from recently acquired and merged operations (SolidScope in May 2011, Objet in September 2012 and MakerBot in August 2013). It will take a dozen years to fully extinguish all the intangible assets created by these three deals.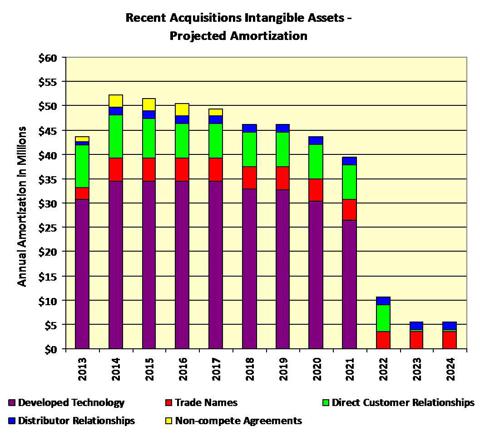 Source: Company reports and Crystal Equity Research Estimates
In the twelve months ending June 2013, Stratasys delivered earnings before taxes, interest, depreciation and amortization (EBITDA) of $41.2 million. That represents a 'cash' profit margin of 12.7%. Since MakerBot's desktop 3D printing product line command lower margins, investors can expect that margin to slip a bit. According to a financial report Stratasys filed with the SEC, on a pro forma basis including MakerBot, the EBITDA margin would have been 10% in the first half of 2013.
Assuming the company is not able to wring out any direct or operating leverage as sales ramp, a 10% EBITDA margin or contribution margin means Stratasys would need to generate $542.0 million in total sales to cover the expected peak amortization expense resulting from the company's recent strategic deals. Another $120.0 million in sales would cover depreciation and push Stratasys closer to breakeven.
Until sales reach the breakeven level, expect Stratasys management to emphasize non-GAAP financial results that exclude non-cash expenses. It does make sense to consider cash earnings, which after all is what can be used for future capital investment. However, non-cash expenses are hard ignore to the extent that real cash and/or stock have been used to pay for acquisitions and real stock and options have been used for stock compensation.
Rebalancing with New Shares!
Unfortunately losses are in Stratasys' future, at least in the near-term. The consensus estimated sales for the year 2014 - the first full year MakerBot will be part of the mix - tops $615 million. Among the dozen or so analysts who have made contributions to the consensus the most aggressive estimate is $658 million, while the pessimist in the mix thinks sales will only reach $536 million.
No time like a period of losses to pile on new shares of common stock! Stratasys has accomplished two of its three strategic acquisitions through the issuance of new common stock - 15.4 million shares were issued for Objet in September 2012 and 3.9 million shares for Makerbot in August 2013. The two deals resulted in total common stock outstanding of 39.0 million shares. Additional compensation may be due to the MakerBot selling shareholders if a so-called 'earnout' provision is triggered by MakerBot performance. The deal may lead to the issuance of an additional 1.2 million if Stratasys management decides against a cash payment.
Now Stratasys management is hoping to sell an additional 4.0 million shares (4.6 million if the underwriters' allotment is elected) at a price over $100.00 per share. The rising stock price is clearly in the company's favor. Shares used to buy Objet were valued at approximately $50.00 per share. However, nine months later with the generous support of investors who drove the stock price higher, the MakerBot deal was accomplished with shares were valued at approximately $97.46.
Usually shareholders bemoan the issuance of new shares as it leads to diluted earnings per share that in turn drive stock price. However, as the company continues to reports net losses in the near-term, new share issuance has the opposite impact - spreading the gloomy news over across more shares.
Besides the cosmetic impact the new shares have on reported financial results, the offering will have a significant impact on the balance sheet. The offering could add $409.0 million in cash to Stratasys balance sheet, bulking up assets. Taking into consideration the contribution of MakerBot to assets and liabilities, the offering could bring cash holdings to $561.9 million and working capital to $633.9 million. Importantly, tangible assets would increase to approximately $857.7 million or 31% of total assets of $2.7 billion. This would be much more impressive than the current 20% portion of tangible to total assets.
Even if shareholders find unpalatable the dilutive impact of new shares on future earnings, the improvement in assets on the balance sheet may make it worthwhile. Large customers will be impressed by the improvement in financial strength. What is more the company will have a replenished arsenal for future deals if additional acquisition opportunities come along.
Summary
The timing for a capital raise could not be better even if the details of its deals are a bit thorny. Stratasys is planning a public offering of new shares at a time when its shares are trading near the all-time high stock price of $113.00. In the days since the company disclosed details of its MakerBot deal and announced its public offering of stock, the stock has traded off from that high. Nonetheless, the stock is still holding north of $100 per share.
A simple bit of math might give investors some guidance before parting with a "C note and change" to buy SSYS.
Consider the historic price multiple of 10.3 times sales. Using the consensus sales estimate of $615 million is the year 2014, this implies a target market value of $6.3 billion or $140 per share after taking into consideration the new shares outstanding. An alternative measure uses book value and the trailing price to book multiple of 2.9. We expect book value to be $2.4 billion after the offering, which implies a market value of $7.0 billion or $155 per share a year and a half down the road. Using the company's projected growth rate of 30% as a discount rate, these target prices imply a current value of $98.50.
Neither the author of the Small Cap Strategist web log, Crystal Equity Research nor its affiliates have a beneficial interest in the companies mentioned herein.
Disclosure: I have no positions in any stocks mentioned, and no plans to initiate any positions within the next 72 hours. I wrote this article myself, and it expresses my own opinions. I am not receiving compensation for it (other than from Seeking Alpha). I have no business relationship with any company whose stock is mentioned in this article.