Le Gaga Holdings (NASDAQ:GAGA) ("Gaga" or "the company") has been a short sellers' best friend since going public in late 2010. That may be about to change. American Depositary Shares ("ADS") were offered at $9.50 apiece, and represent 50 ordinary shares. The price of the shares post-IPO declined swiftly and precipitously, and today the ADS fetch $3.66 apiece.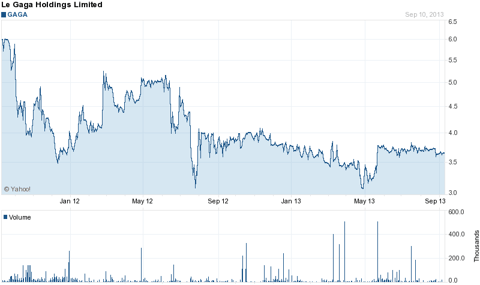 I was attracted to the company when I learned about a "go private" transaction announced by a consortium of buyers, including Na Lai Chui, the Chairwoman of the Board, Shing Yung Ma, the Chief Executive Officer and Sequoia Capital China, a reputable private equity firm (collectively, "the Consortium"). The go private offer was announced on May 21, 2013 (see Exhibit 3), at a price of $4.01 per ADS and $0.0802 per ordinary share.
Since the announcement, an event-driven hedge fund, Yiheng Capital Partners tripled its stake from 2 to 6% according to a recent disclosure. According to the disclosure:
While the Reporting Persons (in this case, Yiheng) do not typically engage in control transactions, we understand that the Issuer has appointed a special committee of its board of directors (the "Special Committee") to consider, among other things, a potential "going private" transaction from an acquiring consortium (the "Consortium") consists of SC China Holding Limited, Ms. Na Lai Chiu, the Chairwoman of the board of directors of the Issuer ("Ms. Chiu"), Valuetrue Investments Limited, a British Virgin Islands company wholly-owned by Ms. Chiu, Mr. Shing Yung Ma, the Chief Executive Officer of the Issuer ("Mr. Ma"), and Grow Grand Limited, a British Virgin Islands company wholly-owned by Mr. Ma, as disclosed on a Form 6-K filed by the Issuer on May 22, 2013.
When key insiders and a private equity player put up a go private offer at prices above the current quote, I listen. The fact that an event-driven fund acted on the announcement, provides another indication that there is a good possibility that the deal is considered and ultimately accepted, given the Consortium already collectively owns a controlling ~50.84% stake in the business.
It's hard for me to believe that insiders who have intimate knowledge (and control) of the underlying fundamentals of a business would put their capital at risk unless they thought the proposed deal was a "can't lose" investment, leading to a generous internal rate of return ("IRR").
The other bit of interesting information regarding the potential transaction is that Sequoia is a venture capital firm, not your typical buy-out firm. In my view, Sequoia must see some pretty big potential in Gaga's operating model and total addressable market, given that it invests in companies with a long runway of growth ahead it.
Before the deal was announced, Gaga shares traded at $3.34 (a 20% discount to the offer price), then snapped higher to close at $3.78 the next day. Shares have generally traded sideways since the announcement, until recently when shares fell to under $3.70.
Today, I believe Gaga shares represent a compelling asymmetric risk/reward scenario at a ~10% discount to the go private offer price. I understand Gaga has created a Special Committee to review the Consortium's offer, and also hired a valuation advisor (Duff & Phelps, who interestingly, was acquired by a consortium of private buyers last spring) and legal counsel to review the bid. Readers should note that the Consortium's offer is non-binding, but also that the Consortium collectively owns 50.84% of Gaga's share capital.
Should a definitive merger agreement (at the proposed prices) materialize soon and the deal consummated, annualized returns for Gaga shareholders could be much higher than the 10% discount. It remains to be seen if Yiheng will invoke dissent relative to the current offer, and lobby for a higher price. Given the uncertainty around the potential timing of a deal consummation, it is impossible to calculate potential annualized returns on this merger arbitration situation.
However, if the deal falls through or the terms are amended (i.e., a higher price recommended by Gaga's valuation team and/or Yiheng), there could be considerable more upside when considering the standalone value in respect of Gaga's underlying fundamentals.
The Business
According to Gaga's regulatory filings:
Le Gaga is a leading greenhouse vegetable producer in China. The Company sells and markets greenhouse vegetables such as peppers, tomatoes, cucumbers and eggplants, as well as green leafy vegetables to wholesalers, institutional customers and supermarkets in China and Hong Kong. The Company has successfully built a trusted brand among its customers. The Company currently operates farms in the Chinese provinces of Fujian, Guangdong and Hebei. Leveraging its large-scale greenhouses, proprietary horticultural know-how and comprehensive database, the Company specializes in producing and selling high-quality, off-season vegetables during the winter months.
Interestingly, Gaga's competitive advantage is derived from investing in greenhouses. The greenhouse infrastructure allows Gaga to command premium prices for off-season crops, and to produce crops year round. But probably the most salient feature and competitive advantage in using greenhouses is to better manage and mitigate weather risk, leading to better crop yields.
Gaga has significant room to run given that only about a third of its land holdings come equipped with greenhouses. Gaga is investing heavily to build out that infrastructure, which consumes much of its cash generated from operating activities. However, once the build out is complete, Gaga should have a sustained cost advantage over competitors as increasing crop yields and lower production costs (i.e., labor) allow Gaga to become a low cost producer. When dealing in commodities, being the low cost producer (along with producing high quality commodities) is a winning formula. In my view, this is likely one of the investment theses considered by the Consortium.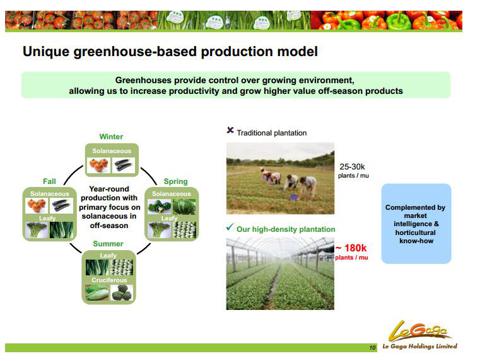 Even with macroeconomic concerns relative to a perceived credit bubble and overcapacity/overvaluation in China's property markets, it's hard for me to believe that overcapacity in the vegetable market is a problem. If it were, I fully expect that Gaga's products could find its way to export markets, to places unfortunately afflicted with hungry mouths. As it were, Gaga's recent financial performance has been impressive.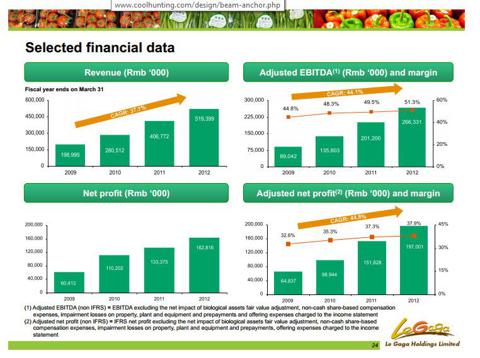 Gaga counts Wal-Mart (NYSE:WMT) and three of Asia's largest grocers as customers, including Wellcome, ParknShop and Vanguard. Those distribution relationships and channels alone have significant value.
For FY2013, Gaga is anticipating 10 to 15% revenue growth year/year. Through the first 9 months of FY2013, Gaga generated $33 million in adjusted EBITDA (excluding certain fair value adjustments for biological assets, as required by IFRS No. 41), for an annual run rate of about $44 million.
Gaga is currently valued at ~$165 million and has a bullet proof balance sheet comprised of nearly $40 million net cash, or about 25% of the current market cap. The generous net cash balance should also further reduce downside risk in owning Gaga shares.
Gaga, therefore, is trading at about 2.8 times estimated FY2013 EBITDA, a very low multiple. In my mind, a higher valuation is certainly warranted, especially given the ~4.4 times TTM EV/EBITDA valuation assigned to China Minzhong Food Corp ("Minzhong"), discussed below.
The Minzhong Matter
Within the last couple of weeks, Minzhong was put in play after investment research firm Glaucus Research issued a report alleging certain financial reporting improprieties at Minzhong. Shares of Minzhong crumbled on the report. Just days later, Indofood Sukses Makmur Tbk (OTCPK:PIFFY) who already controlled some 30% of Minzhong's equity, acquired a control stake and offered to buy Minzhong's remaining outstanding shares at S$1.12/share, the price they traded before the Glaucus report. Indonesian billionaire and Chairman of Indofood, Antoni Salim, said regarding the transaction: "We believe that this strategic acquisition will be mutually beneficial to both Indofood and China Minzhong" and that its due diligence conducted prior to its initial investment in Minzhong was "sufficient to provide comfort over its investment."
In my mind, while there have been concerns relative to the veracity of certain Chinese vegetable producers, sophisticated investors are clearly interested in the operating businesses, and also likely the land assets held by these businesses. Agriculture is about as old an industry as one can imagine, and with food scarcity a growing concern, strategic buyers are swooping up the assets at bargain valuations.
At a 4.4 times EV/EBITDA valuation, the Minzhong deal appears like a good comparable for Gaga given Minzhong is a direct competitor in China, and given how recent the deal was consummated. A 4.4 times EV/EBITDA multiple indicates 57% upside from Gaga's current quote, or fair value of $5.75/share. I think there is a good chance that the Special Committee receives a report from Duff & Phelps recommending a higher price.
Conclusion
If all of this seems too contrived, then maybe this isn't an investment for you. I admit, it's not for everyone. But I can't conceivably think of any reason why two executive level insiders AND a reputable private equity player would pay a 20% premium for a company, if it were even a remote possibility it were less than a stellar investment opportunity. I can't think of any plausible reason why this particular set of circumstances would exist, save for the insiders and private equity firm truly believing Gaga is severely undervalued given the significant equity price contraction as a result of all the questions around the Chinese farming industry over the past few years.
To me, Gaga is presenting investors an interesting, special-situation investment. Normally, I wouldn't recommend (and I'm only making investors aware of such opportunity) shares in a small cap, relatively illiquid Chinese company, in an industry where the veracity of financial reporting has previously come into question for several competitors. My reticence and reluctance is assuaged by the fact that there is a real offer on the table by insiders and a reputable firm, buttressed by the fact that a competitor (Minzhong) was swiftly and summarily bought out at opportunistic prices after a price crash caused by the Glaucus report.
With that in mind, I think the nearly 10% discount to an identified, actionable and event-driven catalyst is a compelling reason to consider Gaga as an investment. At the current price, investors stand to benefit from solid annualized returns if the business is taken private by the Consortium, and are shielded from downside risk given the $40 million net cash balance and strong cash flow generation. In either event, investors are buying an underlying business which is growing at a rapid clip, and trades at exceedingly low levels, including an incredible ~3 times TTM EV/EBITDA multiple.
In my view, Gaga represents a compelling risk/reward scenario (up 10% in the near term, and higher annualized returns), driven by certain event-driven catalysts in the short term, but also over the long term if Gaga remains a standalone company.
Investors may want to wait until after Gaga reports full year FY2013 results on September 17, 2013 to establish a position, if they are considering one. At that time, management may provide additional guidance with respect to the Special Committee's recommendation relative to the Consortium's go private offer and an update on business performance.
Disclosure: I have no positions in any stocks mentioned, and no plans to initiate any positions within the next 72 hours. I wrote this article myself, and it expresses my own opinions. I am not receiving compensation for it (other than from Seeking Alpha). I have no business relationship with any company whose stock is mentioned in this article.
Additional disclosure: I own First Pacific (OTCPK:FPAFY) which holds a controlling stake in Indofood.