With the global increase in Internet use driven by the penetration of the Internet and growth of the population, the requirements of data storage and database volumes will only continue on an upward trajectory. The chart below shows Internet users in the world by geographic region as in Q2 2012.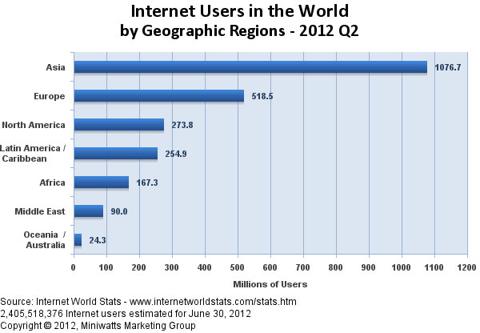 The IDC projected that by 2020, the Internet universe will be 40 zetabytes in size. This is the result of the amount of digital information in the world doubling every two years between now and 2020. The growth of digital data is faster than the growth in storage capacity to store that data, as per IDC. However, much of that data, such as digital TV signals, is transient in nature and is not stored.
In addition, the amount of data that is being generated, processed and stored by organizations will also continue to keep growing at a brisk pace for the foreseeable future. Storage is becoming a critical part of the infrastructure of every enterprise and is projected to grow at a CAGR of 53% between 2011 and 2016, as per IDC.
We look at three data storage companies that operate proactively in this end market and what do they have for investors.
SSD for data storage is the future
In first quarter of 2013, SanDisk's (SNDK) solid state drive segment sales constituted 20% of the company's total revenue. As against this, it was only 10% in the same quarter in 2012. According to an IHS iSuppli report, global shipments of SSD in PCs are set to rise by a factor of seven by 2017, allowing them to claim more than one-third of the market for PC storage solutions by that time.
Client SSD has the inherent advantage that it consumes low power and is much quieter. This end market should also show a significant demand growth of 53% year-over-year to 18.49 million units in the first quarter of 2014. SanDisk supplies SSDs to the top 10 personal computer manufacturers, and SSD sales are expected to contribute 25% of its total revenue in 2014.
Share dilution had taken place due to various employee incentive awards. In order to offset the impact of share dilution, in May of this year, SanDisk made a strategic decision that it will be returning 70% of free cash flow to investors. It currently has $1.25 billion for repurchase by 2016. Out of this $800 million will be used this year for share repurchases as a result of which the total shares outstanding will come down by 13 million shares. As of May 2013, it has already bought back shares worth $234 million from its cash flow.
Besides this, SanDisk is also having a great future due to the rise in mobile computing space where the growth of "Smart Devices" need more and more storage chips and there's a large potential of growth of smartphone penetration in the sub $200 market till 2018 as per one research report. In addition, the availability of storage slots in many smartphones and tablets also keeps the demand for microSD card sales ticking.
In addition, SanDisk's product innovation, such as Extreme II SSD, has received good reviews and is expected to provide strong competition to other players in this end market. SanDisk is a good company to stay invested in for long.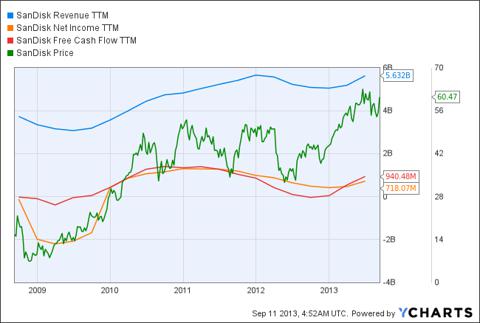 External storage is looking good
NetApp (NASDAQ:NTAP) has a 14.9 per cent market share in terms of revenue in the total data storage market, and it derives around 60% of its total revenue from its network attached storage, or NAS, segment. The Virtual storage market is a pot of gold valued at $10 billion currently with NetApp being one of the known players in this market, others being EMC, IBM and Hitachi, to name a few. The "pure NAS" market continues to grow at a much faster rate (15.9%) than the overall external controller-based [ECB] block-access market (2.3%), in large part due to the expanding NAS support of growing vertical applications and virtualization.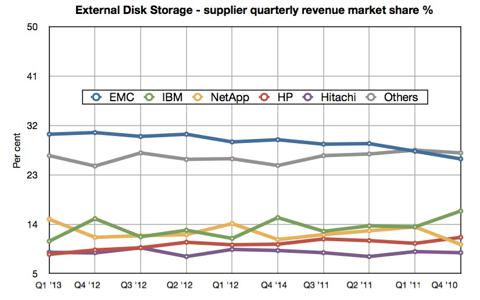 Source: IDC
As companies move toward adopting low priced network storage solutions, the demand for these products is bound to move up. Also, NAS installations are easier than other storage devices, which are very complex. With rising demand, the overall NAS market is estimated to grow at a CAGR of 12.2% through 2017, increasing its total data storage market share to 33%. This rising demand of NAS is expected to take the segment's revenue to $4.01 billion in 2014 rising from $3.80 billion in 2013.
In order to improve its operating margins, NetApp has announced a restructuring initiative. It is planning for a workforce reduction of around 1200 employees worldwide this year. This haircut is planned in the under-performing areas like the Engenio division, which hasn't been showing good results. The company will also bear $50 million-$60 million as a pre-tax charge relating to severance. The company expects that this restructuring will save it around $100 million annually before taxes from this year, which will rise next year.
NetApp is a good buy but one would need to watch closely how NetApp loses its market share to its main rival EMC and also new players like Tintri, which is gaining market share from both NetApp and EMC.
Hard Disk Drives aren't going out anywhere soon
Seagate Technologies (NASDAQ:STX) is one of the forces to reckon with in the HDD sector besides Western Digital (NYSE:WDC). It is one of the three global players in the HDD market.
In order to make its presence felt in newer markets, Seagate is developing newer products. The company has significant presence in the high-end corporate desktop and server markets, as compared to its main rival Western Digital. In addition, data-center and cloud storage solutions growth across the globe will result in the need for more storage drives and hopefully help Seagate perform better.
Seagate is already invested in the solid-state drive [SSD] sector and is also producing hybrid drives. In addition, demand for HDDs is here to stay as cloud computing grows and the need to store more data arises. Seagate is also having exposure to SSHD - solid-state hybrid drives -- which give the best of both worlds (the speed of SSD at the cost of HDD), another advantage worth considering.
Seagate can still do well depending on how its product development plays out. But the company is facing competition from strong players such as its old foe Western Digital and SSD high-flyer SanDisk. The stock has sold off from its 52-week high and pays a good dividend that yields 3.7%. But investors should be cautious and keep a vigilant eye on the developments in the storage industry if they are going long on Seagate.
Disclosure: I have no positions in any stocks mentioned, and no plans to initiate any positions within the next 72 hours. I wrote this article myself, and it expresses my own opinions. I am not receiving compensation for it (other than from Seeking Alpha). I have no business relationship with any company whose stock is mentioned in this article.