Aluminum is the most abundant metal on Earth. Its low density and resistance to corrosion makes it valuable in the automotive and aerospace industry. The metal's natural abundance makes oversupply issues a constant threat, as seen by a record 5.45 million tonnes stockpiled at the London Metals Exchange, recorded in June.
Aluminum has fallen around 11% so far in 2013, though it has rebounded some since hitting a four-year record low in June of $1,758. The largest aluminum manufacturer in the United States, Alcoa (NYSE:AA) has defied widespread skeptical analysis of aluminum's future by announcing global demand will rise 7% this year. Alcoa believes the metal will see prices resurge thanks to growing aerospace demand as evidenced by Boeing (NYSE:BA) and Airbus's recent aircraft orders totaling $129 billion.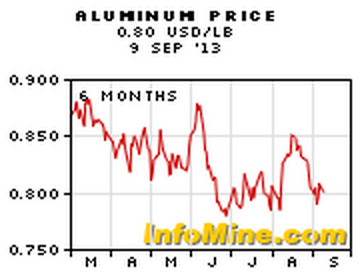 For investors looking to get in on the ground floor of the aluminum market, three U.S. stocks may provide the best potential for growth.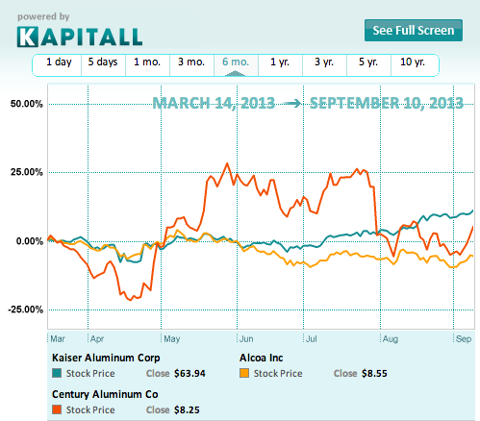 (Click to enlarge. Sourced from Zacks Investment Research.)
Alcoa (AA) is the largest U.S. aluminum manufacturer at $8.6 billion in market capitalization and a Dow Jones Industrial Average member (until this week) for over 50 years, making it widely known to investors. The company has released bold forward-looking statements about the future of the aluminum industry, despite seeing its stock price decline around 7% so far this year. In the face of low aluminum prices, Alcoa has embarked on a cost-cutting strategy that management says will reduce the cost curve by 10%.
As a mainstay of the aluminum manufacturing business, Alcoa comes with a dividend of 1.5%, which provides investors with a little downside protection. Expected earnings for 2013 average around $0.50 per share, which represents a 64% increase from 2012. If you consider the potential rise in aluminum prices, Alcoa's stock looks undervalued by about 15%.
Despite the performance in aluminum, Century Aluminum Co. (NASDAQ:CENX) was upgraded to a "buy" rating by Cowen in April. The acquisition of the Sebree smelter in Kentucky shows the company is growing and committed to lowering its cash cost structure. According to management's second quarter statements, they plan on reducing cash costs of production by $180 per ton, bringing total cash costs down to a range of $1800 to $1900 by December 2013.
Like Alcoa, Century Aluminum has high EPS growth expectations for next year - $0.46 per share, a 198% increase. The company also refinanced $250 million in debt, reducing interest costs from 8% to 7.5% coming due in 2021. As aluminum prices look to have bottomed, Century could hold value if the metal rises above $1800.
Kaiser Aluminum Corporation (NASDAQ:KALU) differs from Alcoa and Century in that Kaiser's business model focuses more on the downstream part of the aluminum business and has less exposure to negative price movement in the commodities market. This can be seen in the 15% gain the stock has seen this year. Kaiser is well situated to take advantage of the growing aerospace and automotive sectors, with 70% of value-added revenue streaming from those two segments.
According to Kaiser's research, global air travel is expected to double within 15 years and aircraft order backlogs will continue to increase exponentially. Estimates predict steady growth for Kaiser of 15% over the next five years, which gives the stock plenty of room to run. Protection from downside risks come in the form of a dividend of 1.7% and a balance sheet with only $663 million in total liabilities against current assets of over $736 million.
Like other materials, aluminum seems to have seen the worst action earlier in the year and has now begun a shift towards the upside. While the industry faces challenges from poor performance and supply gluts, global demand in the aerospace and automotive industries may offset those issues. And aluminum stocks, such as Alcoa, Century, and Kaiser stand to rise with the transportation tide.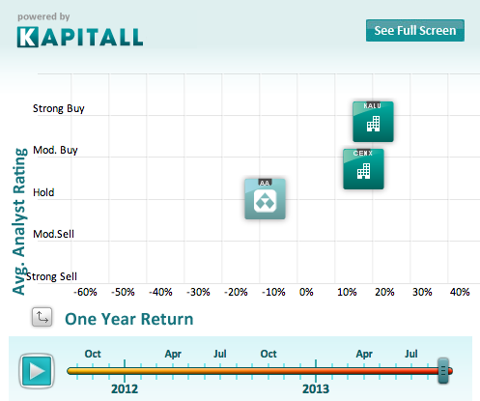 (Click to enlarge. Sourced from Zacks Investment Research.)
Disclosure: I have no positions in any stocks mentioned, and no plans to initiate any positions within the next 72 hours.
Business relationship disclosure: Kapitall is a team of analysts. This article was written by Daniel Cross, one of our writers. We did not receive compensation for this article (other than from Seeking Alpha), and we have no business relationship with any company whose stock is mentioned in this article.