If I said I was looking at a sixty year old company trading at less than book value with a PE of 7 and a dividend of 4%, which appears to be developing a perfect inverse head and shoulders pattern, I might get your attention. If I then mentioned it was a holding of Jeremy Grantham, I think most investors would get very interested. However, if I further told you that the stock is down over 60% ytd, is an emerging market mining company, and just recently had a "kitchen sink" quarter, you might become a little hesitant! This is a falling knife that has drawn some blood, but now is the time to grasp it by the handle and add it to your portfolio.
Compania de Minas Buenaventura (NYSE:BVN), a diversified Peruvian mining company, is involved in the mining of and exploration for gold, silver, zinc, lead, and copper. They are also an electrical utility company as well as a provider of geological, engineering, and construction services to other mining companies. In addition they have joint ownership interests in projects with (NYSE:GFI) and (NYSE:NEM).
Triple Whammy
The stock has been hit by a triple whammy of late: 1. the 2013 massacre of emerging market stocks; 2. the selloff in gold and gold mining companies; and 3. the selloff of everything China (Peru's second largest trading partner).
1. Sooner or later EM stocks are going to make it out of the woodshed, and when they do BVN is going to attract some positive interest. Currently less than 50% of the float is owned by institutions, which leaves a lot of room for money to flow in.
2. I don't prognosticate on the moves of gold, but there has been a bounce for a lot of precious metals mining stocks in which BVN has participated somewhat. As pessimism and uncertainty ameliorate over time, BVN's stock price will benefit.
3. China has come through with some stronger than expected numbers recently and several China stocks and ETFs are showing some strength. When investors start to see China as glass half full this will lift a weight off many EM stocks that depend on trade with China.
Upside
So far we've simply been discussing those factors weighing on the stock. Now we'll explore a few things that could really elevate the share price.
First, as well stated by JP Morgan's John Bridges back in July:
Little went right for BVN this quarter. There were strikes at Uchucchacua and Julcani, metal prices were lower and this led to negative concentrate adjustments. There was a heap leach inventory adjustment at Yanacocha. Income from BVN's other major associate Cerro Verde was also lower on copper prices and production. Yet BVN continues to generate free cashflows, is optimistic it can still achieve its gold and silver production guidance for 2013 and pays dividends. The company's Rio Seco initiative to upgrade silver concentrates should be commissioned in Q3 as should its world scale hydro power project that should significantly lower operating costs. The market will be disappointed with this result but we'd be buyers of the stock on severe weakness.
Additionally there is the future potential of the Chucapaca mine, which has about 8 million ounces of gold and is a joint project with Gold Fields in which BVN is a 49% owner and GFI owns 51%. The decline of gold prices this year has caused some revision in cap ex plans for the mine, but at $12.50 the stock is pricing in zero production in my opinion.
Reversion to the mean for inflation. We haven't seen inflation for some time but eventually we'll revert to the long term averages. As the Fed begins to taper, this could be the first baby step back to a time of normalized inflation and growth. From here, normalized inflation expectations flowing through to gold and silver in a historically normal way would present a significant boost to the entire mining sector.
Reversion to the mean of Emerging Markets. For some time now, the US has been the favored safe haven. But eventually money will flow back to EM in search of growth. This could go along with a return to normalization in the bond markets. Once the uncertainty clears over tapering, China, and Syria, etc. there should be some money flowing back to EM bonds and stocks.
Reversion to the mean for China. In the bigger picture growth in China is still going to be one of the huge stories of this century. Volatility is to be expected, but if you can take the longer time horizon and understand the risks then the dips are to be bought. When stabilization returns and uncertainty is lessened, money will flow back to China and to those emerging markets that depend on China.
Expectations
The technicals and the fundamentals have been abysmal. The last quarter was a "kitchen sink" quarter, one where management knows it's going to be bad so they load up all the bad news they possibly can. In theory this gets it all out clearing the decks for improvement going forward. Revenues, EPS, gross margins, operating margins, net margins have all been going down.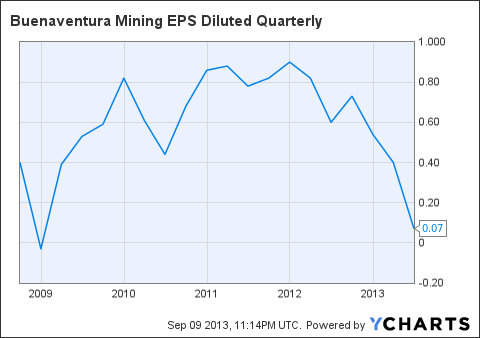 BVN EPS Diluted Quarterly data by YCharts
My expectation is that this bottoming process could take a while, but buying at less than book value and receiving a 4% dividend makes the waiting easier. Eventually, should the stock complete the head and shoulders pattern, then resistance at $14.75-15 would turn into support. After that BVN could begin the journey back to $30.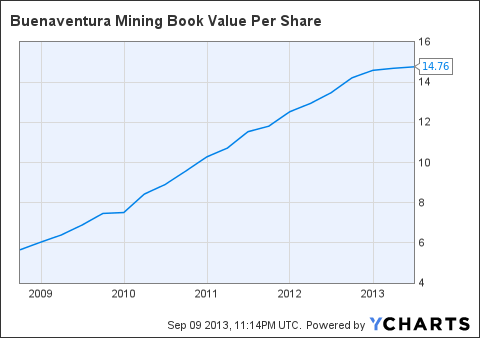 BVN Book Value Per Share data by YCharts
Risks
While I like buying a stock at low valuations, and especially when someone like Grantham bought at higher prices, there is always the risk that the market is correct; that the stock is right where it should be and I'm simply not aware of critical information. There is the possibility that the naysayers on China are right and the data showing improvement is simply fabricated and things there are worse than I think. There is the possibility that the Fed mismanages the taper and causes another EM crisis. While any or all of these are possible, BVN's current valuation provides an attractive risk/reward proposition. The risks are there, but it's time to take a stab at BVN for the turnaround.
Disclosure: I have no positions in any stocks mentioned, but may initiate a long position in BVN over the next 72 hours. I wrote this article myself, and it expresses my own opinions. I am not receiving compensation for it (other than from Seeking Alpha). I have no business relationship with any company whose stock is mentioned in this article.