With last night's address to the country, it appears that President Obama has been outmaneuvered by Putin. We try not to get political here, but we see some issues creeping up from this situation that may very well define the legacy of his presidency. The main one is indecision and an inability to stick his neck out and lead. This is the reason the economy has not grown faster and Washington has been unable to pass any legislation to aid the Federal Reserve in nursing the economy back to health. The need to depend upon polls to make decisions is leading by proxy and often one has to make the hard decisions that others do not agree with in order to move the country forward. If Syria has highlighted anything for us, it is this.
Expect to hear a lot about the disappointment of Apple's announcement yesterday and the strength behind the demand for Verizon's debt offering.
Chart of the Day:
Bond funds have had a rough go of it lately, starting back in June as this chart shows, but one has to wonder what the Verizon deal means for them. Will investors see the interest and look to get back into bond funds or are they going to pick and choose these issues themselves from now on and simply buy individual bonds? It remains to be seen, but we are looking for any hint after this bullish news surrounding Verizon.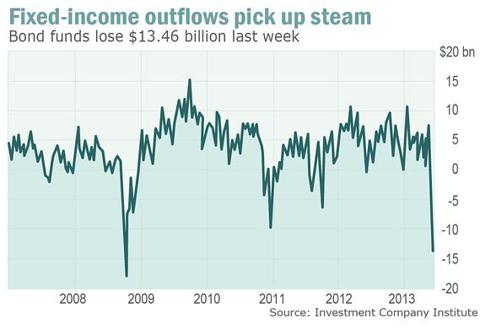 Source: Investment Company Institute via MarketWatch
We have economic news today and it is as follows:
MBA Mortgage Index (7:00 a.m. ET): Est: N/A Actual: -13.5%
Wholesale Inventories (10:00 a.m. ET): Est: 0.2%
Crude Inventories (10:30 a.m. ET): Est: N/A
Asian markets finished higher today:
All Ordinaries -- up 0.61%
Shanghai Composite -- up 0.15%
Nikkei 225 -- up 0.01%
NZSE 50 -- up 0.15%
Seoul Composite -- up 0.49%
In Europe, markets are mixed this morning:
CAC 40 -- down 0.02%
DAX -- up 0.55%
FTSE 100 -- down 0.10%
OSE -- up 0.65%
Technology
We pretty much got what was expected yesterday from Apple (NASDAQ:AAPL) with two handsets, the 5S and the 5C. The 5C does in fact come in various colors and is made of a plastic and not metal. The model will allow a new entry point for consumers and should open new doors for Apple with consumers. There was no big announcement regarding a new large Asian carrier, which disappointed some yesterday but that was more rumor than fact. Those 800 million or so consumers will have to continue to wait until they can purchase Apple phones, but we saw a few comments yesterday which indicated that an agreement may not be that far off into the future.
Shares in Apple are quoted lower this morning after taking negative comments from analysts and appear set to open lower by nearly 5%. We will agree that there was little innovation in the latest update; however, we would expect the next big tech upgrades to happen on the 6th generation of iPhone, with bigger screen sizes and an integration of competitors' key selling points into their package at a minimum. There is still good news in the pipeline so although many are disappointed after the unveil yesterday we would utilize this pullback to either add to positions or create new ones.
Whereas Apple sold off after their big unveil on disappointing investors and analysts alike, ARM Holdings' (NASDAQ:ARMH) shares spiked after it was revealed that the new iPhone was running on the company's A7 chip. Investors have been fleeing from ARM Holdings lately, but we remained bullish and stated that the pullback was to be bought all the way down in the $35-40/share range because they were still way ahead in mobile technology and although margins were falling for their customers, it was our belief that theirs would not be affected as much in the near-term as more consumers in emerging markets chose smartphones over regular cellular devices. Even after yesterday's nearly 8% rise, we remain bullish of this tech star and think it has a bit further to run.
Volumes will become the story here moving forward, and the continued use of the company's technology by Apple will aid in ARMH's continued revenue and profit growth.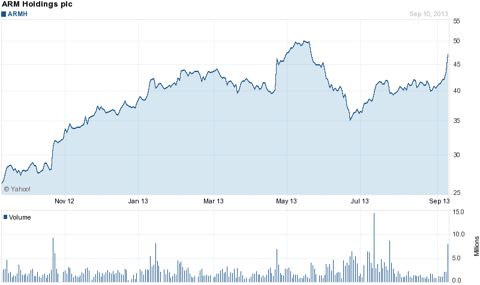 Source: Yahoo Finance
Netflix (NASDAQ:NFLX) saw its shares hit new highs yesterday as the shares rose 6.43% to close at $313.06/share. Earlier in the week, Carl Icahn stated that he had not sold a single share in the company and did not foresee a situation where he would be a seller in the near-term because the company's business is not easily replicated. We have not been buyers of this name and did in fact miss it, however, we find it interesting that Mr. Icahn believes that the business is nearly unassailable. Amazon has launched its own service and for those companies already possessing boxes in the consumer's living room (think X-boxes, PlayStations and Wiis) it does not seem that farfetched to think that these companies could launch their own service. Google or Apple could always enter into the industry to support their devices as well, and that would be the ultimate worst case. None of that has happened at this point, but it is the possibility of if they did that keeps us away.
We wonder how much higher the name could go based off of the recent news without more detailed information regarding the company's new avenues for growth, namely the original programming.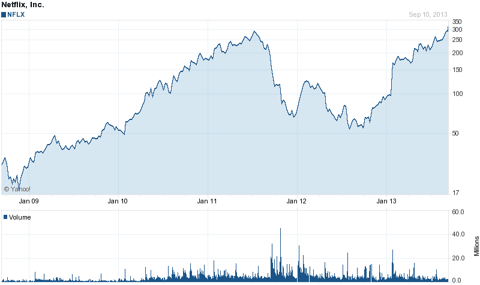 Source: Yahoo Finance
Telecommunications
We should see Verizon (NYSE:VZ) close its bond deal today and initial reports out this morning indicate that the company will end up offering $45-49 billion in bonds that will help finance the company's acquisition of the 45% of Verizon Wireless that it does not currently control. The demand for this offering is extremely high, with investors placing orders for $90 billion of the debt when the company was only looking to sell $20 billion in this initial tranche. This is a bit surprising to us as rates are rising and we should have a changing rate environment over the next year or so, but at the end of the day it is high quality paper and should pay investors a higher yield than some of the company's current debt outstanding. We see this as bullish as it will potentially lock in most of the bond financing that the company needed to do to raise capital for the deal and will lower the risk that Verizon is unable to sell bonds in 2014 because of unforeseen market events.
Airlines
We discussed Delta Airlines (NYSE:DAL) when it was announced that the company was to be added to the S&P 500 as of the close of business on September 10th and the stock rose into that news. Shares are now priced at $22.63/share as of the close yesterday and will probably pull back a bit now that the index funds have bought their required shares. This is what was behind the big volume, over 206 million shares traded, yesterday. Also bullish for the company is the fact that oil prices are retreating a bit due to the events surrounding Syria and this means jet fuel is getting cheaper as well. The company has the hedging program with their refinery in Pennsylvania so they shall only get stronger as prices get cheaper.
Disclosure: I have no positions in any stocks mentioned, and no plans to initiate any positions within the next 72 hours. I wrote this article myself, and it expresses my own opinions. I am not receiving compensation for it (other than from Seeking Alpha). I have no business relationship with any company whose stock is mentioned in this article.