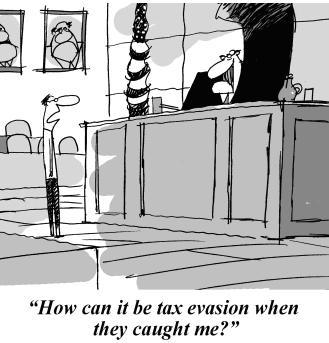 CEF Weekly Review: The 13 closed end fund (CEF) types on average were up 0.6% for the week ending 10/23/09.
On an aggregate, unweighted basis, the weekly average price change for 514 CEFs was up 0.7%.
The weighted 49 CEFs comprising the Claymore CEF Index registered an average decline of 0.2% for the week. The S&P 500, as measured by the SPDR S&P 500 ETF (NYSEARCA:SPY), registered a decline of 0.7%.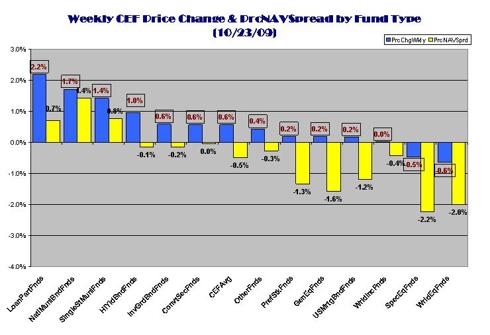 (Click Here for YTD CEF Performance. The table is based on a 272 CEF sample size as all the data fields are not available for the CEF universe.)
The Eqcome CEF Fear Index was neutral with prices and NAVs advancing approximately 0.7%. The CBOE Volatility Index ((VIX)), which typically moves inversely with the stock market, was volatile during the week and rose throughout Friday to close the week up 3.9%. (See "Market Perspective" below for more on the VIX)
CEF Weekly Fund Type Performance: CEF fund types generated a unique array of price performance with equity and fixed-income fund types being interspersed. Most recently fund types have been bifurcated. Equity and fixed income have been bunching above and below the average in a mutually exclusive fashion. Whether this is an indication of investors' confusion on the general direction of the markets or just a longer-term transition caught in snapshot form will be played out in future weeks.
Munis had recently lagged in weekly performance. NatlMuniBndFnds and SingleStMuniFnds advanced for the week taking slots two and three, respectively. Munis are generally considered a conservative investments and one that performs well in a risk adverse environment. However, book-ending Munis were LoanPartFnds on the topside and HiYldBndFnds on the bottom. It seems an odd mixture of investors' risk assessment.
This may be a function of investors' displeasure of receiving a return of almost nothing on their money market mutual funds and are seeking high yields without regard to the assets that generate it.
CEF Spread Changes: Changes in PrcNAVSprds generally follow the trend of price movement. This is typically the case when markets generate meaningful price changes. NAVs that increased more than share prices were most pronounced this week in SpecEqFnds and WrldEqFnds.
CEF Winners and Losers: One of the best performing CEFs for the week was PIMCO New York Municipal Income Fund III (NYSE:PYN). PYN was up 7.5% on price appreciation and generated a positive PrcNAVSprd of 7.0%. PYN is trading at a 6.3% distribution yield (10.2% taxable equivalent yield) and at a premium of 7.1%. Other NY single state muni CEFs also performed well.
There was one exception, Blackrock NY Muni Bond Fund (NYSE:BQH); it was off 3% for the week. BQH is trading at 6.4% distribution yield and at a 2.9% discount. The stock declined on Friday on higher than average volume. BQH typically declares its monthly distribution at the beginning of the distribution month.
One of the poorer performing CEFs during the week was First Trust Active Div Income (NYSE:FAV). The stock's downdraft was more than likely caused by it going ex-dividend earlier in the week on its quarterly $.46 per share distribution.
Market Perspective: As it appears we may be at a stock market inflection point, there are a handful of reliable stock market sentiment indicators. One of them is the VIX. The VIX (CBOE Volatility Index) measures the market's expectation of 30-day volatility implicit in the prices of near term index options (S&P 500 in the case of the VIX). The index is a leading barometer of investor sentiment and market volatility and is sometimes referred to as the stock market's "fear gauge".
The VIX has been flashing signals that the market is likely to move higher near-term as investors have embraced risk. Currently they are paying very little in the way of downside protection.
The chart below tracks the adjusted price movement of the S&P 500 and the inverted adjusted price movement of the VIX. (For the purpose of visual analysis, the VIX has been inverted as it has a tendency to move inversely with the stock market. Over the past 4 years the negative correlation has been approximately .84. As a consequence, a rising VIX would be depicted as falling on the chart below.)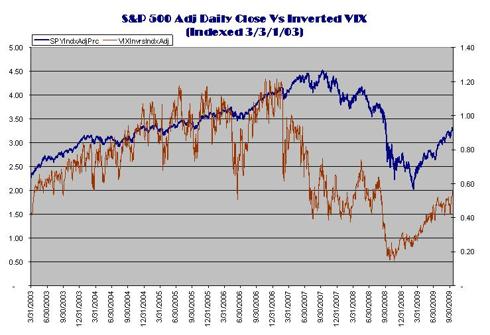 The VIX is down from its peak "panic heights" of 80.86 on November 20, 2008 to its current valuation of 20. Despite the plunge, The VIX's historical average has been 20.38 since its 1990. So a VIX below 20 is often interpreted as positive investors' sentiment.
One particular note is that in the most recent stock market peak and collapse, the VIX was turning down (March of '07) well before the peak of stock market in October of '07. The VIX deserves investors' attention—although, it is not recommended to be used as a sole indicator for market sentiment. It's should be viewed in conjunction with other market sentiment indicators such as Dow Theory.
(Click here for next week's economic calendar; click here for earnings announcements and estimates.)
ETFs: (Click Here for ETF YTD sector performance.)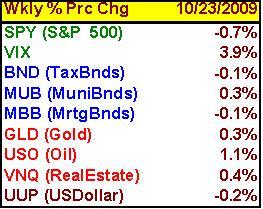 Insider Trading: There were some new insider purchases for Form 4 filings as of 10/22/09 of size.
MassMutual Corporate Investors (NYSE:MCI) saw two insiders (Trustees) add to their positions in MCI. Donald Glickman added 8,000 shares at 25.54 per share for a total outlay of $203,600. He now owns 13,600 shares. Michael H. Brown was a buyer of an additional 1,500 shares for a total outlay of $37,350 and brings his share total to 5,000.
MCI has little institutional ownership (6%) and insider holdings (1%). The CEF invests in convertible debt oriented securities. It trades at a 6.7% premium with an 8.65% distribution yield.
Van Kampen Muni Opportunity Trust (NYSE:VMO) saw the exercise and sale of 18,000 shares my Merrill Lynch. The advisor, Van Kampen Investments, Inc, is scheduled to be sold to INVESCO Ltd. Both BofA and Merrill were active in exercising and selling positions in several CEFs.
Karpus Management (Karpus), an activist CEF investor, was energetic in two Putnam CEFs. Karpus continued to add to its position in Putnam Muni Opportunity Trust (NYSE:PMO). Karpus added another 18,800 shares for a total purchase of $211,723 for the month. Karpus has accumulated 5,315,388 shares of PMO which represents 12.4% ownership. Its average cost per share is around $10.80 per share. The current price is $11.11 per share. The current distribution yield is 7.16% and it is trading at a 5.93% discount.
Karpus was also active this week in Investment Grade Municipal Income Fund (PPM), another Putnam advised fund. It added another 3,600 at an average price of $13.71 per share for a total expenditure of $49,356. It now owns directly 27,549 shares. Karpus has constructive control of approximately 11% of the shares outstanding.
PPM has attracted other activist investors as insiders. Western Investment owns approximately 6%. After initially resisting calls for liquidation, the board of PMM has recommended a proposal to liquidate and dissolve the Fund. The stock trades at a 4.2% discount to NAV.
Directors and officers continuing to add to their earlier positions this month were Bernard J. Korman, director, in New American High Income Fund (NYSE:HYB) and Paul L. Brennan, V.P. & Assistant Secretary for Nuveen Dividend Advantage Muni Fund III (NYSEMKT:NZF).

CEF Distribution Announcements This Week: The following is a link to a table of CEF distribution announcements announced this week. The list is not intended to be inclusive. While reasonable care was taken in its construction, please confirm its accuracy independently prior to making an investment decision based on this table. (Click Here for Weekly CEF Distribution Announcements)
CEF Focus for the Week: In last week's review we considered munis might see a bounce off several weeks of poor performance. The stock pick in that group was less prophetic. That pick, Putnam Managed Municipal Income Trust (NYSE:PMM) declined in price. Rats!
PMM may still deserve investors' attention. PMM's distribution yield is 7.2% (tax-free equivalent of 11.0%) and is selling at a 6.8% discount. The stock trades on average 127,298 shares daily based on a three month average. Its portfolio holdings are national and its portfolio is valued at $634 million making it large enough for portfolio diversification.
Consider it food for discussion.
Disclosures: SPY & GLD and a diverse CEF portfolio including PMM.