CA Technologies (NASDAQ:CA) may well be a technology name that you have heard of but struggle to know exactly what it does.
The company describes itself as an entity that works to "manage, monitor and secure underlying infrastructure" for clients. Typically the core infrastructure is a mainframe and CA Technologies is a strong number two (24% market share) in this area to a small company everyone would have heard of called IBM (33% market share).
The second aspect of the business is to boost its credentials in the broader enterprise management/security and related area where it can start selling 'software as a service'. I thought this graphic captured the opportunity the company is seeking: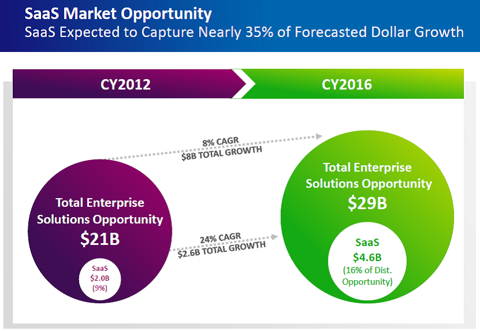 This is very much a business turnaround opportunity and it is being headed by a new CEO - Michael Gregoire - who joined the company early in 2013. His vision is laid out fully in this useful link but in essence it is to push into these newer areas, assisted by evolutions to the way the company undertakes R&D and its marketing and sales forces - bloated by too many years of 'easy' mainframe computer business - work.
It is a tough task though. Not only are companies getting more picky but business conditions clearly remain difficult. Sales have fallen for the last five quarters although the mainframe business remains solid, renewals are still high and innovations continue (web 2.0 interface etc). The company also retains 600 patents with a further 600 'under review.' Guidance for FY14 remains flattish.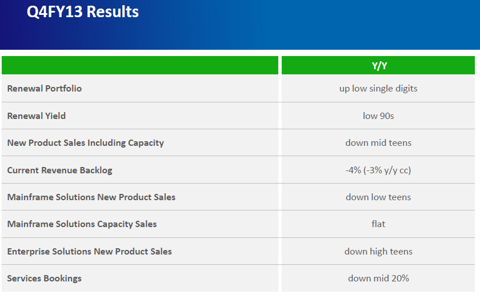 It is the correct theme to follow though. Fortunately CA Technologies is blessed with a strong balance sheet. It has net cash on the balance sheet (market cap $13.9bn, EV $12.7bn), yield over 3% and trade on a x12 P/e falling prospectively to nearer x10. Cash flow, as noted below, even with the turnaround investments noted above, is prospectively anticipated to be in the $1bn (c. 7% yield).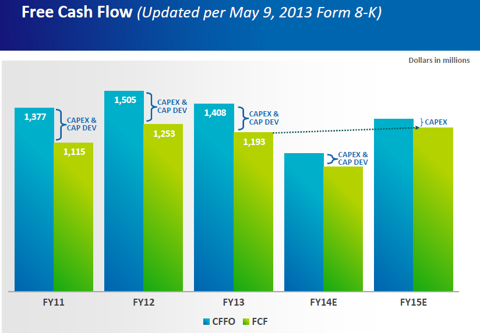 How should we expect that cash to be used? $500m for buybacks, c. $300m for dividends and the balance for 'tuck-in' acquisitions. The free cash flow yield return to shareholders from the former two areas equates to well over 6%.
Whilst the shares are near recent highs, as the chart below shows, they are still near levels seen a decade ago - hence the need for Mr Gregoire to come in and propose a material corporate evolution.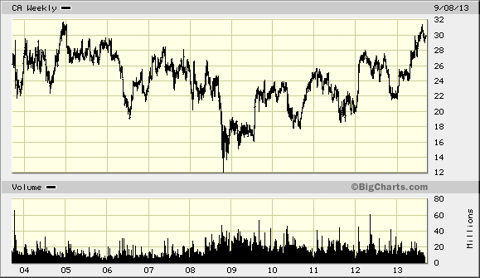 Progress is never a straight line for turnaround plays and CA Technologies' volatile year-to-date share price chart reflects this. Nevertheless a rating of around x8.5 EV/ebit takes account of a number of these risks and the balance sheet/cash flow from the mainframe business (60% margins versus 10% in enterprise) also lowers risks.
It is worth keeping an eye on progress here but I am not going to buy the shares today. I can see many options for this company (private equity etc.) if the turnaround does not fully work. Ideally I would like a sub x8 EV/ebit rating today to compensate for some of the risks/uncertainties/lack of immediate growth. That is sub a $28 share price to start building a position today.
Disclosure: I have no positions in any stocks mentioned, and no plans to initiate any positions within the next 72 hours. I wrote this article myself, and it expresses my own opinions. I am not receiving compensation for it. I have no business relationship with any company whose stock is mentioned in this article.