McGraw Hill Financial (MHFI) has had a very funny 2013 to-date. It would generally be enough for any company to divest of its long-held media assets, become a pure play financials company, change its name and - accordingly - ring the bell at the stock exchange (see the picture below).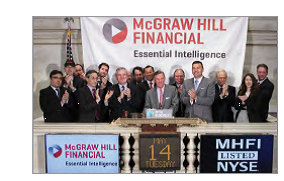 As the share price chart over the last year shows, the other event which has impacted shares during 2013 has been the Department of Justice investigation into a variety of issues within its Standard & Poor's debt rating business during the financial crisis.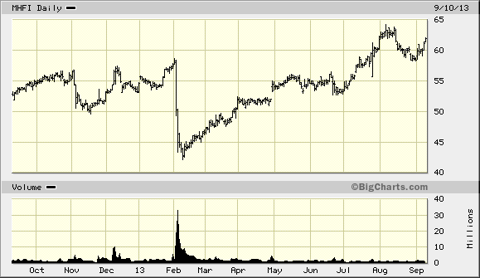 Remarkably though - with the legal case still outstanding (and potentially unlikely to be concluded for a number of years), the shares has gone through the pre DOJ case announcement to a high point. Clearly, something is going right at McGraw Hill Financial.
Operationally the company remains in high single digit revenue growth low-to-mid double digit earnings growth mode. Its full range of business segments are noted below. As well as Standard & Poor's, the company also has other strong brand names such as S&P Capital IQ, Platts and JD Power. In a world where content/information is valued highly, these are good assets.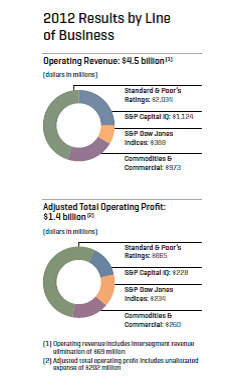 The core ratings agency business continues to benefit from the global trend away from bank debt issuance toward more bond issuance and, with the ratings agency business being dominated by S&P, Moody's (NYSE:MCO) and Fitch only possibly the DOJ can upset the apple cart (although only pursued McGraw Hill). Comparison numbers remain tough but the business continues to move forward.
Other strong global positioning includes exchange indices...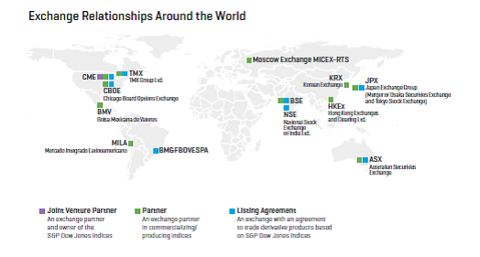 ...and the further rise of ETFs based on S&P indices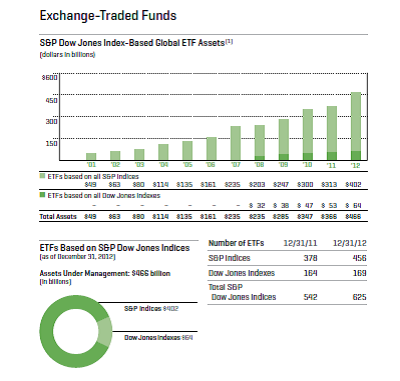 If it was not for the DOJ ongoing investigation, how would this collection of assets be valued? With high levels of renewals/subscriptions I would value the US$1.6bn operating income flow (FY13e) at a x12 multiple giving a theoretical "value" of US$19.3bn. This late in the year, a case could definitely be made for looking at 2014 numbers which would - on a 10% extrapolation - push up the theoretical valuation to around US$21bn.
The current market cap of the company is US$17bn with an EV of US$15.4bn (net cash on the balance sheet).
Now the DoJ investigation still lingers. I liked this report which highlighted some of the absurdities around the investigation. Press reports a few months ago suggested that the DoJ was looking for a US$1bn+ fine (despite the US$5bn headline legal case) but McGraw Hill was unwilling to pay this amount and preferred to go to court. We will probably never know the truth about this but, as we stand today, to wipe out all the net cash on the balance sheet feels prudent, especially as the company is generating US$800m in additional money a year.
So a US$17bn market cap versus a US$19.3bn-21bn valuation...that is a 12-23% upside scope, on the current share price of just under US$62, or a target share price of between US$69-76. Call it US$70 on a round number basis.
McGraw Hill Financial remains a difficult investment for many people but this should not put investors off. Strong brands, repeatable business and exposure to continuing themes more than outweigh the residual legal concerns.
Disclosure: I have no positions in any stocks mentioned, but may initiate a long position in MHFI over the next 72 hours. I wrote this article myself, and it expresses my own opinions. I am not receiving compensation for it. I have no business relationship with any company whose stock is mentioned in this article.