This week found us in cash as the markets appear to be hitting the ceiling at approximately 1100 on the S&P 500. We remain in "Yellow Flag" mode and expect choppy prices ahead.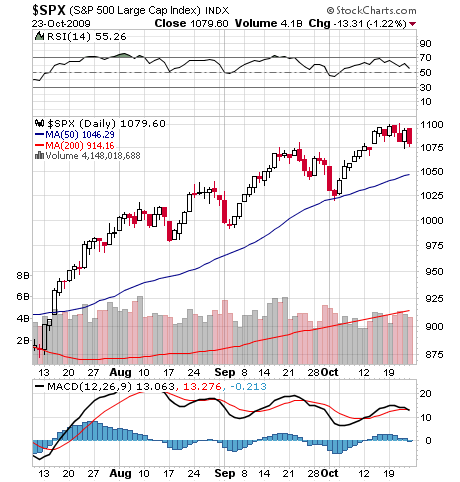 Chart courtesy of stockcharts.com
In the chart above you can clearly see the resistance level at 1100 and support at 1075 with the 50 Day Moving Average just below at 1046. On the lower graph, the MACD is curling back into a "sell" signal on the daily while the weekly still indicated positive momentum.
So clearly the rally is running out of steam for now and the only question that remains is if it can reignite itself and power through the 1100 level.
As we mentioned last week, 1121 is another significant resistance point in Fibonacci theory.
Short term, the % of stocks trading above their all important 50 Day Moving Average took a 10% decline on Friday to stand at 71%, down from over 90% in mid September.
And the Dow gave up the psychologically important 10,000 level after just reclaiming it last week.
We could see a rebound on Monday but overall choppy to declining prices are most likely ahead.
The View from 35,000 Feet
Weakness in the markets stemmed from housing starts being less than forecast in September and higher than expected initial jobless claims on Thursday.
Also building permits fell for the second time in 3 months and Burlington Northern (BNI), a bellwether transportation company, declined -8.4% on concerns over weak real shipments reflecting declining consumer demand.
Boeing (NYSE:BA) was a significant earnings miss and concerns about overvaluation persisted with the S&P 500 now standing at 20 times operating earnings, its highest level since 2004.
On the positive side of the ledger, tech continued to shine with Amazon blowing away estimates and Microsoft (NASDAQ:MSFT) putting in a good performance.
Overall, earnings are on track for an eighth consecutive quarter of declines, a record, and more bank failures on Friday pushed the total to 106 for the year, the highest since 1992.
This coming week will bring another avalanche of earnings reports from nearly 150 S&P companies including heavyweights like Exxon (NYSE:XOM), Corning (NYSE:GLW), Visa (NYSE:V), Procter & Gamble (NYSE:PG), General Dynamics (NYSE:GD) and Chevron (NYSE:CVX), all of which should give us more insight into the strength of the recovery.
Depending upon whom you read, we're either on the cusp of a crash or the dawn of a new bull market. Such is the nature of these confusing times.
My indicators still show an uptrend intact but with significant short term weakening.
The Week Ahead
Tuesday: Case/Shiller August Home Price Index
Wednesday: October Consumer Confidence, September Durable Goods, September New Home Sales
Thursday: Weekly Jobless Numbers, Q3 GDP
Friday: October Purchasing Managers Index, October Michigan Consumer Confidence Index
Sector Spotlight:
Leaders: Commodities, Hong Kong, China
Laggards: Home Builders
Disclosure: None