August and September are usually interesting months for dividend investors as a lot of well-known dividend stocks usually announce their annual dividend increase. Altria Group (NYSE:MO) recently did so, announcing a 9% dividend increase. Today, it's Altria's 2008 spin off, Philip Morris (NYSE:PM), which announced it's annual dividend increase. Below are some key highlights after this announcement.
This is PM's 6th consecutive dividend increase since the 2008 spin off.
The latest dividend jump is from 85 cents a share/quarter to 94 cents a share, a 10.6% increase.
The quarterly dividend per share has more than doubled from 46 cents a share in 2008 to 94 cents a share in 2013.
The new dividend will be paid to shareholders on 10/11/2013, with the ex-dividend date being 09/24/2013.
This article was written in September 2012 after PM's dividend increase that year. With the new dividend being announced, it is time to reevaluate the numbers written in the original article.
New Yield: The current yield on PM's stock works out to almost 4.5% as of this writing. While that is still lower than industry peers like Lorillard (NYSE:LO) and Altria, PM is expected to grow at a faster rate because of its international dominance. A testament to the dominance is having a market share of 16% of the international tobacco market.
Payout Ratio: The new annual dividend of $3.76 per year gives PM a payout ratio of 73%, based on its current EPS of $5.15 per share. This number has gone up in the last couple of years but this could also be a sign that PM expects its earnings to increase. As a reminder, Altria Group intends to pay 80% of its earnings to investors as dividends.
Five-Year Dividend Growth Rate: With the new dividend, the five-year dividend growth rate [DGR] is now almost 12%. This is lower than the five-year DGR of 13% at the time of the previous article, but it's more than likely that most investors would still take it.
Extrapolation: As in the original article, the table below assumes an 8% annual dividend growth rate, which is significantly lower than what PM has managed so far. Given parent Altria's inclination to reward share holders, PM can be expected to follow suit.
PM is often cited for having the lowest yield among tobacco stocks. But as the table below shows, long-term investors can safely expect their yield on cost to more than double within 10 years. The same cannot be said of some high-yield stocks with very large payout ratios and declining dividend growth.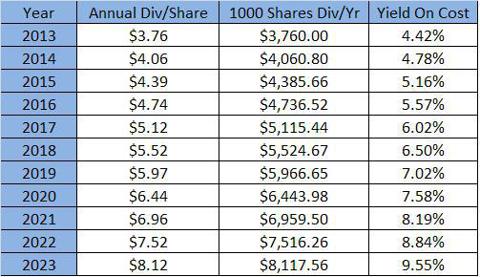 Conclusion: While PM still has (and will likely continue to have) some of its usual concerns like an increasing debt level and more stringent international regulations, the tobacco companies have shown time and again they know how to operate in challenging environments. This article focuses primarily on the dividend returns to long-term investors. If we factor in PM's double-digit earnings growth forecast and the share buybacks, it is hard to look past this stock.
Disclosure: I am long PM, LO, MO. I wrote this article myself, and it expresses my own opinions. I am not receiving compensation for it (other than from Seeking Alpha). I have no business relationship with any company whose stock is mentioned in this article.
Additional disclosure: This article does not endorse or encourage smoking. As always, please do your own research before buying or selling a stock.