It is shocking that so many in the investment community have shown an unhealthy level of support for Nokia Corporation's (NYSE:NOK) CEO Steven "They Call Me the General" Elop. I was surprised that Elop has been given a wide berth by the investment community when we consider the pitiful and pathetic performance achieved under his leadership. I was surprised that Nokia's share price shot up by 238% since its lows in June even though Nokia continues to see its sales sag and it eliminated its dividend. I can see that Elop's Burning Platform memo ended up killing Nokia's Devices and Services business and almost put the company out of business. Fortunately for Nokia, it was at least able to salvage €5.44B ($7.2B) by selling its Devices and Services division as well as a license to use Nokia's patents to Microsoft Corporation (NASDAQ:MSFT) on September 3rd.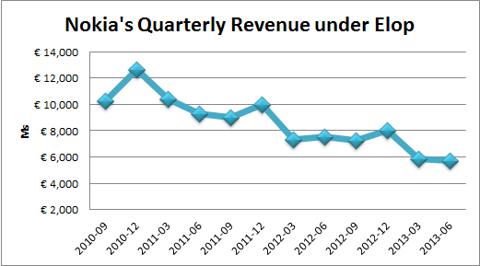 Source: Morningstar Direct
I think it was a mistake for Nokia to hire Stephen Elop based on his record of results at his previous jobs. Elop was previously the CIO of Boston Chicken, a broken-growth fast-casual rotisserie chicken chain that went bankrupt in 1998. Considering that Boston Chicken opened stores at a rapid pace in order to recognize a $35K fee for each new store opened and $15K on top of the new franchise fee for Boston Chicken's software package, I believe that he played an integral part in the tale of that Corporate Icarus. Elop went on to Macromedia and helped them grow by acquiring other companies, then sold the company to Adobe Systems (NASDAQ:ADBE). He was then president of worldwide field operations at Adobe until leaving at the end of 2006, then was Juniper's (NYSE:JNPR) CEO for a year until he ended up as head of Microsoft's Business Division. Microsoft Business had come off a 30% year-over-year increase in profits and revenues before he arrived. In his 33 months leading Microsoft Business, it saw its revenue and operating income stagnate.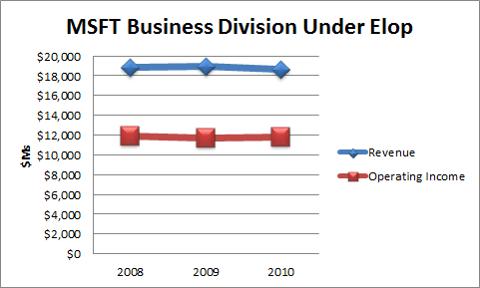 Source: Microsoft 2010 Annual Report
I concede that the Nokia Siemens Networks division's performance improved under Elop's tenure. When Elop arrived, NSN was in the fourth year of a six-year consecutive streak in which it lost money. Although NSN's revenue sagged under Elop's leadership, the acquisition of Motorola Solutions (Motorola's telecom equipment business) helped serve as a catalyst prompting Nokia to engage in proactive cost cutting in order to improve the division's bottom line. This resulted in NSN achieving €11M ($14.6M) in IFRS-reported profit in H1 2013. If NSN remains profitable in H2 2013, this will be its first reported profit since 2006. On July 1st, Nokia announced that it would acquire Siemens' entire 50% stake in NSN. Nokia will pay Siemens €1.7B ($2.25B) cash for Siemens' stake in NSN (€1.2B upon closing ($1.59B) and €0.5B ($0.66B) 1 year after the deal closes).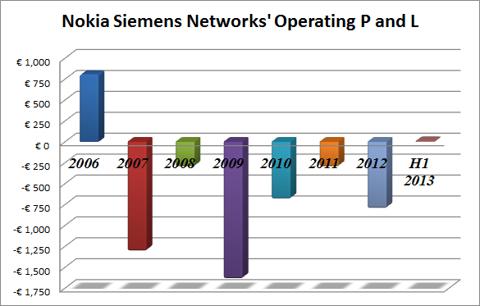 Source: Nokia Annual Reports: 2007-12 and Q2 2013 Results
I will also concede that Nokia's HERE division (Formerly NAVTEQ and formerly Nokia Location & Commerce) registered incrementally improved performance under Elop's tenure as Nokia's CEO. The division had €869M ($1.13B) in revenue in 2010 and a non-IFRS operating margin of -19.9%. In 2013, I project that the division will achieve €900M ($1.19B) in revenue and a non-IFRS operating margin of +0.7%. I think that Nokia's stakeholders are wishing they could go back in time and talk Nokia's leadership out of plunking down €5.7B ($8.1B) to acquire NAVTEQ back in 2008. At least Microsoft will be licensing the Nokia HERE patents under a four-year license as well Nokia's device related patents.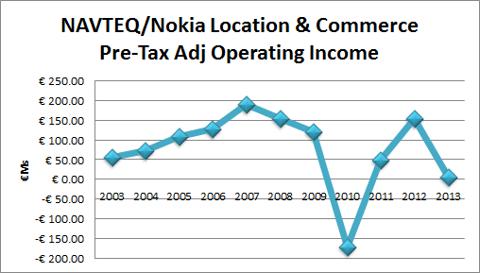 Sources: NAVTEQ's 2003-2007 Annual Reports, Nokia's 2008-2012 Annual Reports and Q2 2013 Results
I disagree with John Pletz from Crain's Chicago Business that Nokia's HERE division is one of its crown jewels. Mr. Pletz is entitled to his own opinions but not his own facts. I think that the Boston-based research firm Saibus Research said it best when it pointed out that if Nokia Location and Commerce maintained its FY 2012 profit levels, the NAVTEQ acquisition would pay off in 38 years. Nokia already took a €1.1B ($1.46B) goodwill impairment charge for the division in 2011, and I expect it to take another one if it fails to generate significant improvement in its revenues and operating margins.
Unfortunately for Nokia's shareholders, Nokia's flagship division (Devices and Services) basically sank into the ocean next to Elop's Burning Platform. Former Nokia executive and current Elop critic Tomi Ahonen made an interesting point when he pointed out the following results from the Nokia Devices and Services Division under Elop:
First 6 months - Smartphone quarterly revenues up 29% from €3.4B ($4.5B) to €4.4B ($5.8B)
Next 2.5 years - Smartphone quarterly revenues down 73% from €4.4B ($5.8B) to €1.2B ($1.59B)
First 6 months - Smartphone quarterly profit up 94% from €283M ($375M) to €548M ($725M)
Next 2.5 years - Smartphone quarterly profit of €548M ($725M) turned into loss of €-168M ($222M)
First 6 months - Smartphone quarterly volume up 18% from 24.0M units to 28.3M units
Next 2.5 years - Smartphone quarterly volume down 74% from 28.3M units to 7.4M units
Nokia smartphone market share when Elop started - 29%
Nokia smartphone market share when Elop departed - 3%
Nokia ranking smartphones when Elop started - 1st
Nokia ranking smartphones when Elop departed - 9th
Gap to leader when Elop started - twice as big as number 2 (RIM) or number 3 (Apple)
Gap to leader when Elop departed - Samsung smartphones is 12x bigger than Nokia smartphones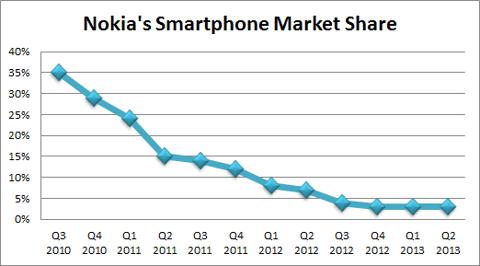 Sources: Tomi Ahonen Consulting Analysis
I'm not surprised that Microsoft was willing to buy Nokia's Devices and Services business considering that Nokia's flagship smartphone brand Lumia runs on Windows Phone. Microsoft used to be a dominant player in the smartphone segment as its Windows Mobile platform boasted a 40% market share in 2007. Unfortunately, Microsoft's mountainous market share has crumbled worse than New Hampshire's Old Man of the Mountain and is now at 4% as of Q2 2013. I'm not surprised that this has happened when I consider that Microsoft is the Old Man of the Technology Business. As part of Microsoft's acquisition of Nokia Devices and Services, Stephen Elop, Jo Harlow, Juha Putkiranta, Timo Toikkanen, and Chris Weber would transfer to Microsoft from Nokia at the anticipated closing of the transaction. I can understand the need for Microsoft to bring Elop and his team from Nokia to Microsoft to assist in transitioning the division from Nokia to Microsoft; however, I'm still scratching my head as to why Microsoft is entrusting the fate of this division to Elop considering how he Osborned Nokia Devices and Services and almost destroyed the company.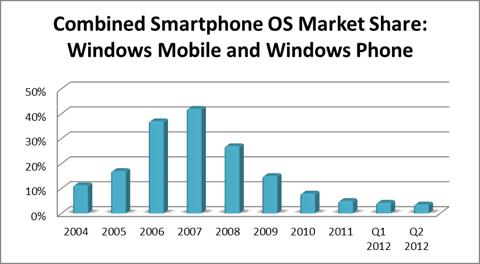 Sources: ComScore Market Share Report and ZDNet Market Share Report
Conclusion
In conclusion, I believe that investors who were bold enough to purchase Nokia's shares between May 2012 and November 2012 should take their profits. I was surprised that Nokia's share price has climbed rapidly since it bottomed out in July even though Nokia's business units continue to struggle and that Nokia Devices and Services saw its revenues and sales volumes continue to sink in Q2 2013. While the division was able to reduce its losses due to cost cuts, I don't believe that is but a temporary Band-Aid to solve the division's problems. Even if I include the €3.2B ($4.236B) accounting gain that Nokia will record based on its pending sale of its Devices and Services division, Nokia's share price is still trading at a 50% premium to its book value even though it generated minimal operating cash flows in H1 2013 and recorded a €203M ($269M) free cash flow deficit during the period. The only good news for Nokia shareholder base is that Stephen Elop is no longer Nokia's CEO and that will be a classic case of addition by subtraction.
Disclosure: I have no positions in any stocks mentioned, and no plans to initiate any positions within the next 72 hours. I wrote this article myself, and it expresses my own opinions. I am not receiving compensation for it (other than from Seeking Alpha). I have no business relationship with any company whose stock is mentioned in this article.