Thesis
Evertec (NYSE:EVTC) is a recently IPO'd company with strong tailwinds and several competitive advantages that create a decent sized moat. The progression from cash payment to card payment throughout Latin America, along with the strengthening of the emerging markets consumer, favors this company. Evertec is the leading card processing company throughout Latin America and is expanding further. I believe this company will benefit over the long term if it is capable of successfully expanding and maintaining its competitive advantages.
Company Overview (Source: 10-K)
Evertec is the leading full-service transaction processing business in Latin America and the Caribbean. According to the July 2012 Nilson Report, EVTC is the largest merchant acquirer in the Caribbean and Central America and the sixth largest in Latin America based on total number of transactions. EVTC operates in three main segments:
1. Merchant Acquiring - Merchant Acquiring business provides services to merchants at over 25,000 locations that allow them to accept electronic methods of payment such as debit, credit, prepaid and EBT cards carrying the ATH, Visa, MasterCard, Discover and American Express brands.
2. Payment Processing - Provides an innovative and diversified suite of payment processing services to blue chip regional and global corporate customers, government agencies, and financial institutions across Latin America and the Caribbean. These services provide the infrastructure technology necessary to facilitate the processing and routing of payments across the transaction processing value chain.
3. Business Solutions - Provides its financial institution, corporate and government customers with a full suite of business process management solutions including core bank processing, network hosting and management, IT consulting services, business process outsourcing, item and cash processing, and fulfillment.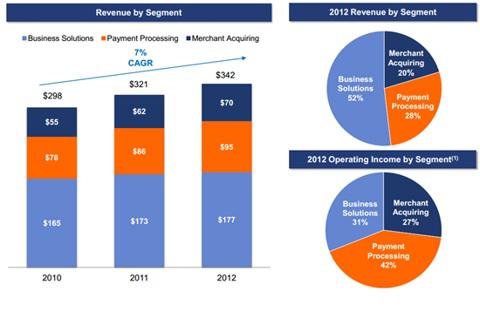 As you can see, revenues have grown at a CAGR of 7% since 2010. By segment, Business Solution comprises 52%, however it accounts for only 31% of operating income. Merchant Acquiring and Payment Processing are higher margin segments, but all three have been steadily growing revenues over the past three years.
Source: Investor Presentation June 13, 2013
History and Separation from Popular
Evertec is a newly public company, with its IPO in April 2013, however the company boasts a 25-year operating history in the transaction processing industry. Prior to the Merger on September 30, 2010, Evertec Group was 100% owned by Popular, the largest financial institution in the Caribbean, and operated substantially as an independent entity within Popular. In September 2010, Apollo Global Management, LLC, a leading private equity investor, acquired a 51% interest in Evertec and shortly thereafter, began the transition to a separate, stand-alone entity.
Evertec continues to benefit from these relationships. Popular is its largest customer and acts as one of the largest merchant referral partners and sponsors Evertec with card associations, such as Visa or MasterCard, which enables merchants to accept these card associations' credit card transactions. This is extremely supportive for Evertec, as Popular has a clear incentive to see that the company continues to drive revenues and is successful. Apollo not only helped transition the company to a stand-alone entity, but also helped train the management team and set up a long-term growth path for the company. While I would not list this relationship as a competitive strength, I do believe Evertec will benefit from this experience.
Competitive Advantages
Evertec has four distinct competitive advantages:
1. Market Leadership in Latin America and the Caribbean - Ability to locally leverage its infrastructure, as well as first-hand knowledge of the Latin American and Caribbean markets, language and culture. EVTC has built leadership positions across the transaction processing value chain in the geographic markets that it serves.
2. Diversified Business Model Across the Transaction Processing Value Chain - A diversified business model which provides the full range of merchant acquiring, payment processing and business solutions services to financial institutions, merchants, corporations and government agencies across different geographies. An end-to-end technology solution offering through a single provider and that has the ability to tailor and customize the features and functionality of all its products and services to the specific requirements of its customers in various industries and across geographic markets.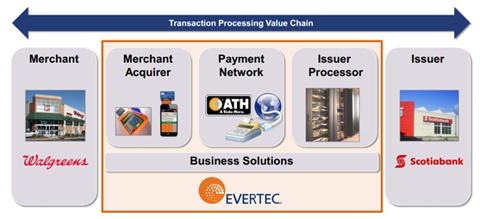 3. Broad and Deep Customer Relationships and Recurring Revenue Business Model - Customers representing approximately 99% of its 2011 revenue continued to be customers in 2012. Payment Processing and Merchant Acquiring segments, as well as certain business lines representing the majority of the Business Solutions segment, generate recurring revenues that collectively accounted for approximately 87% of total revenues in 2012.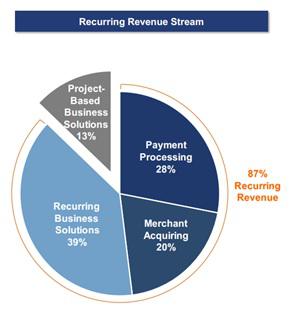 4. Highly Scalable, End-to-End Technology Platform - The diversified business model is supported by a highly scalable, end-to-end technology platform, which allows EVTC to provide a full range of transaction processing services and develop and deploy a broad suite of technology solutions to its customers at low incremental costs and increasing operating efficiencies. The company has spent over $130 million over the last five years on technology investments to continue to build the capacity and functionality of its platform and has been able to achieve attractive economies of scale with flexible product development capabilities.
Company Tailwinds
1. Shift to Electronic Payments - The ongoing migration from cash, check and other paper methods of payment to electronic payments continues to benefit the transaction processing industry globally. This migration is driven by factors including customer convenience, marketing efforts by financial institutions, card issuer rewards and the development of new forms of payment. Evertec should benefit from the penetration of electronic payments in the markets where it principally operates, as that area is significantly lower relative to more mature U.S. and European markets and that this ongoing shift will continue to generate substantial growth opportunities. As the chart below demonstrates, Latin American dollar volumes have grown at a CAGR of 21.2% from 2001 to 2011, and increased velocity since then, with an estimated CAGR of 23.0% from 2011-2015.

2. Fast Growing Latin American and Caribbean Financial Services and Payments Markets- Currently, the adoption of banking products, including electronic payments, in the Latin American and Caribbean region is lower relative to the mature U.S. and European markets. As these markets continue to evolve and grow, the emergence of a larger and more sophisticated consumer base will influence and drive an increase in card and electronic payments usage.
Growth Strategy
Expand in the Latin American Region
In order to capitalize on these tailwinds, Evertec management has laid out a clear plan for footprint expansion. There is substantial opportunity to expand its businesses in the Latin American region. Significant growth opportunities exist in a number of large markets such as Colombia, Mexico, Chile and Argentina. There is an opportunity to provide services to existing financial institution customers in other regions where EVTC operates.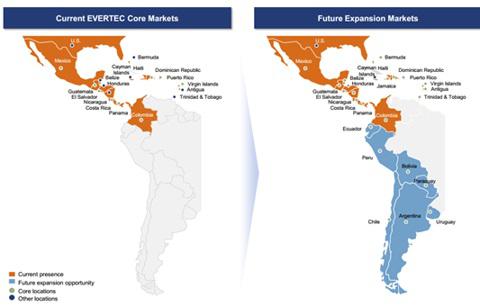 Financial Results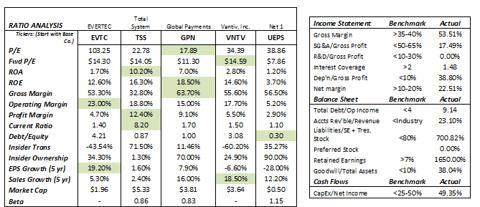 On a comparative basis, Evertec trails most of its peers across the board. It noticeably trades at a significantly higher P/E than its peers, but has yet to establish a full trailing twelve-month EPS figure given its IPO earlier this year in April. The forward P/E ratio (finviz.com) is much more closely in line with its peers. The company carries significantly more debt but is liquid, as evidenced by a current ratio of 1.40. Margins are very strong and earnings have been growing the last several years. While the balance sheet is not a fortress, the company generates significant free cash flows, as further detailed below.
Total revenues for the year ended December 31, 2012 increased 6% compared to 2011. By segment, Merchant Acquiring revenues increased 12%, Payment Processing increased 11%, and Business Solutions revenues increased 2% from 2011. With all three segments performing well, this is a strong sign for continued strength in revenues. Income from operations increased 28% from the previous year and net income for the year ended 2012 was $105.8 million, compared to $28.0 million in 2011.
I tend to focus less on revenues and earnings for newly IPO'd companies, especially when the income statement is filled with one-time charges as well as amortization and depreciation costs. Currently, the company expects to have amortization costs between $30-40 million per year in the near future. These costs do decrease taxable earnings, a benefit, but also decrease net income. Fortunately, Evertec generates substantial free cash flows, a good sign for future prospects. Evertec's free cash flow has grown at a CAGR of 17% since 2010, and has generated free cash flow as a percentage of sales in excess of 14% over the last two years. This is where I would focus for this company. With revenues continuing to grow, the company should continue to generate meaningful free cash flows. This is important to fulfill the company's growth strategy of expansion throughout Latin America. Furthermore, with lots of non-cash charges on the income statement, I believe this is a better bellwether for the company's financial health.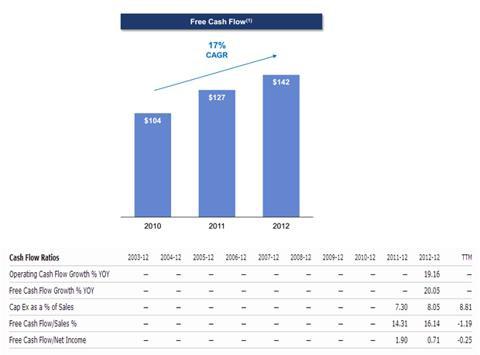 Source: Morningstar.com
Liquidity
Evertec has substantial amount of debt, as measured by a debt/equity ratio over 4. As previously mentioned, the company does not have material risk in the short term, as its current ratio is 1.40. The Company's contractual obligations as of December 31, 2012 are as follows:

Source: 10-K
Recently, the company was able to reduce its cost of debt to 3.19% from 7.35%. In doing so, it was able to reduce its pro forma annual interest expense by approximately 55% by extending the average maturity from four to six years. While this lowers the company's cost of capital, effectively increasing its discounted cash flow value, the debt is floating rate, and 100bps increase in interest rates on its borrowings equates to a $7M increase in interest expense, an increase of approximately 12%. The company also began a new dividend policy within the last quarter. While this dividend is small, at $0.10 per share, it is a meaningful sign to investors. However, given the company's capital constraints under its borrowings, it is not improbable for the company to raise cash by cutting its dividend, or even suspending the payout. I believe this to be a likely scenario at some point, especially considering its aggressive expansion plans.
Summary of Positives and Negatives
In sum, the company should benefit from strong tailwinds as trends from cash to card conversion grows alongside improving Latin American and emerging markets' consumer wealth. Currently positioned as the dominant player in its competitive arena, Evertec should be able to conserve its competitive advantages and even expand its moat. If the company is able to successfully implement its growth strategy, the shares will undoubtedly command a premium as cash flows should benefit primarily over the long term. This is evidenced by its scalable base of operations and high retention rates and recurring nature of revenues.
However, when looking at the financials, there is a lot of uncertainty. The balance sheet has a high percentage of assets under goodwill, and the company amortizes a significant amount of assets on an annual basis. However, these non-cash charges do not affect cash flows, and will eventually be amortized to effectively zero. Something to monitor is the debt. As previously stated, there is risk with its floating rate facility that could dampen the company's ability to distribute dividends. Of course, the inherent risk of emerging markets investing cannot go unnoticed. The increased volatility of EM stocks, especially small cap stocks, may be overwhelming for some investors.
Valuation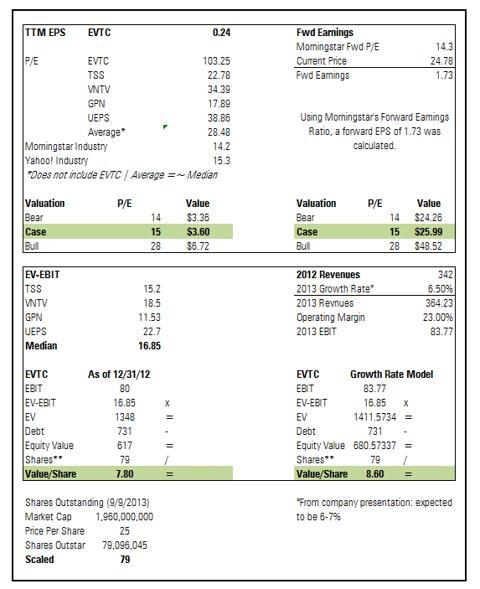 This company is very difficult to value based on limited financial data. Using an industry average P/E and estimated Forward EPS, based on Morningstar, a value of $26 was calculated, a slight premium to the current share price of 24.78. However, based on EV-EBIT model, much lower share values were calculated. Using the June 2013 investor presentation, a revenue growth rate of 6.5% was used to estimate 2013 revenue and EBIT, holding operating margin constant. This per share value of $8.60 represents a significant departure from current value. Given the large difference in capital structure between EVTC and its peers, this may not be a meaningful method. I believe over the long term that the company's ability to generate significant free cash flows, coupled with plans to expand throughout Latin America, could garner a higher future value for the company. Evertec's competitive advantages should mean it can maintain its moat.
Recommendation
If you are an investor seeking ex-US exposure and can handle small cap and foreign-exposure volatility risk, I believe this company could represent a strong long-term play. Since the stock has appreciated approximately 25% since its IPO, this, coupled with the risks mentioned throughout the article, requires a large margin of safety. I would prefer a large pullback in the stock and another quarter's earnings to check in on long-term project and expansion development. However, if this opportunity presents itself, I believe the strengths Evertec displays and general wide-moat type offering, to coin Morningstar research, make this an attractive growth stock over the medium to long term.
Disclosure: I have no positions in any stocks mentioned, but may initiate a long position in EVTC over the next 72 hours. I wrote this article myself, and it expresses my own opinions. I am not receiving compensation for it (other than from Seeking Alpha). I have no business relationship with any company whose stock is mentioned in this article.