While many investors in the precious metals sector are flocking to the relatively conservative, liquid, exchange-traded funds such as SPDR Gold Trust (NYSEARCA:GLD) and the I Shares Silver Trust (NYSEARCA:SLV), some very interesting developments are occurring in the gold mining sector. Most notably, large gold mining companies are scouring the globe looking to acquire big assets to satisfy their voracious appetite for reserves.
Transactions over the past month continue to demonstrate that large, advanced-stage deposits, no matter where they are located on the globe, are scarce and coveted by mining companies.
But, this is merely a continuation of a multi-year trend – which we call "purchase-or-perish" - in the gold mining sector.
Amidst either stagnant, or worse, declining production profiles, large mining companies have been seeking to grow their reserves, because investors attribute significant value to both reserve growth and production growth in this environment of rising gold prices.
Just within the past month, sizeable acquisitions were carried out by Barrick Gold (NYSE:ABX), Randgold (NASDAQ:GOLD) and partner AngloGold Ashanti (NYSE:AU), and in the silver space, Pan American Silver (NASDAQ:PAAS), as shown in the graphic below.
Exhibit 1: Notable Recent Precious Metals Transactions
Below are brief descriptions of each of the transactions.

1. Moto Goldmines (Randgold & AngloGold Ashanti)
Earlier this month, Randgold and AngloGold Ashanti closed a US$ 500 million (C$ 534 million) 'back-to-back' transaction wherein they purchased, and now jointly control, Moto Goldmines [TSX: MGL]. Moto's primary asset is located in the Democratic Republic of Congo ("DRC", formerly Zaire).
Since it is fair to say that the DRC might be considered a "risky jurisdiction", an inquiring mind might ask: "Why are Randgold and AngloGold Ashanti willing to take the significant risk of investing half a billion dollars in the DRC?"
The answer is, in fact, quite simple: Africa's largest undeveloped gold project.
Moto Goldmines owns 70% of the Moto Gold Project, which according to a feasibility study released in March 2009, hosts Probable Mineral Reserves of 5.5 million ounces of gold. Importantly, these reserves are part of a much larger mineral resource comprised of 11.3 million ounces of gold in the Indicated Category, and an additional 11.2 million ounces in the Inferred category. Suffice it to say, the mineral endowment is, in terms of the number of ounces, world-class. The partners now plan to move the project quickly toward a bankable feasibility study, and ultimately, production.
The government of the DRC, through its state-owned gold mining company Office des Mines de Kilo Moto (OKIMO) owns the remaining 30% in the Moto Gold Project.
2. Aquiline Resources, Inc. (Pan American Silver)

In a friendly offer valued at C$626 million (US$ 610 million) in the silver space, Pan American Silver offered to buy Aquiline Resources (AQI) to secure of one of the largest, undeveloped silver development projects in the world.
Aquiline controls the Navidad silver project in Chubut Province, Argentina, which houses Measured & Indicated Silver Resources of 632 million ounces, with an additional 119 million Inferred ounces.
The total consideration to be paid by Pan American silver amounts to C$7.47 per share, representing a 37% premium to Aquiline's closing price the day before, and a 62% premium to Aquiline's 10-day volume-weighted average price.
Pan American Silver says that this transaction will be "transformational" to its growth profile, which is a significant statement considering it is already the largest North American-listed silver producer ranked by production.
3. El Morro Copper-Gold Project in Chile (Barrick Gold)
Lastly, Barrick Gold reported that it is spending US$ 465 million to purchase a 70% stake in the El Morro deposit in Chile from Xstrata Plc [London: XTA]. El Morro, a large, advanced-stage, gold-copper project located in the Atacama Region of Chile, has measured and indicated gold resources of approximately 8.3 million ounces, and an additional 6.3 billion pounds of copper resources (on a 100% basis).
The project is 70 kilometers north of Barrick's 100% owned Pascua-Lama project, which is entering construction, and 110 kilometers south of Barrick's 50% owned Cerro Casale project. Since El Morro is located near these Barrick assets, the company will be looking to capture potential construction and operating synergies. Barrick's immediate focus will be to optimize the existing feasibility study and do further exploration.
The other 30% stake in El Morro is owned indirectly by New Gold, Inc. (NYSEMKT:NGD), a Canadian intermediate producer.
Summary, Interpretation & Implications
While these transactions are notable, their significance is more clearly seen in the context of the bigger picture, which is the continuing hunger of major gold mining companies to replace reserves.
The implications are that large, undeveloped gold and silver deposits, particularly those with more than 5 million gold-equivalent ounces, are coveted by the major mining companies.
A short list of junior companies which have deposits which fit into this category include: (1) Detour Gold [Toronto: DGC]: 17.3 million ounces; (2) International Tower Hill Mines [Toronto: ITH]: 12.5 million ounces; (3) Osisko Mining [Toronto: OSK]: 10.4 million ounces; (4) Andina Minerals [Toronto: ADM]: 9.8 million ounces; and, (5) Brett Resources [Toronto: BBR]: 5.2 million ounces. The following exhibit illustrates the companies' gold resources.
Exhibit 2: Selected Large, Undeveloped Gold Deposits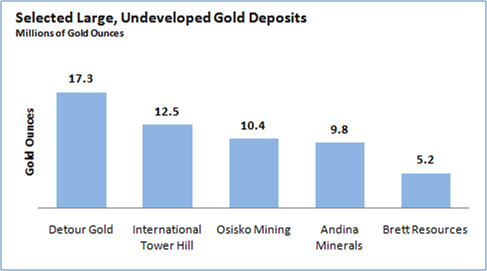 While each of these companies may be potential acquisition targets, it should be noted that there are numerous differences between the companies, and their specific projects. Importantly, the economics between the different projects vary widely due to differences in grade, capital costs, metallurgy, availability of existing infrastructure, and many other factors.
However, suffice it to say, as the gold price rises the economics become much better, and these relatively low-grade, bulk-tonnage deposits become more attractive.
While the author prefers to focus on the economics of the individual projects as the first priority, instead of size, there is no doubt that these companies may have short lives as independent entities. With larger mining companies focused on the "pareto principle" (i.e. "80/20 rule") to reserve growth, the largest deposits are in strong demand.
Matthew T. Schroeder is the President & Founder of Anomalous Investments, an independent advisory service focused on uncovering select 'special situations' in the natural resources industry. He can be reached at matthew.schroeder@anomalousinvestments.com.
Disclosure: The author owns shares in GLD.