The New Digs
It's been really a rather unceremonious 2013 for Apple (NASDAQ:AAPL), which has spent the better part of the year with its stock furiously trying to stop spinning its wheels in the $400-$500 region.
As you can see from the picture below, the Icahn fueled hysteria of the past few weeks that has done well to catalyze the stock towards $500 has also produced another effect; if Apple can hold these levels, we're likely to see a golden cross - as well as nerdy technical chartists all over the world rejoicing, high fiving each other, and then going back to playing World of Warcraft.
At the same time this technical indicator occurs and chartists start blowing Diet Mountain Dew out of their noses in excitement, our soon-to-be algorithmic computer trading overlords who we are likely to bow to sometime before the year 2020 will recognize this and fire off millions of trades in the time it takes you to wipe your Taco Bell crumbs from your shirt after a filling "in-the-office lunch fiesta".
Here's a snapshot of Apple's 1 year chart, where you can clearly see the stock treading water as the 50 day moving average curls upwards through its older brother, the 200 day moving average: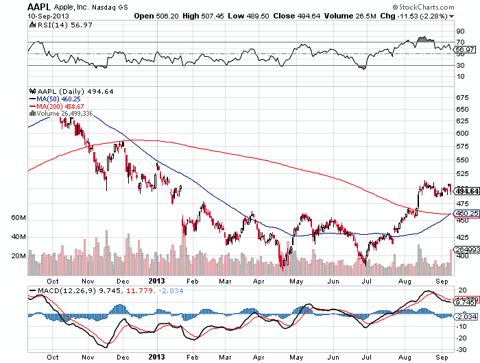 Unless you've been living in a bio-dome for the last year or so, you'd know that the quickly growing concern with Apple's smartphone division has been their slight regression in market share; and you'd also know that most people are blaming that on Apple's price points being too high.
It was announced on Tuesday that Apple is now going to offer two different versions of its new phone - the iPhone 5S for your high end users, and the iPhone 5C for "the rest of us". Here's a quick look at some of the differences between the two phones that Apple will be offering, versus the iPhone 5:
| | | | |
| --- | --- | --- | --- |
| | iPhone 5 | iPhone 5C | iPhone 5S |
| OS | iOS 6 | iOS 7 | iOS 7 |
| Camera | 8 mpx @ 720p | 8 mpx @ 720p | 8 mpx @ 1080p |
| Processor | A6 | A6 | A7 64-bit |
| Fingerprint | No | No | Yes |
| Weight | 3.95oz | 4.65oz | 3.95oz |
| Colors | Black/White | Five Pastels | Grey, Gold, Silver |
Both phones will be running Apple's new iOS 7, widely agreed at this point to be one of the world's most advanced and aesthetically pleasing mobile operating systems.
The 5C does well to address what Moto X users were yammering on and on about, the colors - while not really giving up any type of performance edge to the Moto X. It's basically giving people the option of colors slapped onto the specs of the iPhone 5, as you can see by this comparison I did in an Apple vs. Moto X article. Here's a comparison of some of the specifics behind the Moto X versus the iPhone 5:
| | Motorola Moto X | Apple iPhone 5 |
| --- | --- | --- |
| Storage | 16GB, 32GB | 16GB, 32GB, 64GB |
| Camera | 10 Megapixel | 8 Megapixel |
| Screen | 4.7" @ 1280 x 720 | 4" @ 1136 x 640 |
| OS | Android 4.2.2 | iOS 6 (soon to be 7) |
| CPU | Qualcomm Snapdragon S4 | Apple A6 |
| Speed | Dual 1.7ghz | Dual 1.3ghz |
| PPI/Weight | 316/4.58oz | 326/4oz |
| Price Point | $199-$249 | $199-$349 |
With a price point that starts at $99, Apple is nudging itself into that market that people had been complaining that they need to get into - affordable phones that offer the same Apple quality user experience.
So, Why Didn't the Market Like It?
They did it to appease what consumers wanted - both your high end "Apple-elitist" consumers, as well as your retail consumers and analysts (including myself) that have opined and moaned that Apple is losing market share because they haven't been able to put out an affordable version of the iPhone.
In my last article, "Does Apple Have an Achilles' Heel?", I went into the potential problems that could come with Apple not introducing a lower cost iPhone:
The competition from Samsung over the past few years has really ratcheted up - to the point where Samsung has based its advertising solely on attacking Apple, and on occasion, the "cult of Apple". Apple's market share has sunk from 2012 to 2013 (using Q2 data), as Samsung remains firmly in the lead position, increasing its marketshare.

Many feel that this has to do with Apple not providing a lower priced phone. It's a possibility that at the coming iOS 7 release, Apple might address this issue (it's been alluded to several times), but left unchecked, this could be a problem for the company. This is a real problem, happening right now, that Apple would be foolish to ignore.

But, it's possible that they do ignore it. The Apple attitude was always akin to that of Audi or Volkswagen - sure, we don't have the market cornered, but the product is far superior and may not "be for everyone". Well, Apple is now in a spot where if it wants to catalyze its stock, it needs to create something that is "for the rest of us". Without this, it's likely market share could continue to taper off, taking Apple's stock price with it.
The cons for the 5S are generally revolving around the battery life - a small metric that the Moto X actually does have a bit of a leg up on. If you're someone like me, that has their phone plugged in when they're at the desk or in bed, the difference between 15 hours of life and 24 really turns out to be negligible. Jet setters and people who actually have real jobs with real lives - your worldwide travelers, air miles members and such - are probably the ones that need those extra 9 hours of battery life. Thank god I'm a loser!
The cons surrounding the iPhone 5C are generally that it's expensive, and nothing really new. It has mostly the same internal organs as the iPhone 5, so a complaint is that you're really just buying your fancy new plastic colored case. However, it's really worth noting that the 5C is only "expensive" ($500) if you want to buy it without a contract, or duck out of your existing contract.
Why Should We Like It?
I think we can get a pretty clear idea of exactly what it is that Apple wanted to do here, and I also think it was generally the right decision for the company to make. I'm behind the two new version of the phone, and here's why:
It's likely that just like Mac has the MacBook Pro, Apple wanted to create a retail and a pro version of their phones. They wanted to have one version on the lower end, for retail - and one on the top end, for the people that buy Apple to be - well, snobs. I mean, tech savvy!
As a tech guy, I cannot tell you how much I'm looking forward to actually seeing this Apple A7 processor in action - from all I've read, it's supposed to really be a major difference. I'll likely buy a 5C as my next phone, however, because of the price point and general lack of funding that I have for frivolous things like phones.
CNET reported on the A7:
This could be significant if data-intensive games and apps take advantage of the wider data path. Apple said iOS 7 has "a native 64-bit kernel" and "all built-in apps have been re-engineered."

Generally, 64-bit chips in the PC space can address more memory and, thus, can be better at running more demanding software.

In fact, Apple referred to it as a "64-bit desktop class architecture" in its presentation Tuesday.

And to demonstrate the A7's mettle, Apple brought Epic Games and its latest title, Infinity Blade 3, on stage.

Graphics appear to be on par with Xbox 360 and PS3.
While I have still yet to find a major constituency that is using their phones primarily for gaming, I'm sure users will welcome with open arms the better memory management for things like switching apps, waiting for Facebook to load and refresh (dear God, it takes forever), and streaming video and music from the web.
Apple gave the market exactly what it was asking for here with these two polar opposite versions of the phone, with no real middle ground. Mr. Market? He's a tough guy to please; but me? There's a little something here for everyone, and I think the improvements on the 5S (specifically the bad ass new A7) are really going to get their proper accolades after the phone has hit retail and "made its rounds".
Roping In the "Great Expectations"
I think to a degree, what we are witnessing here is still some of the "great expectations" story for Apple. Even going into yesterday, which was clearly billed as strictly an iPhone event, there was speculation about whether or not Apple was going to introduce a watch - or ever a TV - alongside the phone.
Folks, that is the old Apple; young, brash, unpredictable - pizza boxes and beer cans strewn about. This is the new Apple; older, wiser, grown-up - and screaming at those damn kids to get off its front lawn.
Peter Oppenheimer did his part to rope in the "great expectations" from analysts when he sat them down and gave them a stern talking to a couple quarters ago; letting them know that Apple, and Apple alone, was going to the be offering the guidance for the company, and not to expect more than what they offer. There was going to be no more sandbagging. I wrote about this in a past article after a small earnings miss earlier in the year:
Everybody [had been] so used to Apple annihilating guidance as they'd done in the past, analyst expectations have gone astray and needed to be roped in by Apple executives. 18% year over year revenue growth and substantial recurring growth with impressive margins for years now -- and this kind of panic sets in on a small share of a miss on earnings? Simply baffling.

This was a savvy move for Oppenheimer. He's taking the analysts from a push to a pull, essentially saying: this is our company, we're selling our product, we have the best interest of the shareholders in mind; we're going to be the authority on guidance.
So now, Cook needs to do the same thing by coming out and saying that the company is going to continue to innovate, and that they're giving the market what they're asking for (share buybacks, debt, a cheaper phone). He also needs to let people know that when they say they're going to do an iPhone event, that's what people will get. He needs to get everyone's perspective on the same page and point out that no matter how much the market and analysts opine about metrics, that Apple is still one of the most fundamentally sound and quickest growing companies in the world.
And have we already forgotten the gorgeous new Mac Pros from the WWDC? That was essentially a major "surprise":
The Mac Pro had been the neglected redheaded stepchild in the room, sitting quietly in the corner of most Apple stores until the occasional pro video editor or animation expert meanders in, needing to buy one completely decked out.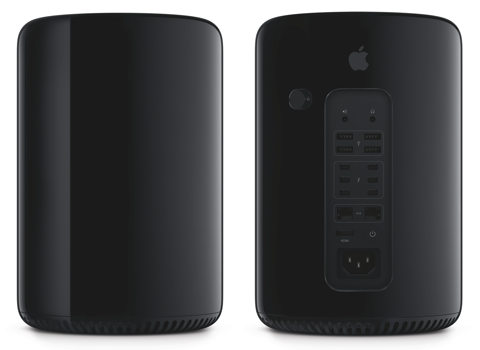 This not only breathes life into a forgotten line of Apple products, it now shifts the feeling of the Mac Pro from being used only by "professionals" to, "Hey, that would look good on my desk at home." There's a retail aesthetic with how the new Mac Pro looks. For professionals and casual computer users that just like to have something "under the hood", it supports some crazy specs:
Intel Xeon E5 Processor with Configurations up to 12 Cores
Four-channel DDR3 memory controller running at 1866MHz
4 USB 3 ports
6 Thunderbolt 2 ports
2 Gigabit Ethernet Ports
1 HDMI Port
802.11ac Networking
Having it being built in the USA will also cozy it up to certain buyers that are hooked on USA only products, as well. Trust me, I can see a lot of fathers saying in the future, "Give the kids the iMac, I want the Mac Pro in my office."
What more do you people want from this company in terms of innovation?
Apple Still a Sound Investment
Risk lies in Apple losing sight of some of the items that could potentially harm them - like continuing to unlock more cash for shareholders while taking on increasing debt, and ignoring competitors like Microsoft and Nokia. Although, I can tell by the way Apple went out and addressed the cheaper phone that everyone wanted, that they do seem to have their radar on. Hopefully, they'll take Mr. Market's suggestions with an open mind, but not let analysts like Icahn and the market dictate exactly what they do all the time.
It's on that note, and of zero surprise to anyone that follows my analysis on Apple, that I'll don my best Andy Zaky mask and reaffirm my bullish sentiment behind Apple.
I still think Tim Cook has it right, here - the perspective to address potential opportunities for the company, bringing work back to the US, taking into account what the market wants, and forging Apple forward on its hundred billion dollar cash pile. One more milestone reached, one more problem addressed with the iPhone 5C - onward and upward, Tim and Jony - let's ride!
As always, I wish all investors the best of luck.
Disclosure: I have no positions in any stocks mentioned, and no plans to initiate any positions within the next 72 hours. I wrote this article myself, and it expresses my own opinions. I am not receiving compensation for it (other than from Seeking Alpha). I have no business relationship with any company whose stock is mentioned in this article.